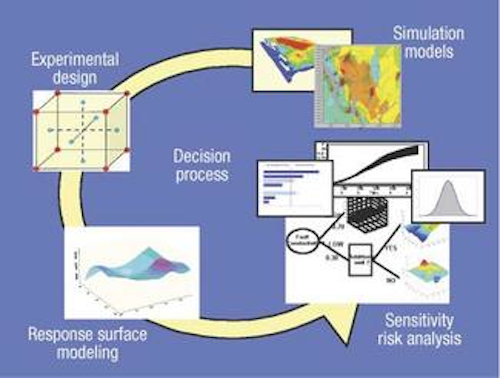 Emmanuel Manceau
Institut Francais du Petrole
Evaluation of petroleum fields has become much more accurate over the past few years. Thanks to high technology data acquisition programs, it is now possible to calibrate complex numerical models that integrate all this information with complex geological and fluid flow modeling, and to optimize these models for maximizing oil recovery and economics.
Unfortunately, this data tends to be prone to significant errors at any step, from the data acquisition itself, to processing, interpretation, and integration.
The main consequence is that outputs of this modeling workflow, such as production profiles, final oil recovery, and economic evaluation, will be equally uncertain.
An alternative approach is to compute an approximation – or a "proxy" model – of each output of the modeling workflow.
Reservoir modeling
In March 2001, Institut Francais du Petrole launched the two-year Cougar joint industry project and is seeking new oil industry partners for a three-year extension work program. The objectives of the consortium are to develop an adapted methodology based on experimental design methodology, and associated prototype software to validate both through real field case studies provided by the partners.
All kinds of uncertainties may be investigated simultaneously or separately, such as:
The static model
Geostatistical parameters
Upscaling model assumptions and fluid flow simulation model parameters
Surface facilities scenarios and economic uncertain parameters (oil price, opex, capex).
Any outputs of the modeling workflow can be computed as a specific proxy model that represents the impact of the main uncertainties on this output.
Decisions at each stage of field life, from exploration, appraisal, and development through to final recovery phases, can be taken while quantifying the risk associated with all the technical and economic uncertainties that may affect this decision.
For more information, contact the author at: www.ifp.fr/cougar.