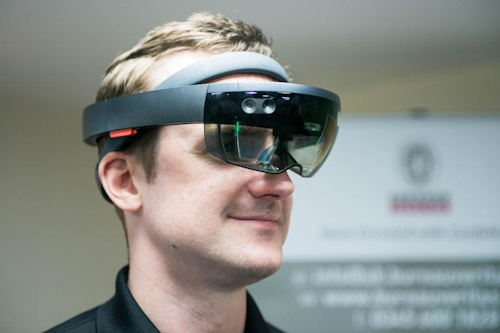 (Courtesy Bureau Veritas)
Offshore staff
ABERDEEN, UK – Bureau Veritas' new HoloLens equipment is designed to help engineers to inspect hard-to-access assets by allowing them to be visualized anywhere in the world.
The Microsoft mixed-reality smart glasses deliver an augmented reality hologram that allows inspectors to view parts, understand inspection requirements and digitally splice the asset to view cross-sections.
Bureau Veritas is developing these services with Smart Document Solutions Ltd.
The technology, the company says, blends real and virtual worlds, allowing physical and digital visualization to co-exist. The mixed reality headsets display interactive menus which show assets and faults digitally, in the process reducing site training time by up to 50%.
Bureau Veritas UK Accreditation Manager Rachel Rawlings said: "Microsoft HoloLens enables hard-to-access assets such as pressure equipment to be brought into a training room using mixed reality.
"This enables our specialists to provide training safely on systems which can't be accessed as they are normally in service, as well as giving visibility of faults and issues which may only be seen a couple of times in a career…
"HoloLens will not fully replace onsite training as there is still a need for physical inspection on some sites, but it does speed up and enhance the process for our engineers."
09/09/2019