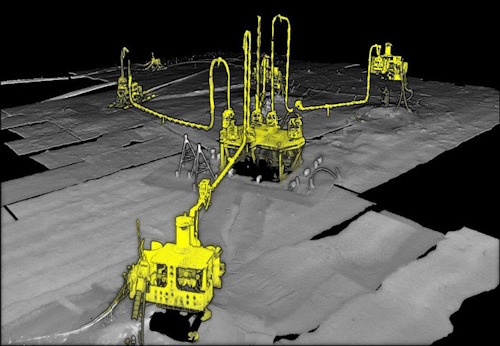 Offshore staff
HAUGESUND, Norway – ADUS DeepOcean and DeepOcean Ghana have recently completed a deepwater subsea 3D laser survey offshore West Africa for Tullow Oil.
It covered 12 drill center locations and involved 27 metrologies in water depths between 800 and 1,800 m (2,624 and 5,905 ft), and proved the value of an alternative and rapid "contactless" solution to conventional metrology surveys,DeepOcean claimed.
The laser survey, performed from a traveling ROV, comprised a deep-rated 2G Robotics ULS 500 Pro Laser and Sonardyne's SPRINT INS system. It achieved accuracies approaching 1 cm in dynamic operation, DeepOcean added.
Resultant 3D "point clouds," coupled with modeling techniques developed in house, are giving the company's engineers quantitative and contextual information to better inform inspection maintenance and repair tasks, and to undertake metrology.
Hugues Villedey, subsea projects manager atTullow Ghana, said: "The data and images gathered have proved very valuable in increasing our understanding of the dynamics of the subsea assets, enabling more informed decision making."
Following these operations, DeepOcean Ghana has secured a further three-year contract.
This year the Norwegian company will undertake offshore survey and light construction services for Statoil, using the Superior high-speed ROV deployed from one of DeepOcean's vessels.
It follows a first commercial project for the ROV last year for the same clients, which the contractor said provided significant costs savings through greatly reduced operational time.
02/09/2017