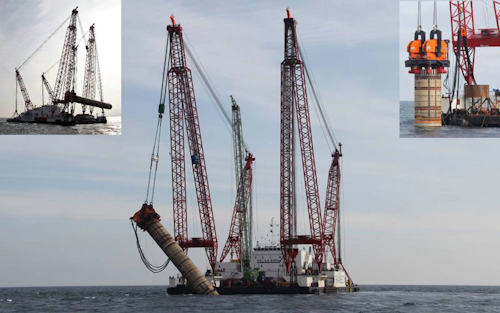 Offshore staff
BEILEN, the Netherlands – CAPE Holland has assisted installation of NAM's L13-FI platform in the Dutch North Sea.
Dutch contractor Scaldis' heavy-lift vesselRambiz deployed CAPE's 960-kgm Vibro lifting tool to pick up a 4.7-m (15.4-ft) dia., 40.5-m (133-ft) long, 360-ton mono pile from a barge, upend it to a vertical position, then drive it into the seafloor at 0.2° verticality without use of a gripper frame or seabed installation frame.
The Lloyd's Register-certified tool can pick up a stored pile (up to 1,600 tons), upend it to a vertical position, lift it to the correct position and drive it down, if necessary correcting verticality while driving, in a single handling operation.
Due to its modular design the equipment can be applied to install a wide range of piles, from small anchor piles to very large XXL monopiles.
06/16/2017