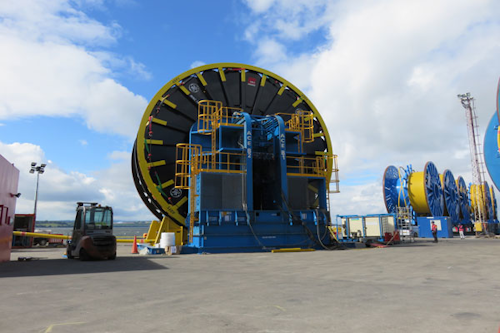 Offshore staff
TURRIFF, UK – Oceaneering has commissioned ACE Winches to provide spooling equipment for Shell's Prelude floating liquefied natural gas project offshore northwest Australia.
This will involve the first deployment of ACE's 500-metric ton (551-ton) reel drive system.
For Prelude, the company will spool 4,400 m (14,435 ft) of umbilical with a diameter of 229 mm (9-in.) onto a 12.2-m (40-ft) reel. The weight of the umbilical will be the heaviest Oceaneering has spooled to date, with a total weight of 426 metric tons (469 tons).
ACE modified its 400-metric ton (441-ton) reel drive system to meet the client's requirements, adding a base frame and packers to allow the 12.2-m reel to be spooled on the quayside.
The company also supplied 10 commissioning engineers and technicians to assemble the equipment quayside before operations started, with a further six technicians providing a 24- hr service to complete the first phase of spooling.
The patent pending 500-metric ton system comprises two towers that disassemble into eight modules for easy transportation. The towers employ a slave and master configuration, with two gear boxes in each drive hub.
01/11/2017