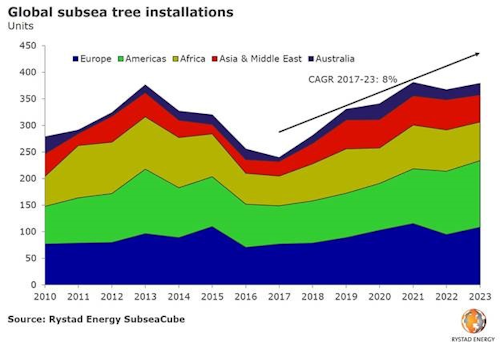 Offshore staff
OSLO, Norway – Rystad Energy predicts a steep increase in subsea tree installations globally over the next few years.
In 2017 only 240 subsea trees were installed, the lowest since the turn of the century, the consultant claimed. But it now expects more than 350 subsea trees to be installed annually between now and 2021, with compound growth of 8% in the market between 2017 and 2023.
Initially UK and Norwegian fields will drive the growth, with South America taking the lead after 2021.
Rystad foresees worldwide demand foroilfield services this year of $642 billion in 2019, of which the subsea market will account for 4%, divided into equipment, services, and SURF (subsea umbilicals, risers, and flowlines).
Between 2018 and 2023 subsea equipment spending should rise by 12% per year and the SURF sector by 11%.
"We now see a new wave of subsea developments in the coming years, supported by effective cost-cutting measures and cooperation between suppliers and E&Ps," said Rystad analyst Henning Bjørvik.
The present activity offshore Norway and the UK is down to an established offshore infrastructure, which makes many marginal fields commercially viable through subsea satellite developments.
Of the projects upcoming over the next four years in these sectors, 53% of the offshore greenfield E&P expenditure will likely be on subsea tiebacks, up from 30% during 2010-2018.
Equinor looks set to step up its subsea expenditure during 2019, with potentially 93% allocated to projects offshore Norway.
03/04/2019