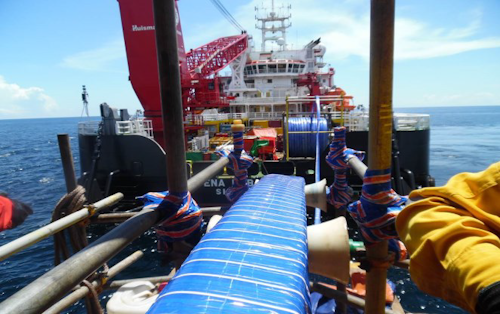 Offshore staff
KUALA LUMPUR, Malaysia – Petronas has recognized Anticorrosion Protective Systems (APS) Malaysia for the successful execution of InField Liner (IFL) installations.
Late last year Petronas awarded the company two multi-year contracts with a combined value of more than $150 million for the rehabilitation of various subsea crude oil gathering and high-pressure gas and condensate lines.
These were 6-, 8-, and 10-in. subsea lines, varying in length from 700-3,500 m (2,297-11,483 ft).
APS started by rehabilitating four pipelines with the IFL system during this spring and summer.
All four pipelines were candidates for a potential shutdown at the end of 2016; however, the IFL technology has led to a service life extension of a minimum of 30 years, APS claims.
Petronas further confirmed that the system had saved it more than $100 million since the first installations in September 2013, in terms of both capex and opex.
More IFL installations are planned for 2017 and 2018, with further contract awards likely early next year for execution in the following years.
12/08/2016