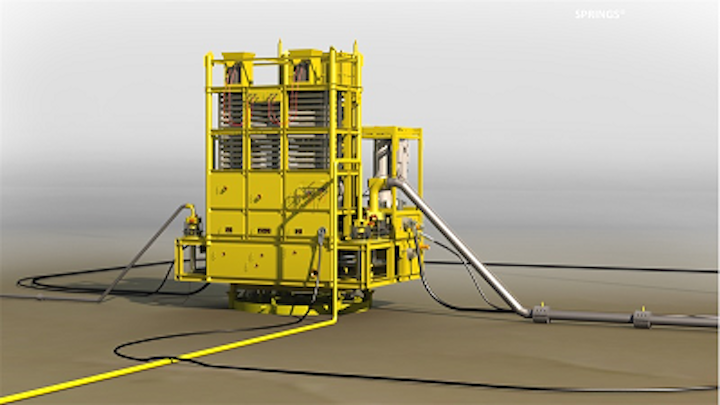 Offshore staff
SAN DONATO MILANESE, Italy–Saipem has entered into an agreement with partners Total and Veolia for the co-ownership and exclusive commercialization of SPRINGS subsea water treatment technology.
An alternative to topsides water treatment and injection units, SPRINGS, which stands for subsea process and injection gear for seawater, is a nanofiltration-based sulphate removal unit designed for use indeepwater environments.
Saipem said one of its main advantages is that it allows for greater flexibility in the water injection pattern in order to better sweep the reservoir. In addition, SPRINGS can lead to savings on topsides weight and deck space through the removal of the subsea water injection network.
The three companies collaborated on the technology, and a deep sea test was successfully completed in 2015offshore West Africa. Development began in 2007.
By moving the sulphate removal process subsea, Saipem said the technology enhances the economics of oil recovery by enhancing the economics of oil recovery by:
Eliminating water injection sealines
Freeing up deck space for production equipment and reducing topsides weight producing savings in terms of weight and deck space
Easing brownfield retrofits by, particularly on FPSOs
Making satellite, deep injection wells economical.
06/10/2016
Share your news withOffshoreat news@offshore-mag.com