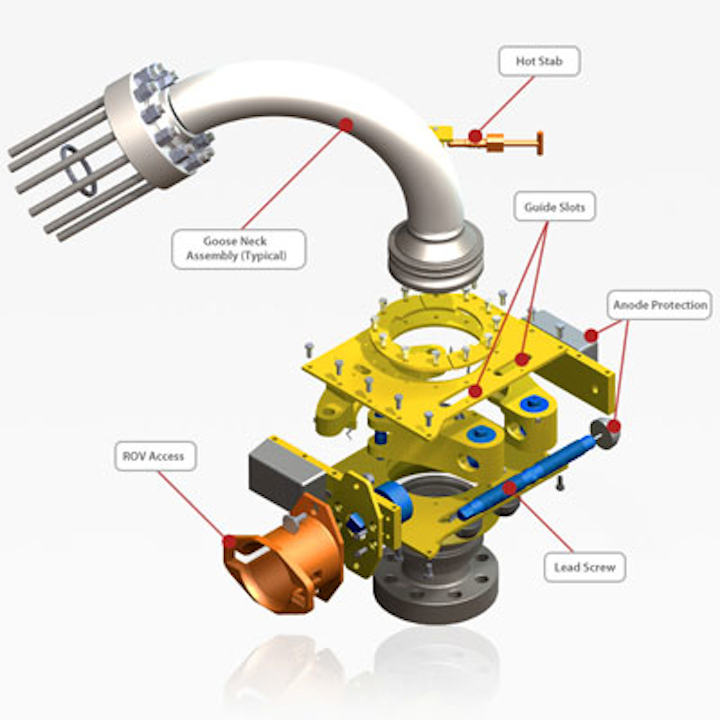 Offshore staff
SAN ANTONIO, Texas – At the 2016 Subsea Tieback Conference & Exhibition, Freudenberg Oil & Gas Technologies showcased several of its technologies used by Anadarko and others below the waterline.
The company, part of the Freudenberg Group, said it had provided an industry-first toAnadarko's Lucius spar development with its diverless pulling head and riserless installation tool. The technology was designed as a result of the Houston-based operator's initiative to remove saturation diving.
Under the scope of the contract, Freudenberg said it supplied two ROV-operated pilling heads and four of its Vector Optima vertical connection systems attached to two tie-in spools. To achieve Anadarko's request, the pulling heads were used to lift the export risers into their hang-off baskets. They were then detached by an ROV. The hull-piping spool was lowered into place and installed with the Optima, the group's metal-to-metal subsea sealing connector, which was also on display in the booth.
The Vector Optima, first deployed in the North Sea in 2000, is designed to reduce initial capex and installation opex by allowing swift ROV flowline connection. The company said that it worked with major operators to develop the technology, and it was developed with minimal parts and complexity. It uses the Vector Dualseal technology, which provides a pressure-energized inner seal to seal the pipe medium and a second pressure energized outer seal to keep out sea water.
The Vector Optima, which has been type-approved by Bureau Veritas, has a typical minimum design life of 25 years. In addition, Freudenberg Oil & Gas Technologies said that it can engage with a hub with an angular misalignment of up to 5⁰, or an axial misalignment of 50 mm, whichever of the two is lesser.
Freudenberg also announced a contract in 2013 to provide its Optima ROV connectors and landing systems toAnadarko's Heidelberg development, which is based on Lucius' design, in the Gulf of Mexico.
03/23/2016