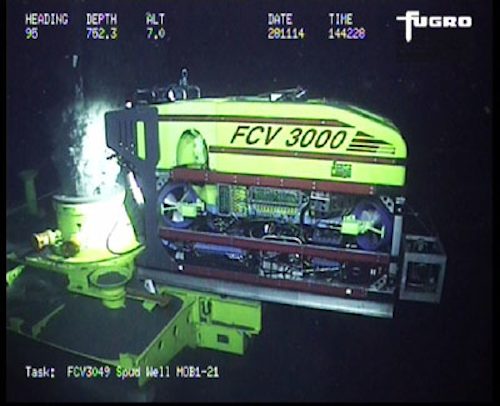 Offshore staff
ABERDEEN, UK –Total E&P Congo has awarded Fugro a five-year, $100-million contract for ROV services and remote subsea tooling for the Moho Nord field offshore Republic of Congo.
Fugro will supply four 200-hp FCV 3000 work class ROV systems and BOP tooling which will be installed on board three mobile drilling units and one field support vessel.
Three ROV systems mobilized from Fugro's Singapore base are now operating inMoho Nord. Two of them are on board ultra-deepwater drillships and will be working in water depths of approximately 1,200 m (3,937 ft). The fourth system will be installed on a semisubmersible vessel under construction in China.
"Moho Nord is the first major field in which rig BOP test closures have been carried out using Fugro's new BOP skid system," said Richard Mathieson, Fugro Subsea's ROV services project manager. "This uses a special high-flow pump on the ROV to drive further pumps located on the BOP skid, allowing the transfer of large volumes of water-based fluid from the skid reservoirs into the rig's BOP hydraulic rams when directed."
Fugro is expanding its existing Pointe Noire base to provide operational, maintenance, and repair services and also training on FCV ROVs and tooling for expatriate and Congolese personnel.
04/02/2015