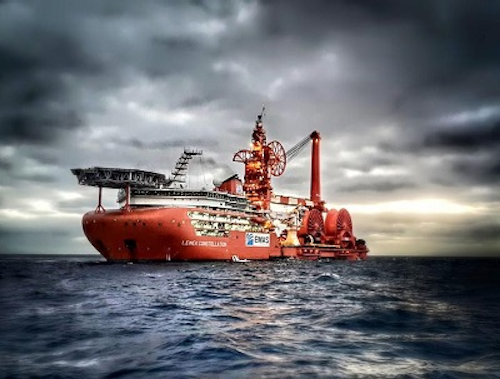 Offshore staff
SINGAPORE - EMAS AMC's flagship newbuild Lewek Constellation has set sail to work in the Gulf of Mexico after successfully completing its inaugural job in late 2014, a $120-million project for VAALCO Gabon (Etame) Inc. offshore Gabon.
Lewek Constellation will hit the Gulf to work for Noble Energy on the engineering, procurement, construction, and installation of subsea tieback projects in the Big Bend, Dantzler, and Gunflint developments.
The company's ultra-high-tension, deepwater, reel-lay and heavy-lift vessel waschristenedLewek Constellation in March.
This stands as the subsea construction vessel's inaugural deepwater pipelay project. The total scope includes more than 80 mi (130 km) of pipe-in-pipe flowlines and more than 56 mi (100 km) of umbilicals in water depths up to 7,200 ft (2,200 m).
EMAS AMC, the subsea division of EMAS, announced thethree contracts totaling $300 million in April 2014, ultimately finalizing them in October 2014.
04/06/2015