Norway, UK leading subsea spending
Rystad Energy predicts a steep increase in subsea tree installations globally over the next few years. Only 240 subsea trees were installed in 2017, the lowest since the turn of the century, the consultant claimed. But it now expects more than 350 subsea trees to be installed annually between now and 2021, with compound growth of 8% in the market between 2017 and 2023.
Initially UK and Norwegian fields will drive the growth, with South America taking the lead after 2021.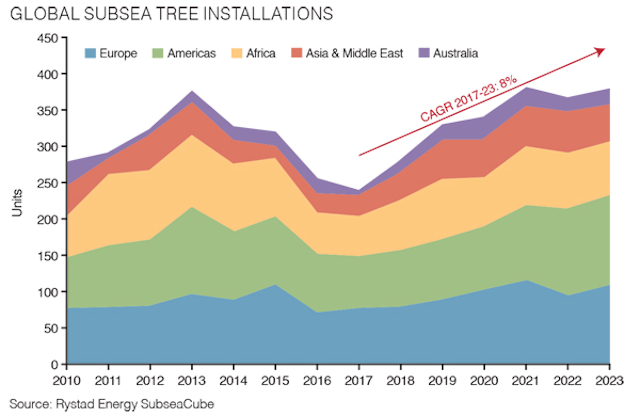 Rystad foresees worldwide demand for oilfield services this year of $642 billion, of which the subsea market will account for 4%, divided into equipment, services, and SURF (subsea umbilicals, risers, and flowlines). Between 2018 and 2023 subsea equipment spending should rise by 12% per year and the SURF sector by 11%.
"We now see a new wave of subsea developments in the coming years, supported by effective cost-cutting measures and cooperation between suppliers and E&Ps," said Rystad analyst Henning Bjørvik.
The present activity offshore Norway and the UK is down to an established infrastructure, which makes many marginal fields commercially viable through subsea satellite developments. Of the projects upcoming over the next four years in these sectors, 53% of the offshore greenfield E&P expenditure will likely be on subsea tiebacks, up from 30% during 2010-2018. Equinor looks set to step up its subsea expenditure during 2019, with potentially 93% allocated to projects offshore Norway.
Nova production system to get digital twin
Wintershall AS has appointed Aker Solutions to build a complete digital replica of the Nova subsea production system to enable data-driven engineering, production, and maintenance decisions.
Discovered in 2012, Nova is in the Quadrant 35 area in the Norwegian North Sea. Aker Solutions was awarded the contract to deliver the subsea production system for the field in early 2018.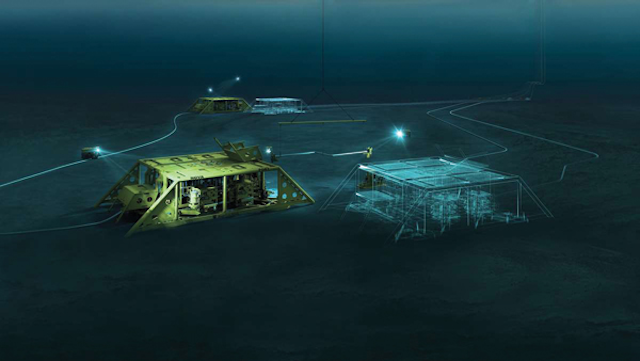 The Nova production system digital twin will be built on a cloud-based architecture. (Courtesy Aker Solutions)
Through two separate agreements, the company will provide both a fully interactive digital replica of the integrated production system as well as undertake a study to enable live data streaming and condition monitoring of the subsea equipment.
The digital twin will become an advanced replacement to traditional paper-based handbooks and equipment documentation, ensuring that all relevant engineering data is held centrally in a single, interactive and searchable solution. The company said it will be built on a cloud-based architecture capable of processing live data and ensuring that engineering information is always kept up to date.
The connected study to enable live data streaming from the subsea production equipment will be instrumental in driving forward real-time subsea condition monitoring, production optimization, and predictive maintenance for the field.
BHGE, McDermott net Greater Tortue Ahmeyim contracts
BP has awarded the main subsea equipment contracts for the Greater Tortue Ahmeyim natural gas development offshore Mauritania and Senegal. McDermott International and Baker Hughes, a GE company are respectively responsible for the SURF and SPS.
McDermott plans to deploy its upgraded Amazon vessel, DLV 2000, North Ocean 102, and other third-party vessels to support the installation program, which is due to start in late 2020.
The company will fabricate the pipeline and riser structures at its yard in Batam, Indonesia.
BHGE will supply five large-bore deepwater horizonal xmas trees, a six-slot dual-bore manifold, a pipeline end manifold, subsea distribution units, three subsea isolation valves, diverless connections, and subsea production control systems. This equipment will be designed to facilitate future integration of additional wells under the first development phase.