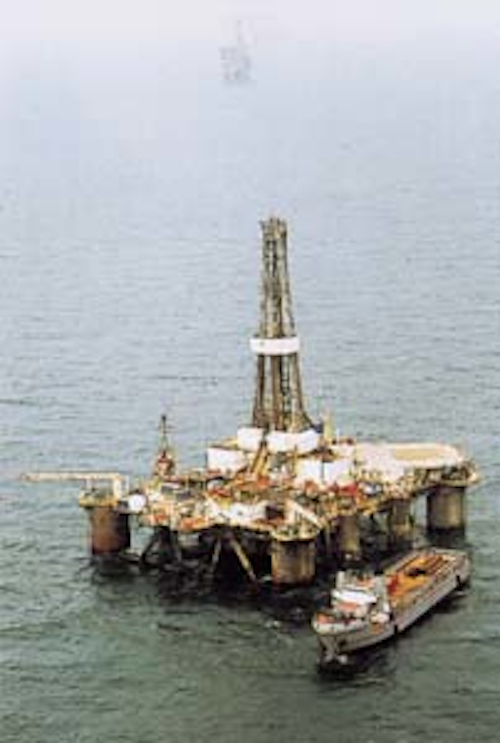 Jeremy Beckman
Editor - Europe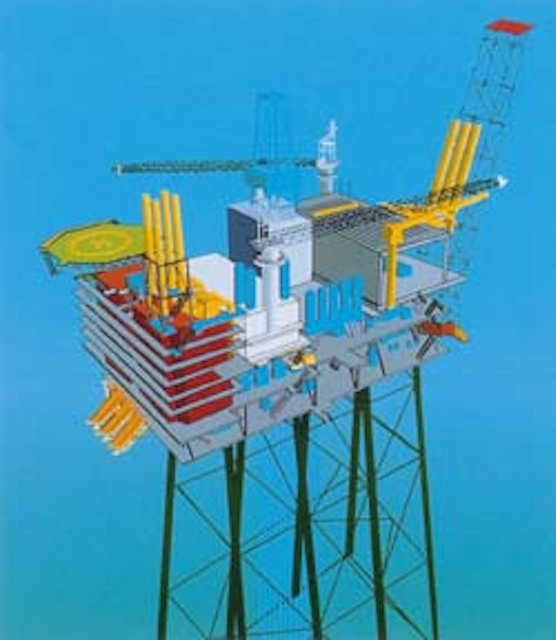 (Left) The semisubmersible Sedco 711 on location at the drilling template for the Britannia platform. (Right)A computer-generated artist's impression of the completed Britainia Platform.
Outlay on Britannia, Britain's largest new gas/condensate field development, could end up £500 million under the original target figure. Savings have come from a thorough review of the project at all levels, and through measures still being suggested by the numerous drilling and construction alliances.
Setting a price tag, then whittling costs, is nothing new, but the fact is that Chevron and Conoco both balked at the £1,855 billion fee pitched for Britannia in March 1994. It would not have gone ahead without a reworking of the development plan, which led to identifiable cuts of £300 million the following August.
Following approval from the UK's Department of Trade and Industry last December, the project is now well under way under the operatorship of Britannia Operator (BOL), a joint company created by Chevron and Conoco as the field's majority shareholders.
Costs appear to have been subdued further by an efficient pre-drilling program - currently 11% ahead of schedule - and by the decision to expand facilities at the SAGE processing complex onshore at St Fergus to handle the Britannia gas, rather than build a dedicated terminal at this site. Allegedly, this will save the field partners £100 million.
In the run-up to first gas in the 4th quarter of 1998, Chevron's half of BOL is responsible for geology, reservoir engineering and equity management. Conoco's 50% is handling conceptual engineering, safety and environmental matters as well as leading gas sales negotiations. Arrangements for the operating phase won't be decided until closer to the production start.
Britannia is the UK's first major gas reserve to be sold wholly to the independent gas market. BOL has reached agreements with four purchasers: Kinetica, Mobil Gas Marketing, National Power and Total Marine. But the other five minority partners in the field, Union Texas, Santa Fe, Phillips, Texaco and Amerada Hess, are also free to negotiate their own deals. So far, 28 gas contracts exist.
BOL is not expecting pull-outs, on the lines of Enron's recent decision to defer supplies of gas from Phillip' UK J-Block development. The Britannia bunch seem more concerned at getting first gas out on time, and at the projected peak output of 740 MMcf/d.
Pre-drill progress
Last month, the development phase was 16% complete, according to BOL development director Jim Briggs. First significant piece of hardware in place was the platform's 200-ton pre-drilling template, installed by the barge DB102 in April. This allowed pre-drilling of 18 wells to commence in May at the platform and subsea sites, currently due for completion by end-March 1997, followed by installation of the christmas trees.
The ensuing months will also bring installation of the eight-leg jacket and the 28,600-ton drilling, production and accommodation topsides at the east end of the reservoir. Placement of the 11,000-ton deck will be one of the top three heavy lifts in the UK to date, according to Britannia's project director Jeff Tetlow.
Also in 1997, the manifold for the field's subsea well center will be positioned, followed by installation of flowlines and umbilicals. Future wells could be tied in to a second center at the mid-point of the flowlines. "We may or may not need them," said Tetlow. "Any expenditure would come at the turn of the century."
During summer 1997, EMC will begin laying the export pipelines using laybarge Castoro Sei. A 185-km, 26-inch gas line will be laid from the platform to St Fergus with a separate 44-km, 12-in. line taking condensate to BP's Unity platform for export through the Forties-Cruden Bay pipeline.
Pipeline costs may be harder to suppress than most, with prices for steel line pipe currently higher than expected, according to Tetlow. The main technical challenge for EMC will be to negotiate a group of large pock marks in the seabed close to the platform, one being 120 meters wide and seven meters deep.
Drilling of a further 27 wells from the platform and subsea site should kick off in spring 1998, lasting at least until spring 2004. The 45 well total is considered necessary to fully deplete the reservoir over 30 years. The 900-ton subsea manifold, located 15 km from the platform, will also have three spare well slots.
Jim Briggs put the field's reserves last month at 3.6 tcf wet gas in place, 2.6 tcf of sales gas and 143 million bbl of liquids. The figures could rise, he said, as drilling progresses. Total well costs were estimated at £443 million last year, said Britannia's project drilling superintendent Alan Leiper, but the current target is £408 million.
"To achieve these cuts we performed a drilling optimization review," he said, "challenging all the basic assumptions in the project and looking for faster ways of completing the wells. That study was instrumental in allowing the project to move forward.
"Another key deliverable was extended reach drilling. Originally there were to be four extended reach centers to complete the reservoirs. However, Conoco/Chevron managed to design wells of much greater reach, allowing us to halve to two extended well centers [with no higher well costs]. Some of the wells from the platform will be 30,000 ft, which is world class."
The alliance for the pre-drilling program comprises Sedco Forex, supplying the drilling rigs Sedco 711 and Sovereign Explorer; Baker Hughes Inteq, managing directional drilling; Schlumberger, which is analyzing well data for reservoir performance; and Baroid, providing cementing and drilling fluids.
These four are empowered to take on execution of all pre-drilling projects, overseen by a small BOL management team making sure the contractors meet their targets. "There is opportunity for extra profit if the contractors deliver exceptional time savings," said Leiper.
"If they exceed their performance objectives, there is added profit available at the end of the project. There is also a well site incentive scheme for guys at the 'coal face' for exceptional performance in drilling wells."
Sedco 711 has completed the third of nine wells to be pre-drilled at the platform template, while Sovereign Explorer has dispatched the third well at the subsea location. According to Leiper, results so far have been encouraging, with all wells performing above their anticipated flow rate. One well, 15/30-M1, drilled 1,800 ft northeast of the subsea center, revealed more than double the expected thickness of gas-bearing sands. No major discrepancies have shown up against the geological model for the wells used in the reservoir simulator.
Drilling times are being cut through use of slim hole technology on 14 of the pre-drilled wells. The design chosen comprises 30-in. structural casing, 20-in. conductor casing, 9 5/8-in. intermediate casing and a 7-in. liner. On four of the wells, 13 3/8-in. casing is used in place of the 20-in. conductor casing. This should lead to savings of £0.5-1.5 million/well.
To reduce rig downtime, the 711 has been fitted with eight new 15-ton Stevpris anchors, said to be less prone to drag in the soft seabed location. An upgraded active heave compensator has also been installed to stabilize the rig even in rough seas.
Heavy duty ROVs onboard both rigs are also keeping the schedule on course by aiding transfer of BOP stacks from one completed well to a new one, without the need to take the BOPs to the surface.
Platform alliance
Jeff Tetlow describes the steel platform jacket as "fairly conventional", with typical process plant on the topsides. The alliance for the topsides includes UK groups Amec (engineering, procurement, hook-up and commissioning); SLP and Trafalgar John Brown (fabrication); and Nabors (drilling design and procurement).
All four are being reimbursed for direct costs, but there are also incentives. According to Tetlow, any cost savings achieved against outlined criteria are distributed amongst the contractors in pre-arranged shares: 45% of cost savings flow back to the contractors, with the remaining 55% going to BOL.
To prevent hydrate formation in the 15-km long flowlines, hot water jackets will be incorporated, warmed by waste heat from the exhaust system of the platform's turbine generators. Alliances have also been formed with the flowline contractors, Costain and Stolt Comex Seaway, and with the pipeline companies EMC and engineers JP Kenny. They too will share in any savings achieved on a pre-arranged basis.
Initially, Chevron/Conoco had considered using existing pipelines for transporting the gas, says Tetlow, but then came to the conclusion that tariff payments would make that option unattractive. Some thought was also given to offtake of the liquids by tankers, using a concrete substructure for storage. However, a deal was then hammered out to use the Forties pipeline system, which proved sounder in terms of economics.
To accommodate Britannia's gas, the SAGE owners plan to build a bypass train in addition to the two existing process trains at the St Fergus terminal. Planning consent is expected early next year. If peak output of 740 MMcf/d is reached, it would represent 7% of the UK's daily needs.
The field's safety case is close to being accepted by the UK's Health & Safety Executive. "We want to ensure high reliability and quality," said Tetlow, "not at all costs, but at the level required by our owners to meet our gas requirements and for the platform to last 30 years and to be economical to operate."
It will be a "low-cost" operation, he promised. Predicted development cost is £2.25/boe, with an overall cost including all activities since the first discovery in 1975 of below £6/bbl. "Conoco doesn't develop fields above that price," he said.
Copyright 1995 Offshore. All Rights Reserved.