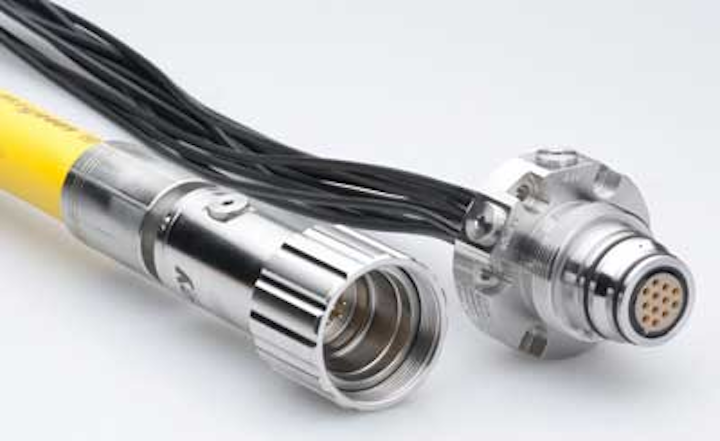 New connectors designed to improve safety
Mikkel Juul
Steen Frejo
Thomas Hestehave
MacArtney
As offshore oil and gas operators extract hydrocarbons at increasing depths, subsea operations depend on advanced equipment to perform without fail under extreme conditions. Central to this development is the increasing use of dedicated subsea connectivity solutions for more efficient, reliable, and safe operation of vital equipment on the seabed, including subsea control and safety systems.
The core objective of any subsea control and safety system is the continuous and safe operation during exploration, development, and production. It is paramount to have reliable power and communications within and between subsea infrastructure and topsides. In addition, such systems often enable operators to collect information to use in planning and performing field development, interventions and maintenance. Most importantly, in emergency situations, subsea safety systems need to swiftly and effectively stop the flow of hydrocarbons and to disconnect at the seabed to shield personnel and the environment against the consequences of a major spill or blowout.
Recent offshore incidents highlight the need for effective and reliable safety requirements governing the quality of systems and equipment used for complex offshore and subsea operations. Within this context, organizations such as the American Petroleum Institute (API) and the International Organization for Standardization (ISO) continuously develop standards for the design and qualification of subsea equipment and products.
MacArtney Mac API Connectors provide dedicated subsea connectivity.
The current applied standards are the result of unique challenges such as diverse well conditions and the specific environment at areas of deployment. For instance, rigs operating in the Gulf of Mexico must be prepared to deal with hurricanes, which can shut down operations and cause operators to move the rig off location, while unpredictable weather in the North Sea makes drilling and completion operations particularly hazardous as result of unforeseen rig movements.
Connectivity and subsea safety
Subsea connectivity equipment must be designed to meet industry standards of efficiency, reliability, and safety. Power and signal connectors and cables often perform many roles to see that all features and functions of subsea systems remain safely linked and fully operational at all times. Moreover, while often installed to perform under harsh subsea conditions and under intense hydrostatic pressure, any connection used to interface subsea systems must remain dependable and testable, often for the entire system lifespan, as subsea interventions or surface maintenance may be challenging and resource demanding.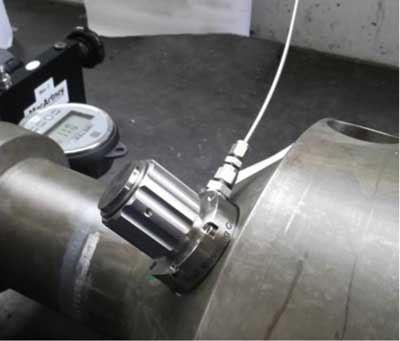 In compliance with API stipulations, Mac API connectors mounted on the flexible riser are fitted with double test ports.
Many subsea connector manufacturers offer solutions based on standard connector designs that are modified to comply with API standards, for example. This may be sufficient for several applications. However, due to ever more demanding conditions, more operators and subsea contractors are turning to dedicated connectivity solutions. One example in use is the Mac API connector series by MacArtney, which provides the power and communication interface for subsea safety and control systems, drilling and riser systems, and numerous other subsea applications.
This is a dedicated connector and cable range designed, manufactured, and tested to comply with API standards 16D and 17E. While API standard 16D provides direction and design standards for systems, subsystems, and components used for subsea system control, API standard 17E specifies requirements and gives recommendations for the design, material selection, manufacture, design verification, testing, installation, and operation of subsea control systems, chemical injection, gas lift, utility and service umbilicals, and associated ancillary equipment.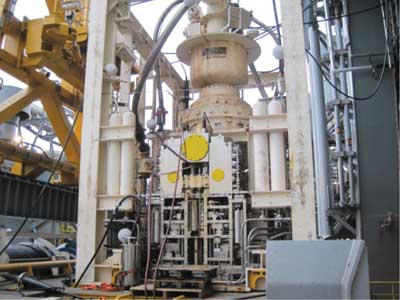 GE Hydril BOP with Mac API technology.
These connectors are designed to have as few parts as possible to help increase levels of operational safety. Critical to the design is ensuring that the entire connector system, including cable, connector, boot, and termination, can be tested for integrity once assembled. Therefore, all Mac API connector solutions are designed and integrated with double test ports on the connector to allow pressure testing of both sections after mating and before the connection is lowered into the water. For all Mac API models, full API standard compliance and connector functionality is verified by third party DNV.
Connectivity cases
When OneSubsea wanted to develop a 2.5-in. smooth bore flexible acidizing riser pipe, it needed a subsea connector interface to provide power and data communications from topside control equipment to subsea control units. The riser pipe was to connect a floating vessel to OneSubsea's Multiple Application Reinjection System (MARS) to power subsea trees in 1,300 m (4,264 ft) of water in the Gulf of Mexico.
Technip Flexi-France was selected to supply the engineering, manufacturing, and testing of a 1,600-m (5,249-ft), 2.5-in. line. Technip acquired from EuroOceanique a complete pressure-tested FCR Mac API 16D and 17E compliant solution to interface a subsea steel termination vault fitted at the end of the riser.
Integrated through the face of the riser termination vault, a total of four 4-Pin (600 VAC, 10 A) Mac API connectors were installed to transmit power and signal while withstanding the subsea hydrostatic and temperature conditions at the site. In addition, the connectors were designed and tested to provide sealing against backpressure should the riser get flooded.
Another example case relates to the role of dedicated subsea connectivity for interfacing subsea BOPs. As drilling sites move into deeper waters, BOPs have become more advanced to withstand higher pressures and still be reliable enough to permit increased intervals between tests or servicing.
GE Hydrill selected Mac API connectors and MacArtney FITA (Field Installable Termination Assemblies) to provide the links that safeguard key system function and performance. When GE Hydril was designing its BOP control system, it needed a complete connectivity package that met the strict standards stipulated by API. The connector system within the BOP unit had to withstand submersion for extended periods and while accommodating several failure modes stipulated in the API pressure controls guidelines. Guidelines also required the umbilical and termination assembly to function when fully flooded with seawater, and to continue to operate for an extended period without conductor failure.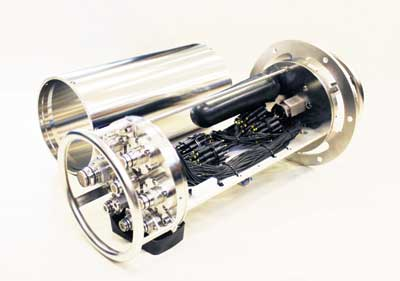 MacArtney FITA assemblies facilitate Mac API connectivity within and between subsea equipment and systems.
Ensuring that connectors will function with a flooded cable requires the combination of several design features. For instance, a boot is fitted behind the connector to ensure that any water entering the cable cannot penetrate to the connector. And for API 17E standard compliance, the subsea cable is as important as the connector. Each system needed to be fail-proof on delivery. Every element in the cables was tested individually before construction to ensure full functionality. The cables and connectors were pressure tested before completion and the entire units were pressure-tested prior to inclusion in the BOP connectivity package.