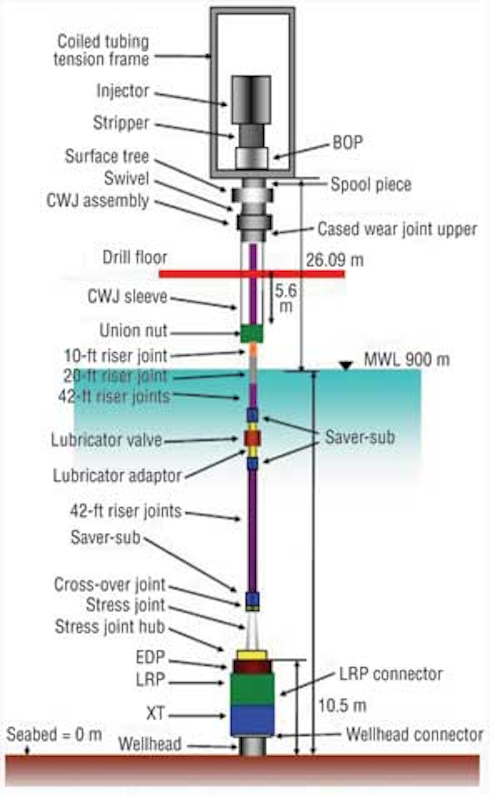 Mathieu Camus
Total
Mathieu Camus
Pascal Auclair
Total E&P Nigeria Ltd.
Barrie Horsburgh
Cameron
Yann Gallois
Christophe Rohart
Jim Miller
Yannick Mfoulou
VAM Drilling
A new high-pressure drill pipe riser for intervention system (DPRIS) was deployed recently on the Cameron/Total Usan project offshore West Africa, and appears to be a cost-efficient solution for subsea operations, workover applications, and well intervention.
A total of 14 runs with this DPRIS have resulted in the safe and efficient installation of four trees. These trees have had no cleaning issues and no rust debris impacting operations.
Proper operating procedures implemented by field personnel have allowed for safe and efficient subsea runs to date, and provide confidence in future runs (38 more trees are planned).
VAM Drilling delivered the pipe for this project. These are drill pipe risers with a proprietary double shoulder connection, featuring a gas-tight metal-to-metal seal on the inner shoulder.
The standard offer for high-pressure DPR is 6 5/8-in., 0.5-in. wt and X-95 grade. VAM Drilling suggested this be changed to a thick wall for corrosion allowance and higher grade for tensile strength, specifically: 6 5/8-in., 0.625-in. wt and G-105 grade.
The qualification program covered all requirements for full compliance to ISO-13628-7, which is believed to be a good certification level for such demanding operations.
Project context
Usan field is offshore Nigeria in block OML 138 approximately 100 km (62 mi) south of the Nigerian coastline. Field owners are EPNL/Total as operator, and also Chevron, Esso and EPNL-Nexen. Subsea facilities are arranged around an FPSO and are composed of 23 production wells, 10 gas injection wells and nine water injection wells. There is a potential for up to 32 production wells. Each of these will be fitted with a subsea tree installed at the seabed.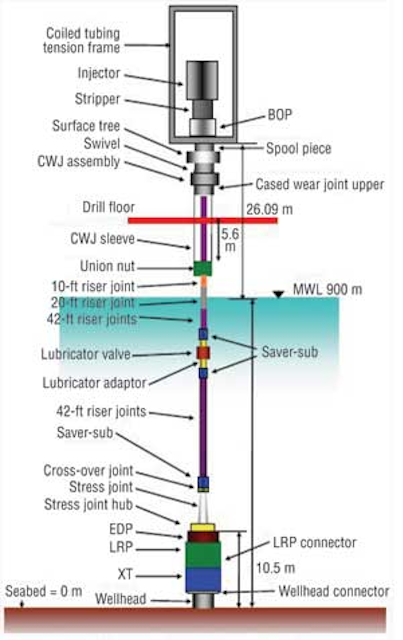 Typical USAN christmas tree intervention bottomhole assembly.
Drivers for DPRIS selection
Before DPRIS, most operators used conventional drill pipe available on rig to install and retrieve the production adapter base and tree. These were simple, open water operations that did not require annulus control, pressure containment, or fluids circulation.
Occasionally companies used drill pipe as a work-string in tubing hanger retrieval operations. Pipe could be deployed with a hydraulic jar to unstick tubing hangers. While success varied, the difficulties and risks of using a hydraulic umbilical inside the riser was clear and made it evident that improvement was needed to minimize interference between the pipe and the hydraulic lines.
The existing designs for dual vertical-bore risers were adequate for shallow water completions, but as time passed and subsea completions moved to increasingly deeper waters, risers became a more costly and less desirable solution.
Today, drill pipe risers are used in the following ways:
As running string for the installation and retrieval of subsea trees and tubing hangers
To improve flow path for annulus access of circulation
Fully NACE compliant for the most extreme sour service environments
To provide conduit to the surface for well production testing and wireline or coiled tubing services.
They can be run in open sea mode or inside drilling riser and BOP systems.
Some main drivers for the use of DPRIS in the Usan field were:
Safety of the operations
Better control of the deployment process
The large production bore
Ability to run an umbilical along with the tree
Extended depth capability for deepwater operations.
High pressure DPR design
A 6 5/8-in. OD drill pipe was selected to meet the minimum drift requirement. Although this dimension has become an industry standard for DPR systems, the considerations for pipe design included:
Water depths between 650 m and 900 m (2,132 ft and 2,952 ft)
One-year and 10-year return periods
Currents and swell heights offshore Nigeria
The expected or allowable vessel motion defined by the maximum percentage of water depth
Vessel deviation.
Research showed that the standard offer for high pressure DPR, with 6 5/8-in. OD, 0.5-in. wt and X-95 grade did not provide sufficient safety margin against the worst operational conditions with the assumed 3 mm (0.12 in.) corrosion/wall thickness tolerance allowances.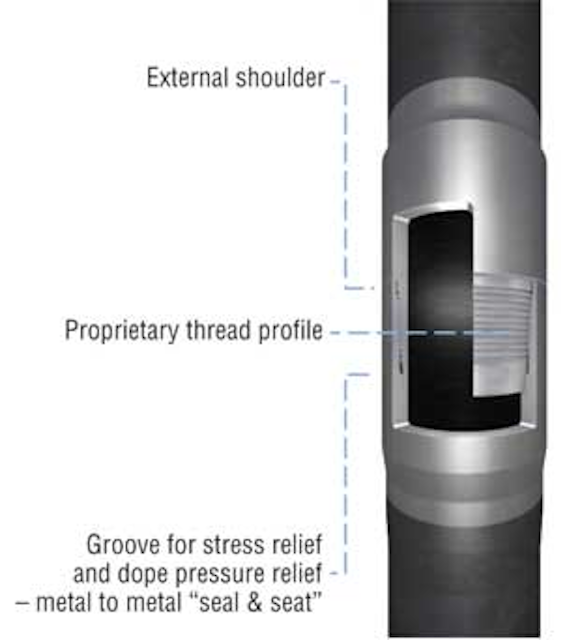 Second generation DPR design.
The minimum wall thickness for a standard pipe joint is calculated to resist loading due to internal pressure, external pressure, and combined loading effects between tension, bending, and external pressure. All dimensions were chosen in accordance with API RP 2RD for all operating conditions, including pressure testing. The different criteria evaluated as failure mechanisms during operation were:
In-service—burst
In-service—collapse
In-service—buckling
Hydrotest— burst.
Qualification program
By calculation and finite element analysis it was demonstrated that the majority of the qualification tests results for 110 ksi connections was transposable to 120 ksi connections. Thus a reduced test plan was agreed upon between the field user and the product manufacturer to validate the new 120 ksi configuration, according to ISO13628-7:2005 and in consideration of the Usan field loadings.
Transposable results included:
Connection robustness to 100 make and breaks already validated on 7 samples
Connection robustness to round robin test validated on 3 connections
Combined load tests validated on 3 connections at 15,000 psi and 1,000 kips
External pressure water leak tightness validated on 3 connections at 10,000 psi
Connection burst test without leak until 30,000 psi internal water pressure.
The new validation tests included:
Resonant fatigue test with mean tension applied by 5,000 psi internal water pressure
Temperature cycles tests between 121 °C and -18 °C (258 ºF and 0 ºF)
Low pressure test before and after temperature cycling
Third-party witness of all tests and approval on qualification documentation.
Operations
Since July 2010, 14 runs have been performed offshore Nigeria with this DPRIS. Of the 14 runs, nine were inside riser, and five were in open hole for the successful installation and testing of four christmas trees.
Only the first set of tools has been used for these operations. There have been no cleaning issues and no rust debris to impact operations. Generally, the torque and connection make up and running at the rig are unremarkable. One joint was damaged due to over-torque at the rig floor. It was removed, and operations proceeded seamlessly.
Lessons learned
Long-term planning is key for successful qualification of these DPRIS. Though it is too early to call the deployment a complete success, smooth operations thus far provide confidence in future DPRIS runs.
It is important to highlight the good communication practices established before, during, and after deployment. Training and technical documentation was provided in advance to the field user to ensure proper application of the products.
Inspection, repair, and maintenance also must be planned. This is essential. Regular inspections must be carried out at the rig by the field running personnel and a visual inspection of pipe and threads must be performed after each run. Runs can last 2 to 15 days in this field. The rig inventory is replaced once a year and sent ashore for a full inspection off internal and external parts of the pipe and threads; defects on the OD and wall thickness also are inspected.
Acknowledgment
Based on a paper presented at the Deep Offshore Technology International Exhibition & Conference, held in New Orleans, Louisiana, Oct. 11-13, 2011.
More Offshore Issue Articles
Offshore Articles Archives
View Oil and Gas Articles on PennEnergy.com