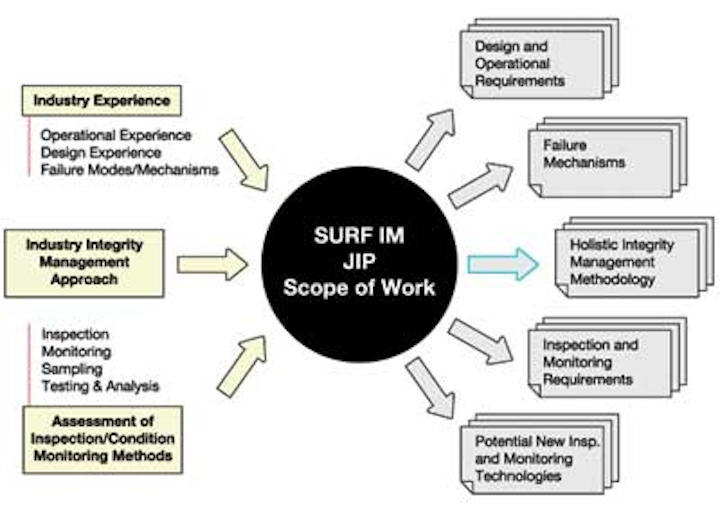 Patrick O'Brien
Wood Group Kenny
Adriana Botto
Wood Group Integrity Management
Keith Mackie
ITF
SURF IM is a joint industry project (JIP) that aims to enable an integrated, consistent, and robust approach to integrity management (IM) of subsea, umbilical, riser, and flowline (SURF) systems, and to develop new best practice guidelines for subsea IM. Wood Group Kenny leads the project, which has support of 12 international operators secured with assistance from Industry Technology Facilitator, or ITF.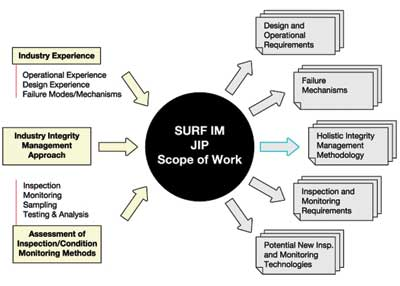 The SURF IM project aims to deliver a "holistic integrity management methodology."
Although there is a long record in development and application of subsea technology and expertise, less than ten years ago it remained a specialist area for many operating companies, representing only a small percentage of producing projects.
However, the industry has reached a turning point with subsea technology. An increasing number of major operators are experiencing a significant rise in the percentage of their portfolios that are subsea developments. Field life extension by adding new subsea wells to recover additional reserves is increasingly common, and remote, long-distance reservoirs and deepwater developments use subsea technology.
In addition, over the past five years, subsea processing, including seabed equipment for boosting, compression, separation, and injection, is being applied to a number of developments, and this area is expected to accelerate as field experience is gained and technology acceptance grows.
The convergence of these factors means that production, and therefore revenue generation, throughout the service life of an asset will rely increasingly on the integrity of subsea systems. Therefore, it is vital for the industry to have condition monitoring equipment and integrity management capability aligned with these changes.
Despite this backdrop, development of SURF system IM strategies has lagged the pace of SURF system technology development and use, and the integrity management approach has tended to be reactive and focused on individual components rather than the whole system.
Joint industry development
The initial SURF IM project proposal described a comprehensive and collaborative approach to tackle this discrepancy. ITF invited proposals to address a range of issues, including "enhancing subsea operations through automation," "optimization and monitoring" and "early warnings of problems." Proposals received were reviewed with ITF members to ensure the scope of work closely aligned to their needs and objectives. ITF members decide individually whether to support a project; the large number of project participants in the SURF IM JIP indicates the value of this work to industry.
The project, launched in December 2010, aims to develop a robust, consistent, automated method to develop a lifecycle IM strategy for the complete subsea system. This holistic and comprehensive strategy includes integrity considerations in the design process, incorporates the goal of operations assurance for the system as a whole, and links integrity to the ongoing operation of the system.
Other objectives of the JIP include:
Sharing knowledge about subsea component failures, defects, and subsea operations experience
Identifying current capabilities and technology development needs to inspect and monitor subsea components
Identifying emerging inspection and monitoring technologies.
A cost-effective IM strategy for subsea systems must define and implement the optimum levels of inspection and monitoring, but this requires a good understanding of possible failure mechanisms. Therefore, a key element of the project is providing an environment that allows the 12 project participants to openly share knowledge, experience and lessons learned about subsea operations, failures, and integrity.
This information forms part of a review that also incorporates the outcomes of previous JIPs on flexible pipe and riser integrity. Input also came from ongoing or completed industry initiatives on IM of various SURF components such as pipelines and subsea equipment, as well as from a range of subsea integrity industry players. The inclusion of contractors, suppliers, and subsea inspection and monitoring technology developers helps ensure that the output represents the current status of subsea integrity in the industry as a whole.
Systematic approach
This comprehensive review is being used to develop a systematic approach to mapping failure modes and mechanisms for all subsea equipment (structures, umbilicals, risers, flowlines, christmas trees, and control systems) onto a subsea integrity management system, taking the project life cycle from design to decommissioning into account. This, in turn, could enable a shift to a more predictive and risk-based, rather than reactive, approach to integrity management.
As an example, risk is a product of the probability of occurrence and the consequence of failure. Once failure modes are identified, risk can be evaluated on the basis of factors that affect the probability and consequence of the associated failure. Previous JIPs such as the SCRIM project focused on steel catenary riser integrity. The SCRIM method is used to determine the probability element in risk assessment. SURF IM is looking at developing this kind of method for the entire subsea system. A risk index can be calculated for each failure mode, the risk matrix plotted, and the information used to assign integrity management levels and mitigation measures. The subsea system components also can be divided into integrity groups with similar exposure to potential failure modes and hazards, similar probability and consequence for the key failure modes identified, and similar integrity management measures available.
Quantitative risk assessment applied as part of reliability based approach is more detailed and involves estimation of event frequencies and risks. As part of the SURF IM JIP, a modified failure modes effects and criticality analysis (FMECA) was done for each integrity group, and workshops held with the JIP participants to validate their experiences with equipment failures.
Improving capability
The availability of subsea inspection and monitoring technology is essential to develop a subsea IM strategy, and another objective of the SURF IM project is to review and categorize existing subsea inspection and condition monitoring technologies to establish current capability and best practice. The project also has captured the status of current technology developments and identified emerging technologies associated with subsea or underwater inspection and monitoring. A technology readiness level assessment of proposed inspection and monitoring technology has been done, and the process enabled identification of specific technology needs for detection and prediction of subsea equipment failures. Subsea inspections, for example, currently are restricted to visual inspections by ROVs or AUVs. This is one example where technological innovation is required.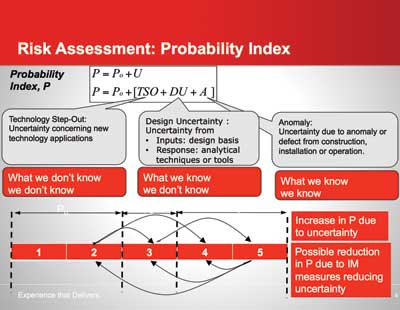 SCRIM JIP risk method to determine an IM probability index.
Subsea inspection technology lags that for topside and onshore systems due to the limited experience in managing the integrity of subsea and deepwater systems and the timeframe required to develop and qualify new technology. This is especially true regarding fault-finding capability for evident and incipient failures, and non-destructive testing techniques.
The identification of areas requiring additional development, and provision of a road map to bridge the gaps between the current technology and the desired performance, will be a major benefit of the project. This should help accelerate development in those areas by creating a consensus for specifying inspection and monitoring requirements, and to serve as a guide to developing key technology in subsea inspection and monitoring.
An innovative aspect of the project that relates to subsea boosting and injection equipment integrity was added to the initial scope at the request of participants. The costs to repair subsea units are high, particularly in deepwater, so reliability and integrity are important to enable more use of subsea processing. The aim of this additional work is to identify failure modes associated with subsea boosting and injection systems, and to enable technologies in subsea control, subsea power distribution, structural and mechanical designs, and flow assurance.
Guideline development
The final element of the SURF IM is development of a new "Guideline for Subsea Integrity Management" covering failure and damage mechanisms and providing a way to map risk analysis onto available monitoring and inspection techniques. The result will be a life-of-field IM strategy that considers how to identify anomalies at an early stage to prevent escalation to failure.
Another objective is to ensure its outcomes comply with existing or imminent guidelines, regulations and codes of practice on subsea IM such as recent guidelines from the Energy Institute in the UK, the upcoming regulations proposed by the Bureau of Ocean Energy Management in the United States, and the current redrafting of API 17N.
Behavioral change
The ultimate measure of success for this JIP may be behavioral change within the industry with respect to planning integrity management. There is some evidence of change in attitude, and it is hoped the guidelines produced will cement an approach for operating companies to plan for long-term IM issues in the concept and front-end engineering and design (FEED) stages.
For example, fatigue can be a major issue in flexible risers. It is possible to incorporate fiber optics within the riser to measure factors such as temperature and stress, but only at the concept stage. Another example is consideration of options to make critical to HSE and operability components modular and retrievable. These components require reliability centered maintenance, and spares philosophy and plans need to be developed around the fact that many new fields require a design life of up to 30 years. Although costs associated with this approach may be higher initially, the potential benefits over the whole project life cycle are significant.
The SURF IM project scope has been extended, with a number of new participants added, and now looks likely to run until June 2013.
The authors
Adriana Botto is integrity management manager at Wood Group Integrity Management and SURF IM project manager. With a Master of Science in Naval and Ocean Engineering and a major in Subsea Engineering from COPPE–Federal University of Rio de Janeiro as well as a Bachelor's in Mechanical Engineering, Botto has extensive experience in integrity management of steel and flexible pipe, risers, flowlines, umbilicals, and subsea equipment.
Keith Mackie is technology director at ITF. He joined ITF in 2007 as a senior technology analyst and has been responsible for managing several of ITF's technology themes as well as facilitating the launch of joint industry projects.
Patrick O'Brien is group director of strategic business and marketing for Wood Group Kenny, and executive director of MCS Kenny. He is a Chartered Engineer with over 25 years oil and gas industry experience. His technical expertise includes flexible pipe technology, and the dynamic analysis and design of compliant riser systems to floating production and floating drilling facilities.