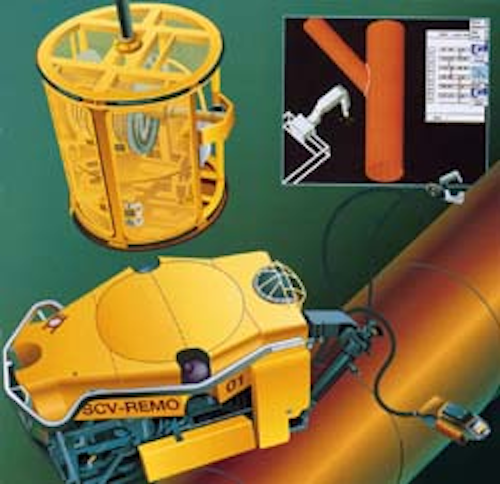 The remotely operated REMO ROV and (inset) a computer image from the surface control system.
Expanded use of floating production systems has triggered new opportunities for Scottish subsea firms traditionally specializing in solutions for the North Sea. The need for diverless installation and maintenance of equipment in deeper Atlantic waters has provided further impetus after years of uncertainty over the extent to which novel technology would achieve commercial acceptance.
But many of the ideas being adopted by oil operators and lead contractors are not the result of recent breakthroughs. They stem from investment risked in research 10 or more years ago when there was not the same pressing need for the technology.
The foresight which went into developing components such as flexible risers and turret systems has made it possible to design floating systems with the capacity to handle as much oil as fixed structures, and to recover reserves from depths beyond the limits of conventional platform design.
"The technology is definitely there and there is a whole range of things now beginning to come out of cold storage," says Jimmy Hay, former head of BP's North Sea operations who now chairs the Scottish Subsea Technology Group (SSTG) formed by Scottish Enterprise.
Multiphase flow is among the enabling technologies starting to make a real contribution to offshore engineering after more than a decade of development. It features in plans for the BP/Shell-operated Eastern Trough Area Project, an integrated scheme to develop seven oil and gas/condensate accumulations.
The project, recently approved by the UK government, includes the longest tie-back so far attempted in the North Sea to link a subsea manifold to a host platform more than 20 miles away. This is marginally longer than another multiphase line Texaco will install to link subsea wells at the Erskine gas/condensate field to Amoco's Lomond platform.
Multi-path swivel
One of the major contributions to floaters has been turret technology. After completing the swivel stack for BP's Foinaven Field, Edinburgh-based Brown Brothers won a second order for a multi-path system to connect risers from Conoco's MacCulloch Field to processing plant on a tanker undergoing conversion to a floating production system.
Despite the shallower water depths in the North Sea compared with those west of the Shetlands, the technical specifications for the MacCulloch unit are equally demanding, requiring five toroidal flow paths with an axial gas swivel and an electrical slip-ring.
"The North Sea will break any piece of equipment that doesn't meet the highest standards of reliability," says Willie Reid, Brown Brothers' director and general manager. He explained that safety and reliability of transfers is aided by a design which absorbs mooring tensions building up between the geo-stationary turret and the weathervaning vessel in a full range of North Sea weather conditions.
Initial assistance with swivel research came from the UK's Offshore Supplies Office. Now Brown Brothers plans to develop new products for the industry ranging from customized swivels to integrated digital control systems.
Diverless advance
Jimmy Hay claims that the improved business climate for about 30 firms comprising SSTG is largely the result of many forthcoming projects being beyond the depths practical for diving support. This means greater reliance on the latest generation of ROVs and the use of advanced remote control and actuation systems to make many of the frontier developments technically and economically feasible.
For instance, Aberdeen-based SubSea Offshore recently completed the world's first guideline-less flowline pull-in and connection during installation work at Foinaven. The operation was completed using and advanced, purpose-designed ROV to support a proprietary tooling system which allowed clusters of flowlines and umbilicals to be grouped around manifolds.
More advanced ROVs are also contributing to the general effort to reduce operating costs at existing North Sea fields. One innovative example was at Texaco's Tartan, where robotics and computer-generated imaging techniques were used recently by Stolt-Comex Seaway to perform underwater inspection and maintenance work previously undertaken by divers.
Using the SCS-REMO vehicle built in Norway, a 30-day operation was mounted to check subsea parts of the platform, pipelines, risers and emergency shutdown valves at the field, along with manifolds at the nearby Highlander and Strathspey subsea satellites. The exercise resulted in identification of one potential hazard, subsequently made safe by fitting a new bracket.
The camera on the ROV provided information which was fed into a computer on the support vessel for enhancement by graphic techniques to produce images that created a virtual subsea environment. These could also be used to navigate tools to an accuracy of one millimeter at depths down to 3,000 ft.
Stolt-Comex Seaway's project manager Andy Stewart says the main advantage of the system was the safety aspect. It could be deployed for 24 hours a day without `getting tired' or putting divers' lives at risk. "It can do anything from checking for cracks through the use of luminous paint to welding or removing barnacles."
Texaco estimates that the diverless operation cut its 1995 seabed inspection costs by half, helping to achieve a substantial underspend in its Aberdeen-based operations. It now plans to extend the technique to its Erskine and Captain developments.
Alternative energy
Looking ahead, Jimmy Hay believes the interest in deepwater and marginal field development will stimulate demand for further innovation, including underwater communication that allows signals to be beamed from subsea wells stationed a considerable distance from host installations, and also new forms of energy supply.
"The cost of control umbilicals is very high, so if you can find some mechanism for providing power at the wellhead, perhaps using fluid pressure or fluid flow, you can actuate systems remotely without umbilicals."
Hay's main concern for the future is how research will be funded to provide the further advances in technology which will be needed a decade from now, given the recent changes in offshore industry business practice. These have resulted in lead contractors taking over project management from oil companies with which smaller companies could previously discuss innovation directly.
He is worried that the financial pressures on contractors to achieve project performance targets will make them less likely to risk untried ideas. Another consequence of the new practices is the emergence of middle management organizations that arrange subcontracting work for the major players: this inevitably lengthens the time taken for smaller firms to receive their payments.
The situation is aggravated by a scenario of dwindling R&D funding from the oil companies, and doubts over the continued support for the oil and gas sector when the European Union restructures its science and technology programme. Instead, more EU money may be allocated to `clean' renewable energy resources.
Many past breakthroughs in Scottish subsea technology came from individuals with bright ideas. Hay fears this pool of innovation may dry up without the support to bring projects to commercial application.
Even if the EU continues its funding, the rules require time-consuming setting-up of joint ventures for cross-border co-operation and also having a client company prepared to make use of the end-product from any research under consideration for support.
Bridging that gap is the key challenge facing the Scottish subsea sector as it looks to maintain its track record for innovation into the next century.
Copyright 1996 Offshore. All Rights Reserved.