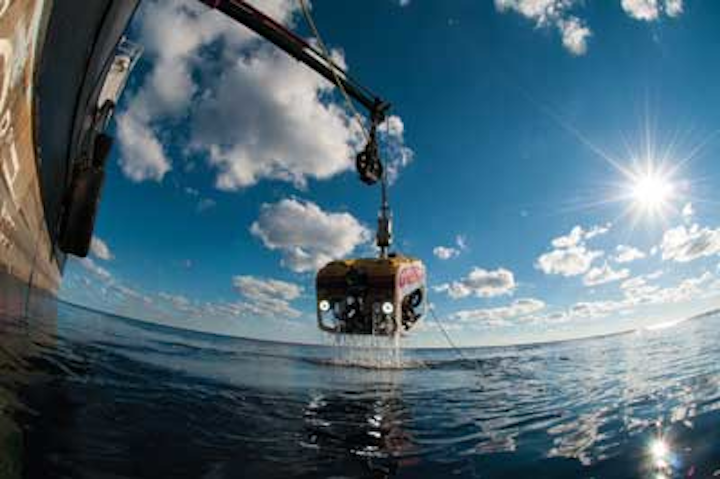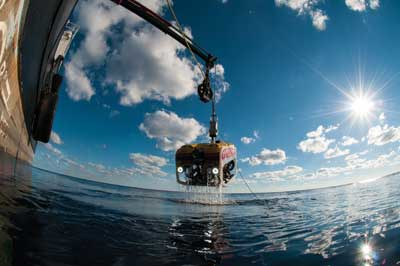 Meridian Ocean Services has added two Saab Seaeye Lynx ROVs to its Falcon fleet to undertake a wider range of deeper inspection tasks at short notice. The company has created a suite of rapidly deployable ROV packages comprising Saab Seaeye Lynx and Falcons set in small-footprint containerized systems ready for speedy deployment from a 150-ft vessel. Meridian says the Lynx, with its TMS and enhanced operating features, will expand the company's range of inspection roles in deeper platform work, around buoys, artificial reefs, and for cleaning and diver support.
| | | |
| --- | --- | --- |
| | | Gene Kliewer • Houston |
A new type of lift and deployment ROV dubbed Shuttle Sub by Deep Blue Engineering UK Ltd. is being introduced.
The buoyant-controlled Shuttle Sub can float, dive, surface, and maintain neutral buoyancy with a 100-metric ton (110-ton) payload, says Deep Blue.
"The Shuttle Sub is essentially an ROV in its own right, but it combines this with a transport function," said David Webster, managing director of Deep Blue Engineering. And it offers an alternative to cranes for installing generating equipment, cables, exploration, or recovery work and does not require an additional ROV to serve as a monitor.
Deep Blue Engineering says it will submit the first Shuttle Sub to rigorous testing over the coming months.
Plans are to make the Shuttle Sub, which will be available in two sizes, have a payload capacity of 50 metric tons as well as the 100-metric ton version. The vehicle weighs slightly less than its payload capacity, and uses a "cartridge-based" carrying system similar to the container method used in the shipping industry.
A crane mounted on the support vessel lifts the empty Shuttle Sub into the water, then lowers the payload cartridge into the Shuttle Sub.
Different cartridges are designed for different applications. For example, cartridge variants currently include a reel for laying cable, a drum for deploying long steel tube flying leads, and lifting equipment for salvage operations.
Future plans include the intervention and capping capability, and a cartridge with a subsea drilling capability.
The current design can be deployed in water depths to 1,500 m (4,920 ft). Deep Blue plans to develop a Shuttle Sub capable of working at 3,000 m (9,840 ft), followed by greater depths in the future.
Baker Hughes, Aker Solutions form subsea production alliance
Baker Hughes Inc. and Aker Solutions ASA have agreed to form an alliance to develop technology for subsea production solutions.
The non-incorporated alliance will combine Aker Solutions' subsea production and processing systems with Baker Hughes' well completions and artificial-lift technology to deliver integrated in-well and subsea production solutions.
The alliance also will focus on advancing the industry's well-intervention capabilities to further optimize efficiency and reduce risks in subsea developments.
The structure of the alliance allows each company to offer any products and services to design the best solution for customers' production challenges.
"Deepwater subsea fields have so far been characterized by low recovery rates, and new discoveries in deeper and more hostile environments are making these fields even more costly to develop," said Martin Craighead, Baker Hughes' chairman and CEO. "The single-digit recovery rates currently being achieved at many of these fields don't support a sustainable business model. By joining forces, Baker Hughes and Aker Solutions will identify and integrate the most effective combinations of in-well and subsea technologies, enabling greater production rates—efficiently and economically—from subsea fields."
"Our joint commitment will strengthen the business of each company and help our customers unlock the vast values that come from subseaproduction," said Oyvind Eriksen, Aker Solutions' executive chairman. "Subsea factory development is a key focus for Aker Solutions and the partnership with Baker Hughes will provide critical capabilities that will help us develop technologies to create a fully-functioning subsea production system which will improve recovery rates and lower costs for oil producers."