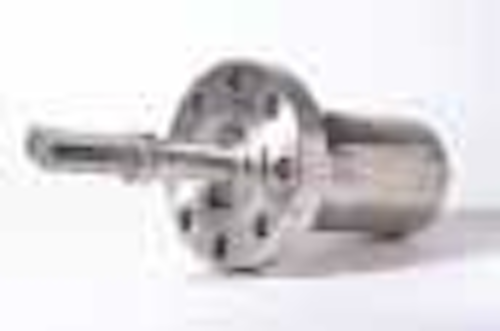 Jaime Kammerzell • Associate Editor
Digital subsea sand erosion sensor
CorrOcean Inc. high-accuracy digital subsea SenCorr sand erosion (SE) sensor systems minimize the risk of flowlines or vessels filling with sand, CorrOcean says. The SenCorr system is measurement technology, integrated for cost-efficient installation and operation, and has digital 24-bit analog-to-digital data conversion, offering high resolution for operators to detect small changes. The specialized sand erosion electrical resistance probes measure the accumulated erosive effect of solids in the flow, giving reliable information even in situations where the sand content may be low or masked by flow noise and vibration, the company says. The probes respond to sand production and are ideal for optimizing production and for predicting the location and extent of maximum erosion in the flow system.
Centrifugal pump
Baker SPD has introduced the Mud Hog pump for fluid transfer and enhanced fluid movement in the mud systems of all types of drilling rigs. The pump's bearing configuration contributes to greater life expectancy through improved stability and lower vibration, Baker says. The wear pad and mechanical seals help to improve the life expectancy of the casing and impeller. The Mud Hog's components are interchangeable with other pumps on the market. The Mud Hog is available with the 2 1/2-in. shaft and casing sizes 3 by 2 by 13-in. through 8 by 6 by 14-in. The 1 1/8-in. and 1 7/8-in. shaft design will follow.
Deep-towed active source instrument
OHM Ltd. UK has completed North Sea trials of its third-generation deep-towed active source instrument, DASI III. The instrument is the latest development in OHM's active electromagnetic (EM) technique, which confirms the presence and extent of hydrocarbons. According to the company, it reduces the risk of dry exploration wells and cuts the need for appraisal drilling. DASI III is towed above the seafloor to transmit a low frequency EM field. Thin resistive layers in the sub-seafloor sediments modify this field, and the modifications are detected and logged by receivers on the seafloor. Processed data identifies the presence and extent of these layers, providing a valuable indicator of hydrocarbons.
Low shear rate viscometer
Brookfield Engineering Laboratories' model TT-220 line of low shear rate viscometers for drilling fluids and mud pits assure that cuttings from the wellbore are transported back to the surface. Successful in-line monitoring of drilling fluids at these low shear rate viscosities can save well owners costly down time, Brookfield says. The Brookfield TT-220 probe Viscometer provides direct low shear rate viscosity measurements in drilling fluid tanks, and can be removed for cleaning. The TT-200 can be flange mounted on a tank and will provide shear rates as low as 10 s-1. The TT-100 can be mounted in a pipeline. Both units respond to any change in viscosity and are not affected by variations in flow or temperature.
Pulsation dampeners
Lewco discharge pulsation dampeners help smooth fluid-flow by counteracting the pulsations that are typical of positive displacement reciprocating pumps. Capable of providing dampening performance at 7,500 psi, the 20-gal L-20-7500 model is intended for high pressures and deep drilling. Three other models are available: the 20-gal L-20-5000 rated for a maximum working pressure of 5,000 psi, and the 10-gal L-10-3000 and 20-gal L-20-3000, both rated at 3,000 psi. Lewco pulsation dampeners are hydrostatically tested at a pressure equal to 150% to 200% of its nominal rating. These components are field serviceable, and their bladders are interchangeable with leading brands. A standard replaceable bottom plate helps reduce maintenance costs when pumping abrasive or corrosive fluids. All dampeners also feature a stainless steel charge valve and pressure gauge on the top flange and protected by a heavy-duty cover, which also serves as a lifting eye.
Tools facilitate oil production and pipelines
Tri Tool has introduced the inside diameter-mounted PFM816 8-in. to 16-in. and PFM1636 16-in. to 36-in., and the outside diameter-mounted PFM612OD 6-in. to 12-in. Pipemaster facing machines. The machines deliver accurate, repeatable bevels, faces, and counter bores with precision results up to 20 times faster than previously possible, the company says. The Pipemasters offer many cutting ranges. Stable, integral lifting frames eliminate the need for separate stands and permit the machines to operate in vertical or horizontal positions. Safety features include interlocking control valves that prevent unintentional unclamping of the pipe while the cutting head is turning and a switched chip-guard that shuts the power down when the guard opens.
Wet mateable opto/electric connector
Tronic Ltd., part of the Expro Group, has launched FoeTRON, a wet mateable opto/electric connector. Developed for repeated use in contaminated subsea environments, FoeTRON is an opto/electric connector that offers four optical contacts (single or multi-mode) combined with four electrical cores. FoeTRON's design enables the use of fiber optic cable for subsea communication and sensing applications. FoeTRON's design is an extension of the controlled environment principle used in Tronic's electrical connectors. The CE design provides dual sealing barriers between the subsea environment and the optical/electrical contacts in both plug and receptacle connectors through the use of oil-filled chambers. The chambers prevent water entry and provide pressure balancing.
Handheld oil-in-water meter
Turner Designs Hydrocarbon Instruments Inc. has introduced its handheld oil-in-water meter for people who are tired of fighting infrared or color analysis for produced water. The TD-500 UV fluorescence meter measures oil in produced water, desalter tail-water, crude storage tank water, and in any application where crude oil may be in contact with water. It is viable for all crude oil and most gas production condensates. The TD-500 is powered by four AAA batteries, weighs less than 1 lb, and produces oil in water measurements in four minutes. It requires no special training, and measurements correlate to EPA standard oil and grease laboratory methods. It is sealed, meeting IP 67 standard, and waterproof, dust-proof, and corrosion-proof.