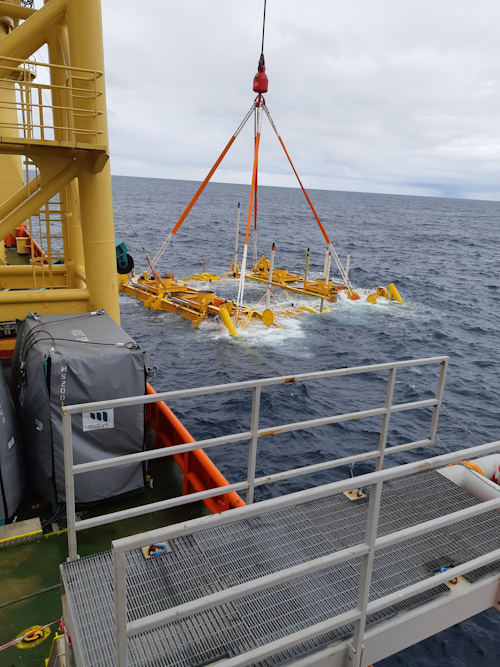 (Courtesy Ashtead Technology)
Offshore staff
ABERDEEN, UK – Ashtead Technology has completed a subsea installation monitoring project for Ocean Installer AS at Equinor's Askeladd and Johan Castberg fields in the northern Norwegian Sea.
The company provided its integrated deflection monitoring system (DMS) services and equipment to support the installation of eight integrated template structures (ITS) in the fields.
During operations, the dual independent DMS systems monitored, calculated, displayed, and logged structure deflection, heading, pitch, roll, depth and suction can differential pressures in real time.
The scope of work took place in quick succession over a 25-day period. The project was completed ahead of schedule.
During the placement of the structures, the DMS systems were configured for autonomous independent operation, communicating data to one of the installation ROVs. Ashtead said it used a range of measurement sensors and positioning tools along with special techniques to enhance the accuracy of the data collected.
The company provided field engineers to support the operations offshore and were responsible for analysis of data and compiling of installation reports for each of the structures within 24 hours of completion of each structure installation.
Jeff Morris, Ocean Installer offshore manager – Normand Vision, said: "…With onboard field engineer support, real-time information software and multiple display options we could continuously react to the changing seabed conditions during operations. The data provided ensured that all eight ITS were installed to client specification. The system proved to be both robust and accurate."
09/16/2019