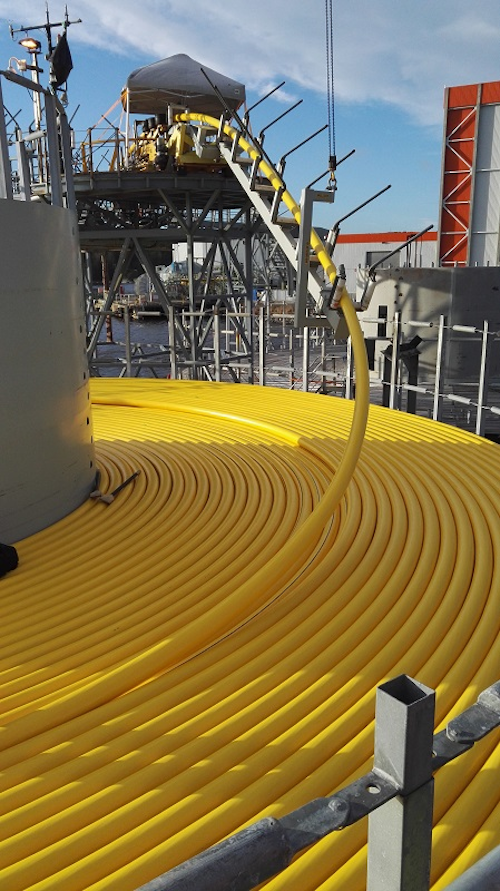 Offshore staff
PARIS – Equinor has contracted Nexans to supply subsea equipment for the Askeladd gas project, the latest phase of the Snøhvit area development in the Barents Sea.
Askeladd will ensure continued feedstock for the onshore LNG plant at Melkøya Island, just offshore Hammerfest.
Nexans will design, manufacture, and supply 42 km (26 mi) of static infield and interfield umbilicals to control the subsea production systems in a water depth of around 250 m (820 ft).
Askeladd, due onstream by end-2020, will tie-in to the existing Snøhvit field infrastructure where Nexans umbilicals are already in operation, including what the company claims is the world's longest umbilical, at 145 km (90 mi).
For Askeladd, the company will provide static subsea umbilicals with what it describes as a complex cross-section comprising 3 kV power, fiber-optic communications and hydraulic elements for chemical injection, plus assorted connection and termination accessories.
All electrical and fiber-optic elements will be manufactured at the Nexans plant in Rognan, northern Norway, with more than 50 local subcontractors and vendors also involved in the contract.
The company will develop, manufacture, and test the complete umbilical at its facility in Halden, Norway.
It aims to deliver the umbilicals during 1Q 2020.
06/29/2018