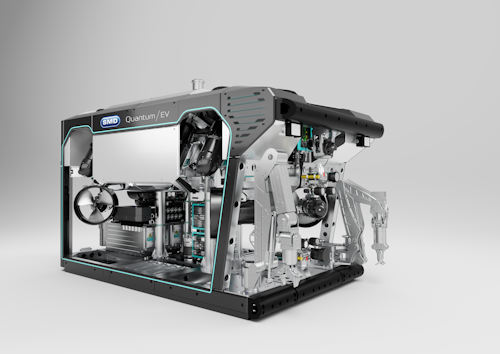 (Courtesy Soil Machine Dynamics)
Offshore staff
ABERDEEN, UK – Soil Machine Dynamics (SMD) has incorporated underwater navigation technology from Sonardyne International in its new electric work class ROV, unveiled last week at Offshore Europe.
The Quantum EV range will be factory-fitted with Sonardyne's hybrid navigation solution, Lodestar-Nav 200. This, Sonardyne said, would allow owners to put the ROV straight into operational service after taking delivery.
Lodestar-Nav is said to combine a high accuracy attitude heading reference system, Syrinx Doppler velocity log and survey grade pressure sensor, making it less complex to integrate and operate.
In addition, the system is pre-calibrated, which should ensure greater reliability for ROV pilots, Sonardyne claimed, even in the most challenging operational scenarios, without having to be concerned about sensor offsets.
For complex survey applications where an inertial output is required, the system can be remotely upgraded in the field to Sonardyne's SPRINT-Nav acoustic-inertial hybrid navigation system.
09/09/2019