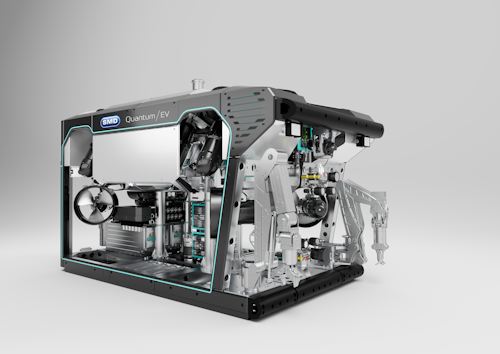 (Courtesy SMD)
Offshore staff
ABERDEEN, UK – SMD has unveiled Quantum EV, its electric work class ROV at Offshore Europe.
The company said the system was designed around five principles: performance, reliability, flexibility, ease of use, and compact form factor.
The ROV includes a new 25kW high power electric thrust system, a new long-distance DC transmission solution, and locally managed DC power system. Quantum EV has a 20% increase in performance and, the company claims, is twice as efficient when compared to current work class ROVs. 
The new platform also features advanced flight processing for stability, battery compatibility for tetherless operations, and is future proofed to accept AI command technology.
A testing program of the new technologies and vehicle is expected to continue over the coming months. First deliveries are expected to begin in nine to 12 months.
Mark Collins, SMD's Director for Remote and Autonomous Technologies, said: "One of the novel things about the EV technology is its modular flexibility. We've created future-ready, component-based, modular architecture which can be extrapolated for different uses; easily transferred for use in AUVs and USVs."
At Offshore Europe, SMD is exhibiting at stand 2B60.
09/05/2019