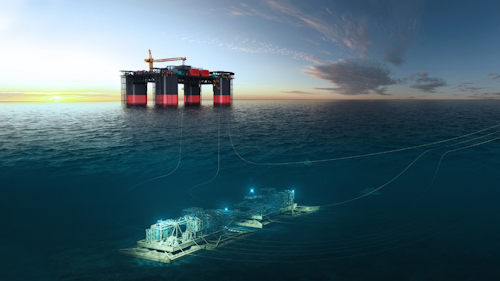 Chevron
Offshore staff
ZURICH, Switzerland – MAN Energy Solutions will support the front-end engineering design (FEED) study for subsea compression for Chevron's Jansz-Io field development offshore Western Australia.
The contractor will work with Aker Solutions on the program.
Jansz-Io, part of the Gorgon project, will be the first gas field outside Norway to employ subsea compression technology comes. It is located around 200 km (124 mi) off Australia's northwest coast in a water depth of around 1,350 m (4,429 ft).
MAN's scope covers the technology of the subsea compressors, which will be used to maintain output as reservoir pressure drops over time.
Subsea compression is designed to boost recovery of gas at lower cost and occupying a smaller footprint than conventional compressor systems typically installed on platforms.
MAN's technology has been proven on Equinor's Åsgard gas field in the Norwegian Sea, where the subsea compressors completed 50,000 hr of virtually uninterrupted operation last December.
Gorgon's existing subsea infrastructure will be used to transport the gas from Jansz-Io to the project's three onshore LNG processing trains. The project also comprises a domestic natural gas plant.
07/17/2019