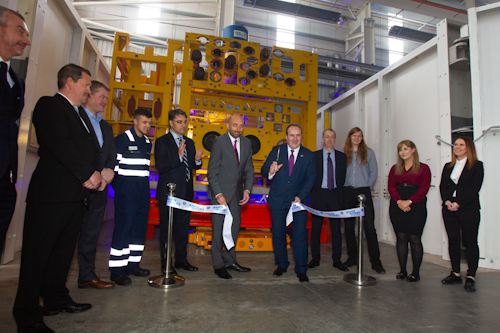 BHGE
Offshore staff
MONTROSE, Scotland – Baker Hughes, a GE company has opened a Centre of Excellence (CoE) on Scotland's east coast, which will provide engineering, manufacturing, test and assembly and services to advance deepwater technology.
This is an expansion of an existing site and involved a £31-million ($39.4-million) investment by BHGE supported by a £4.9-million ($6.2-million) grant from the Scottish government, through Scottish Enterprise.
It allows the company to offer products from design to delivery from one location serving clients globally. Moving the new operations to one campus should be more efficient, eliminating some of the transportation between sites, BHGE added.
Last year, BHGE announced Subsea Connect vision, a new way of doing business that it claims leads to lower costs, increased productivity, and a simpler approach to subsea development.
The CoE houses a design center dedicated to development of the AptaraTotex-lite subsea system, a new range of life-of-field products with a range of lightweight, modular technology solutions re-engineered to cut costs and to be more responsive to changes over a field's life.
The new campus will also feature new types of manufacturing tools and processes, including:
• Virtual reality tools and training opportunities to help technicians assemble equipment digitally and troubleshoot issues before construction starts
• Automation to improve efficiency of welding, testing, and material-handling
• Sensor-equipped machines giving clients updates of manufacturing activities and equipment test results via tablet in real time. The sensors should allow BHGE to analyze data to improve its operations and productivity
• 3D printers to help develop fully-functional prototypes of components and complex structures, as well as production parts
• Laser measuring devices such as trackers and scanners to help engineers and designers to make quicker and better measurements of components and improve the accuracy of equipment assembly.
In addition, the campus will train a future skilled workforce. The company said it has already doubled its apprenticeship intake this year.
06/20/2019