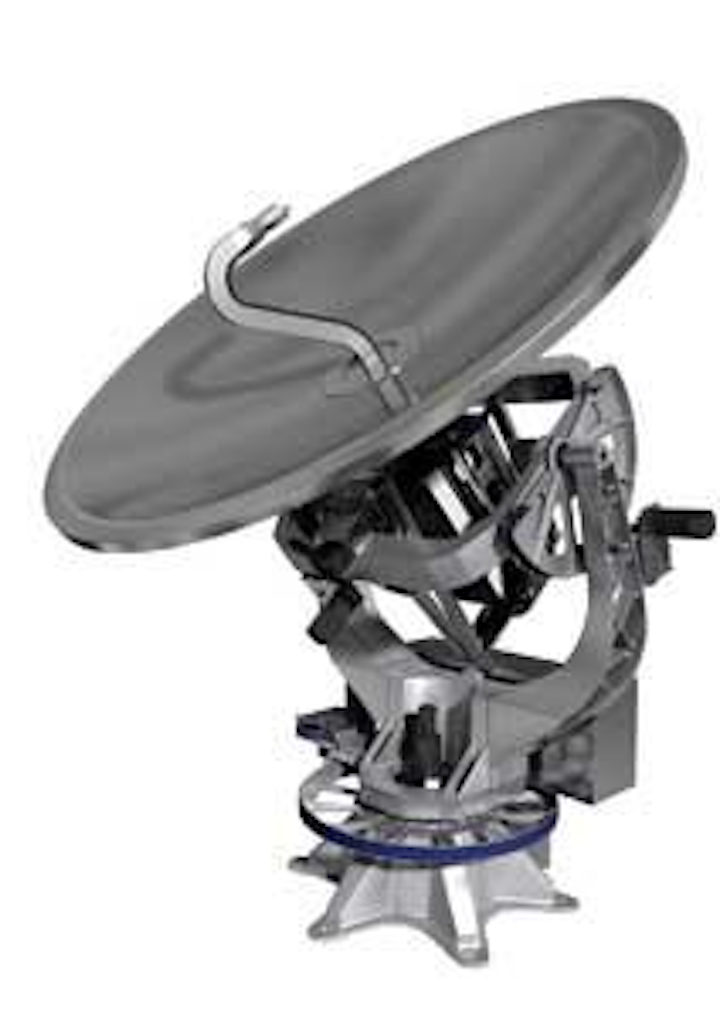 Economic transmission of large volumes of data between two floating installations is now possible using C2SAT's Radio Link Point-to-Point service.
The maritime communications specialist has developed this service with Trac Networks in Norway, whose majority shareholder is StatoilHydro. It offers a capacity of 155 MB per second, a quantum leap from the maximum capacity for satellite transmission of 4 MB per second, says director of business development Mats Back. Large-volume data transmission is a prerequisite for making offshore operations more efficient, for example through allowing onshore support centers to follow drilling progress as far as possible in real time. Fiber-optics offers high-capacity transmission between fixed installations, but unlike Radio Link Point-to-Point does not provide a solution for mobile rigs working at various different locations.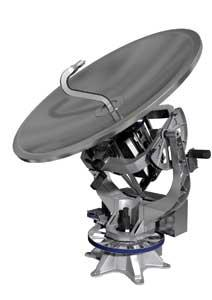 The antenna for C2SAT's Radio Link Point-to-Point service, which makes possible high-capacity data transmission between floating installations.
Click here to enlarge image
C2SAT's contribution to this service is its stabilized antenna system, which was developed as part of the company's commitment to VSAT – very small aperture terminals – technology. This employs a patented gimbals system with up to four stabilized axes. Fiber-optic laser gyros work in conjunction with a tracking device to keep the antenna locked onto the satellite. The gyros are connected to servomotors located at the circumference of the antenna on each axis which constantly adjust the direction of the antenna. No competitor has come up with a system of comparable efficiency, Back claims.
The stabilized antenna was introduced a couple of years ago as a means of efficient mobile satellite communications at sea, enable secure locking on to a satellite signal. But C2SAT quickly discovered that the technology was applicable in other fields, notably the Radio Link Point-to-Point technology.
For this application, each rig or vessel requires four antennae installed in pairs at the bow and stern. Two locations are needed to allow the link with the other party to be maintained even when the signal at one location is interrupted by shadowing, when, for example, the drilling derrick or superstructure comes between the signal and the antenna. And two antennas are needed at each location to counter multi-path fading caused by deflection of the beam from the sea surface in certain sea states.
Further testing of the Radio Link Point-to-Point system will take place over the next few months as the radio amplifier it uses is replaced by the manufacturer Eriksson with an upgraded model. This will bring the benefit of having much greater intelligence built into the modem, so C2SAT's system for supervising the four antennae and switching between them should become less complicated and more cost-efficient, Back says.
VSAT developments
The company is also expanding its array of VSAT products. Having started with a 1.2-m (3.94-ft) reflector, it has now developed a 2.4-m (7.87-ft) reflector for C-band services. The larger dish provides better gain, leading to a significant improvement in the case of low-frequency services like C-band, Back says.
Although the new antenna was due to be launched officially at the CommunicAsia show in Singapore last month, the first order, for five units, came in January. This was placed by Maritime Communications, C2SAT's distribution partner in Australia, for a customer in Southeast Asia.
The reflector for the 2.4-m antenna is built of low-weight carbon. It is mounted on the same mechanical rig as the 1.2-m antenna, giving the unit an overall weight of 170 kg, making it compact and lightweight. As with all the company's antennas, service and maintenance is straightforward as all parts are accessible through a manhole in the radome.
In April C2SAT received an order from a Middle East offshore customer for a second VSAT 1.2-m Ku-band antenna system. This followed a pilot installation in early 2007 on a drillship which, even when operating in calm waters, is subject to strong constant vibrations from the thrusters used as part of the positioning system. The repeat order is in effect an acknowledgement that the equipment works well in a harsh environment, says marketing manager Susanne Sundqvist.
In May, the company chalked up its first sale to a customer in the Norwegian offshore sector, also for a VSAT 1.2-m Ku-band system. The order was placed after a lengthy period of evaluation, and was secured in cooperation with Trac Networks.
For more information contact Susanne Sundqvist, C2SAT Communications. Tel +46 8748 0148, fax +46 8748 0143,susanne.sundqvist@C2SAT.se, www.C2SAT.com