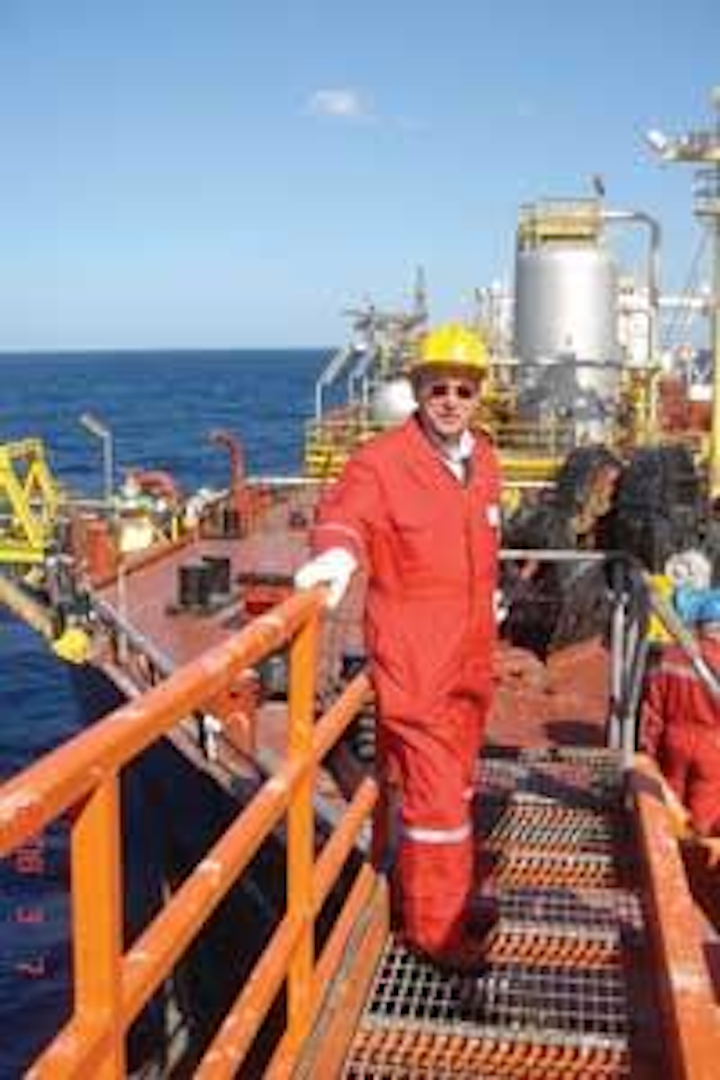 Nick Terdre, Contributing Editor
Small oil companies often find their niche in the tail-end phase of production, but PA Resources has expanded its horizons to embrace exploration and new field development. While many larger companies struggle to increase production and reserves, the Swedish independent is doing well on both fronts.
In 2007, the company recorded revenues up 431% at SEK 2.8 billion ($413 million), and after-tax profits of SEK 947 million ($158 million) - an increase of 311%. High oil prices helped, but the company also nearly tripled its average production to 15,000 boe/d and increased its reserves by 13.7% to 120.6 MMboe.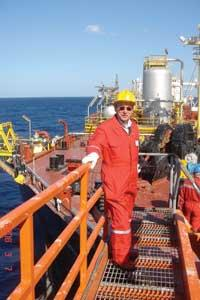 PA Resources' president and CEO, Ulrik Jansson, on board theDidon FPSO offshore Tunisia. The Didon field is currently the company's major producing asset.
Click here to enlarge image
One advantage of being small is that you can make quick decisions, says president and CEO Ulrik Jansson. For this reason, the company was able to acquire some very prospective acreage last year in two of its three core areas, West Africa and the North Sea. The other, Tunisia, provides the bulk of its current production.
PA Resources can draw on technical strength in depth when evaluating new opportunities. This expertise is based mainly in its Oslo office, where many of the staff are former Saga Petroleum employees. More recently it has taken advantage of experienced professionals coming into the market following the Statoil/Norsk Hydro merger. Attracting competent personnel is one of the biggest challenges, Jansson says.
A couple of years ago the company decided that its activities were too focused on production and that a stronger exploration program was needed to replace its reserves, says managing director Trond Bjerkan. It now has a more balanced portfolio, he claims, with recent exploration success in all its core areas, and highly prospective acreage which it is planning to drill.
Jansson and Bjerkan have set optimistic targets. The immediate aim is to lift production to 20,000 boe/d – in fact PA has told the market that it expects to exceed this volume on a sustained basis around mid-year. In three to five years, the aim is 50,000 boe/d.
Production off Tunisia has benefited from a capacity increase on the PA-operated Didon field and the return of the non-operated El Bibane field to production in March. And appraisal drilling success on the Elyssa and Zarat fields, where the company is currently sole licensee, has opened the way to early development, with a plan due to be submitted next year.
A further reserves boost came in February through the company's share of the newly on stream Volve field in the Norwegian North Sea.
Longer term, PA aims to lift its reserves nearly threefold to 300 MMboe. The target is ambitious but not unrealistic – risked prospective resources for the 13 exploration wells the company plans this year in its core areas are estimated at 271 MMboe net to PA.
Last year the company expanded its operations in West Africa with the acquisition of a 35% stake in the Mer Profond Sud license off Republic of Congo from the operator, Murphy Oil. Here there are four ready-to-drill prospects, with the first well due to spud later this year.
The deal also brought PA Resources into the pioneering Azurite development, which will feature the world's first floating, drilling, production, storage, and offloading unit. Azurite, with around 75 MMbbl of oil, should come on stream in the second quarter of 2009 and at peak will bring 14,000 b/d net to PA Resources.
The company is also established in Equatorial Guinea's offshore sector, where it holds 6% in the block 1 license operated by Noble Energy. Here three significant finds have been made at Benita, Yolanda, and Belinda and a fourth prospect, Diega, is due to be drilled this year.
The company also boosted its North Sea position last year through the acquisition of UK company Scotsdale Petroleum. The deal brought it 10 licenses – two in Denmark, one in the Netherlands, and the remainder in the UK. One of the Danish licenses, 12/06, includes an interesting prospect lying close to Maersk's Halfdan field, and possibly of equivalent size – 500 MMboe. The company aims to drill it as operator in 2009, but is first looking to farm out part of its 64% interest.
In the North Sea the bulk of interests lie in the Norwegian sector. Here PA Resources is a partner in three neighboring finds in the Viking Graben – Draupne, Hanz, and West Cable – and in Dong's Oselvar, where a development plan is now being prepared following a successful appraisal well earlier in the year. In May an exploration well was spudded on the Ipswich prospect close to Oselvar.
Eager not to miss attractive opportunities when they arise, whether or not in its core areas, PA Resources applied for the West Disko block 8 license off the west coast of Greenland and was awarded it in May. It has been approved as operator for the pre-drilling phase – if a well ensues, it will look for a partner to manage drilling, and has already been approached by several prospective parties, including one major.