Pump provider branches out into condensate, produced water treatment
Stockholm-based AxFlow has strengthened its hand as a supplier of pumping systems and fluid handling solutions to Europe's offshore market by becoming distributor for Bran+Luebbe (B+L) products in Norway.
Oct 1st, 2008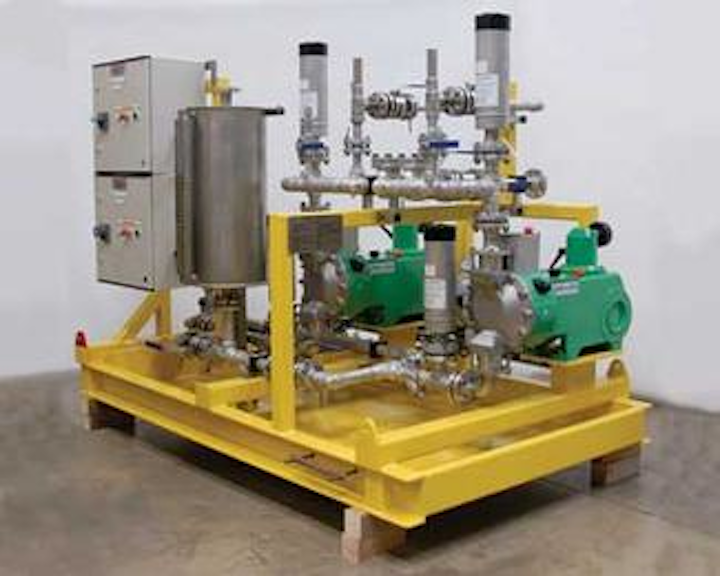 Stockholm-based AxFlow has strengthened its hand as a supplier of pumping systems and fluid handling solutions to Europe's offshore market by becoming distributor for Bran+Luebbe (B+L) products in Norway.
The AxFlow group was already the major distributor of B+L products in Europe, with similar agreements in 13 other European countries. This year it also added Carver Pumps to its offshore range, which includes models from Waukesha, Lightnin, and Wilden.
An injection package with two H3 pumps from Bran+Luebbe, one of AxFlow's leading sub-suppliers.
Click here to enlarge image
The company itself has no pump production but sometimes manufactures items such as skids, base frames, and couplings, according to Per Halck, offshore sales manager for Oslo-based AxFlow AS. It assembles pump packages and has facilities for factory acceptance testing in Aberdeen. Its main offshore markets in Europe are Norway, the UK, and Holland, plus, to a lesser extent, Italy.
Gullfaks solution
B+L, now SPX Process Equipment, is one of the group's major sub-suppliers. It has provided more than 300 pumping systems to the European offshore market, mainly for chemical, glycol, and methanol injection. B+L's API-type pumps are manufactured in Hamburg and the offshore packages at Brixworth, England.
It was B+L which came up with a solution for pumping reclaimed oil on Statoil's Gullfaks B platform. This is one of the toughest pump duties in offshore processing, as the fluids entering the installation contain a mixture of hydrocarbons, sea water, fresh water, production chemicals, gels, cement, weight material, particles, and sand. The pump internals therefore are subject to erosion, and cavitation can be a problem as the collections tanks for these fluids tend to be located at the lowest point on the production facility.
The pumps originally specified for this duty were single-stage, high-speed centrifugal pumps. Over the years, however, due not least to the increasing volume of sand, the lifetime of the high-speed impellers proved short, leading to replacement by two-spindle screw pumps. However, even when the original internals were replaced with parts made from erosion resistant alloy, the lifetime of these pumps was not satisfactory and operating costs were high.
The solution, supplied in 2000, turned out to be a B+L Novaplex diaphragm process pump with four double diaphragm pumpheads. One reason for selecting this pump was its track record in pumping nickel slurry at high temperatures and pressures. The pump has performed well on Gullfaks B, and the operator is happy with it, says Halck.
Novaplex is versatile, but can be applied to pumping methanol, glycol, condensate, liquid carbon dioxide, hydrogen sulfide waste, drains, reclaimed oil, and liquid petroleum gas (LPG). On several recent occasions, Novaplex pumps have replaced packed plunger triplex pumps for condensate duty in both the UK and Holland. They are leak-free and require little maintenance.
Carver Pumps main products are API 610 single and multi-stage centrifugal pumps, available in most materials, including 316L and duplex stainless steels. Like the other products supplied by AxFlow, they are CE/Atex-certified and can be delivered with documentation in accordance with API and/or Norsok requirements.
AxFlow recently delivered a complete package of Carver pumps to StatoilHydro for condensate pumping, comprising six Maxum series units (API 610) and two multi-stage RS units. Factory acceptance testing for the system was at AxFlow's Aberdeen facility, attended by representatives from StatoilHydro and the main contractor, Aker Solutions.
Also in the AxFlow range are Wilden's air-driven pumps, intended for utility services such as pumping chemicals or including additives for mud mixing. AxFlow has an agreement with National Oilwell to provide pumping systems for additives incorporating Wilden pumps. And under a frame agreement, it also supplies Lightnin mud mixers to National Oilwell.
AxFlow UK recently supplied a produced water package to an unnamed client in the UK sector. Its primary function is to treat produced water prior to disposal overboard. The equipment incorporates Opus compact flotation technology: the compact flotation units remove small oil droplets and other compounds from the produced water more efficiently than traditional gravity-based methods.
AxFlow's role was to supply the motive water and reject return pumps and to design and build a de-oiler chemical injection package. The contract, placed by Opus Maxim, covered the supply and factory acceptance testing of four API Waukesha positive displacement rotary pumps, all Atex-certified for Zone 1 operations.
AxFlow AS also has an extensive portfolio of offshore instruments, for process and metereological purposes, as well as explosion-proof heaters.
For more information contact Per Halck, AxFlow AS. Tel +47 2273 6739, fax +47 2273 6786,ph@axflow.no, www.axflow.com