Maritime surveillance system to support oil spill, rescue operations in Vietnamese waters
Demand is growing for Swedish Space Corp.'s MSS 6000 maritime surveillance system.
Oct 1st, 2008
Demand is growing for Swedish Space Corp.'s MSS 6000 maritime surveillance system. In addition to several orders already on the company's books, SSC announced a contract from a customer in Vietnam in July – its first delivery to a Far East customer. Last month it clinched a further sale of two systems to an as yet unnamed customer.
"You can see how demand has grown if I tell you that 60% of all systems we have sold were in the last third of our active period," says SSC's Crister Colliander. "Our order-book is now full for this year and 2009, and partly so for 2010 and 2011."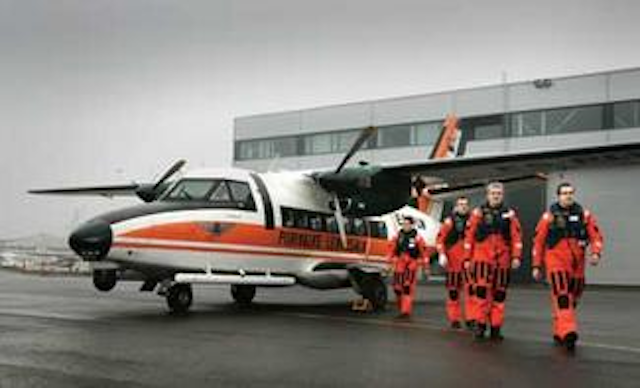 The most recently commissioned MSS 6000 system was on this L410 aircraft belonging to the Estonian Border Guard.
Click here to enlarge image
The Vietnamese contract comes from the Vietnam Marine Police, which has ordered systems for installation on three new CASA C212-400 aircraft – a project that will take three years to complete. The contract has an extensive scope, including installation and testing of the systems in the aircraft, establishment of a ground station and mission command center, and operational and technical training of personnel.
SSC will supply a fully integrated MSS 6000 system, including SLAR (side-looking airborne radar), still and video cameras, airborne AIS (automatic identification system for ships), an IR/UV (infra-red/ultra-violet) line scanner, an FLIR (forward-looking infra-red) scanner, and communications via high-speed satellite data-link and HF (high-frequency) radio.
The customer will use the equipment for patrolling Vietnamese waters, detecting and responding to oil spills and illegal fishing activities, protecting the economic zone, and participating in search-and-rescue operations.
The MSS 6000 provides an effective means to monitor activities in national waters and to detect unwanted or illegal events, such as oil pollution, whether accidental or deliberate, and unauthorized fishing. The technology can also be applied to monitoring movement of ice, likely to become increasingly important as offshore oil and gas operations spread to arctic regions.
Data from the different sensors is processed, integrated, and presented in one integrated view to the operator. All recordings are annotated with GPS data and digitally stored in an on-board geographical database. Data and digital images are presented integrated with an electronic nautical chart database and also correlated with the mission report, all at the operator's finger-tips. All information from the mission is saved and can be compiled in mission reports and sent via the satellite data-link to a command center and/or cooperating units.
Since the technology was first launched in the 1970s, its capabilities have continually expanded. "With the MSS 5000, which we launched in the 1990s, we were able to do things we could only dream of in the 1970s," says Colliander. "The MSS 6000 does things we didn't even dream of.
"We can safely say that we give a better performance than military surveillance systems at a fraction of the cost. We're now exploring what the advent of broadband communications enables us to do. We've put a lot of effort into developing software for the man/machine interface. We have kept the system user-friendly and intuitive: one operator can handle it all."
One of the MSS 6000's capabilities is to read a ship's name at a distance of 10 nautical miles in the middle of the night. This makes it an important weapon in combating illegal fishing – cheating occurs frequently with the transponders on fishing vessels, so being able covertly to read ships' names provides an important means of checking their true identity.
Arctic reconnaissance
SSC is currently supplying an order for one MSS 6000 system to Transport Canada, a long-time customer. This, the agency's third system, will be installed in a Dash-7 plane to be based in the north of the country to provide arctic aerial reconnaissance during the arctic navigation season, switching to the Great Lakes during the winter months. The previous two systems are installed in Dash-8 aircraft operating off the east and west coasts.
On a typical mission, Transport Canada's planes fly for up to six and a half hours in all weathers and in darkness at a speed of 180 knots, covering a total linear distance of 1,170 nm and monitoring an area of 117,000 sq nm. The SLAR is capable of identifying both oil pollution and ice conditions up to 10-15 nm either side of the aircraft, and icebergs and other targets such as larger ships up to 40 nm.
In mid year, the Finnish Border Guard signed to become a new customer. They will replace two existing systems from an alternative supplier. The aircraft in which the equipment will be mounted is a Dornier DO-228-212. Delivery of the first system is due in June 2009.
The Swedish coastguard, which has been operating airborne maritime surveillance systems from SSC since the 1970s, has ordered two additional systems. These will be installed in Dash-8 aircraft, which will replace the earlier CASA 212.
An order for India which has long been in the pipeline has also been finalized. This is for three MSS 5000B systems, which are very similar to the MSS 6000, says Colliander. The systems will be fitted in three Dornier 228 aircraft operated by Hindustani Aeronautics.
Last year one MSS 6000 system was delivered to the Estonian Border Guard. This has been fitted on an L410 aircraft. Other users of the system include the Norwegian Coast Guard, Polish Border Guard, and Portuguese Air Force.
For more information contact Christer Colliander, Swedish Space Corporation. Tel +46 8627 6328, fax +46 898 7069,christer.colliander@ssc.se, www.ssc.se