New study finds Port Fourchon 'vital' to US economy
An advance copy of a soon-to-be-published report on the economic impacts of a 21-day disruption of activity at Port Fourchon, Louisiana, on both the national and regional economies contains a number of findings judged by port officials to be 'vital' in their strategic importance.
Mar 1st, 2008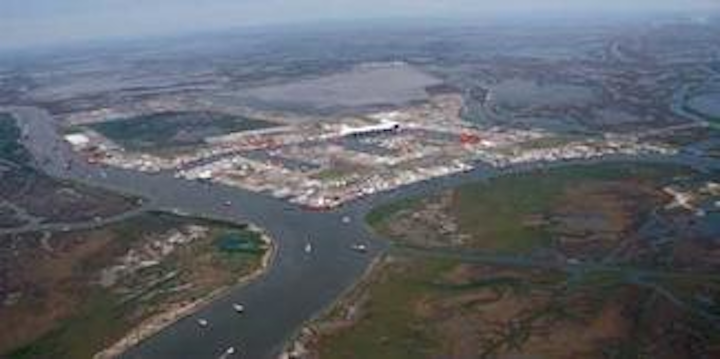 Port supported $63.4 billion in oil, gas services in 2006
F. Jay Schempf, Special Correspondent
An advance copy of a soon-to-be-published report on the economic impacts of a 21-day disruption of activity at Port Fourchon, Louisiana, on both the national and regional economies contains a number of findings judged by port officials to be 'vital' in their strategic importance.
The Greater Lafourche Port Commission, a nine-member board, exercises jurisdiction over the area of Lafourche Parish south of the Intercoastal Waterway, including Port Fourchon.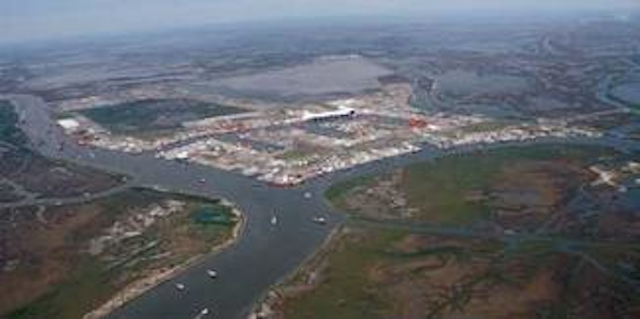 Port Fourchon offshore service and supply activity to US Gulf offshore operations is heavy throughout the year. The effects of even a 21-day shutdown there could have serious impacts on local, state, and national economies.
Click here to enlarge image
Port Fourchon is the equivalent of a small city that is vital to US energy supply needs and to the well being of the entire Lafourche region, identified as making up part of the Houma Metropolitan Statistical Area (MSA). The port directly engages in servicing about 90% of all deepwater offshore rigs and platforms in the US Gulf of Mexico, along with nearly half of all shallow-water rigs and platforms in the region. At the end of the day, Port Fourchon plays a significant role in meeting US energy needs, supplying 16-18% of the entire country's oil supply.
In 2006, the US Gulf accounted for 470.7 MMbbl or roughly 80% of US offshore oil, the new study, entitled "The Economic Impacts of Port Fourchon on the National and Houma MSA Economies," points out. It also notes that the Gulf accounted for 2.9 tcf of gas production, or 88% of total US gas production, in 2005, the most recent year in which statistics are available. According to the report, the port supported more than $63.4 billion of both oil and natural gas production in 2006.
Additionally, the port is the host for the Louisiana Offshore Oil Port (LOOP), an offshore imported crude oil offloading station and underground storage system capable of servicing supertankers. Since its inception in 1981 up to March 2007, the report states, the LOOP had unloaded more than 3.5 Bbbl of oil from more than 3,000 tankers. Figures compiled by the Greater Lafourche Port Commission indicate that the LOOP today handles roughly 15% of US crude oil imports and its pipeline system connects to over 50% of total US refining capacity.
The report observes that US imports of crude oil topped 5 Bbbl in 2006, with the LOOP handling an estimated 1.5 MMb/d or almost 420 MMbbl/year. "Using the 2006 price of $66.05/bbl for oil, this translates into $27.7 billion of imported oil flowing through Port Fourchon," according to the report.
Fictional shutdown emphasizes economic importance
The new study on the economic impacts of Port Fourchon on the US and Houma MSA was written by Loren C. Scott & Associates., a Baton Rouge economic consultancy. Its premise states that the most effective way to measure the role of Port Fourchon and its effects on the US and local economies might best be estimated by creating a total loss of the services of the port for a time. Using a February 2004 study of the economic impacts of coastal erosion on regional, state and national economies as a guide, the report factors-in the effects of hurricanes Katrina and Rita a year later to help estimate the possible current impact of a three-week loss of services from Port Fourchon due to hurricane damage, a terrorist attack, or to some other destructive phenomenon.
The researchers list several "conservative" estimates of impacts of this fictional loss of the port's services on basic US economic indicators, including the following:
A loss of some $10 billion in sales at US companies
A loss of some $3 billion in US household earnings
A loss of some 77,400 jobs.
Also, the research team surveyed a sample of companies operating at the port during 2006 that resulted in the following estimates of impacts of Port Fourchon activity on the overall economy of the Houma MSA:
About $1.5 billion in MSA business sales are tied to the port
About $351 million in household earnings of MSA residents trace back to the port
About 8,150 jobs in the MSA depend ont the presence of the port
At least $12 million in sales taxes are collected by local governments because of the port's presence in the MSA.
The report contains many more breakdowns of the possible effects of the three-week port shutdown to illustrate its strategic significance to other facets of national, state, and MSA economics.
Port expansion continues
Facilities at Port Fourchon continue to expand in size and scope in line with the strategic planning initiatives scheduled in past years by Port Commissioners. In 2001, construction began on Phase 1 of the Northern Expansion project, which would more than double the size of the port.
Construction of Phase 1 (consisting of Slip A and B) is 75% complete. It includes 180 acres of non-waterfront property and 520 acres with 21,000 ft (6,400 m) of water frontage. The 3,300-ft (1,006-m) Slip A is being fully utilized. Slip B, includes 14,700 ft (2,134 m) of waterfront property, of which 10,100 ft (3,078 m) is bulkheaded or under construction. The remainder of the bulkhead of Slip B should be complete by 2011. With 75% of Slip B already under lease, Port Fourchon is building as fast as it can to accommodate the energy needs of the GoM.
The Port Commission has also begun permitting Phase 2 of the expansion and will add a Slip C, which will be 7,000 ft (2,134 m) long x 700 ft (213 m) wide and will incorporate approximately 400 acres. The Commission hopes to complete the permitting process by mid-year 2008 and begin the initial creation of dredging and filling activities by early 2009, with a completion date of 2014.
Meanwhile, major renovations at the South Lafourche Leonard Miller Jr. Airport continue to be made, with the goal of supporting current tenants and attracting businesses engaged in offshore support.
As part of its ongoing construction projects at the airport, the Port Commission has completed a runway strengthening to support access by aircraft of up to 75,000 lbs ground weight. The runway also has been extended from 3,800 to 6,500 ft (1,158 to 1,981 m), and a new lighting system has been installed. Widening of the safety area and site preparation for a parallel taxiway currently is under construction and is expected to be complete in a few months time.
According to Jason Duet, airport manager, airport hours have been extended to 12 hours beginning at 5:30 a.m. daily.
Lock to allow 24/7 Bayou Lafourche traffic
The future for uninterrupted vessel traffic on Bayou Lafourche to and from Golden Meadow will be assured by new construction just getting under way, says Ted Falgout, executive director of the Port Commission.
Due to significant subsidence along the Louisiana Gulf Coast, the incidence of floodgate closings on Bayou Lafourche at Golden Meadow has increased significantly during the last few years, he says. As a result, a lock system is now under construction at the floodgate site. The goal of the lock system is to allow vessels 24/7 access to all points along the bayou, regardless of high tides or other water level rises.
"The flood gates were designed to stop storm surges from coming up the bayou from the Gulf and entering the protected levee system at Golden Meadow," says Falgout. However, he adds, with a general sea level rise and regional land subsidence due to storm forces, the floodgates must be closed far earlier and more often than in the years before Katrina/Rita hurricane damage altered great sections of the Louisiana coastline. Once closed, the existing floodgates bar vessel passage in either direction until reopened.
"During extreme conditions, navigation along the bayou normally would be shut down," Falgout remarks. "That's not an issue. But what is an issue is sometimes getting materials to and from the port once a storm passes or an unusually high tide occurs, mainly because the water outside the flood gates tends to remain unusually high before running off into the Gulf."
On-site construction of the lock will halt traffic during most of the daylight hours, he says, but traffic will be allowed to resume at night. The construction will be ongoing for the next 6-12 months during which these traffic interruptions can be expected, he says.
Message from the director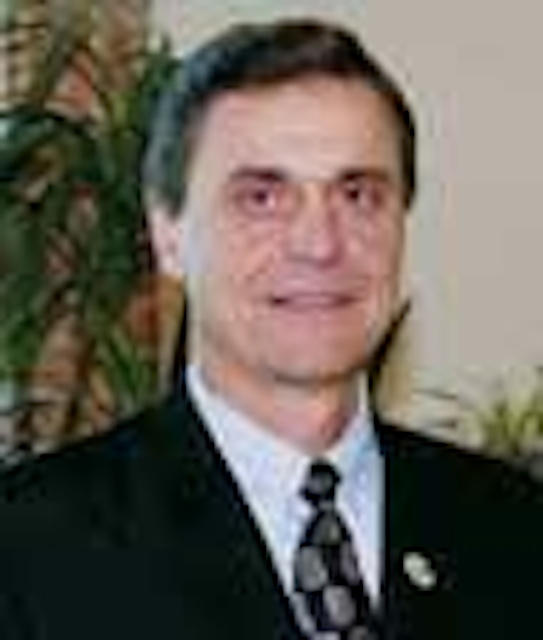 Ted M. Falgout,
executive director,
Port Fourchon
Click here to enlarge image
Port Fourchon is as busy as ever, and essential projects that will help provide continued access to the resources of the Gulf of Mexico are coming to fruition. There is nothing like $100 bbl oil to keep this region hitting on all the cylinders! 2007 proved to be another banner year, and we entered 2008 with plenty of irons on the fire.
Louisiana has serious challenges ahead of it with respect to coastal issues such as land loss and infrastructure upgrade needs. The recent commitment by the federal government to start sharing mineral royalties generated from offshore waters with the drilling coastal states was a huge achievement. This future source of funding will go a long way towards helping to ensure the stability of our fragile energy coast.
Although significant levels of sharing will not be implemented until 2016, Louisiana has already begun efforts to ramp up its coastal protection and restoration program, and Louisiana Highway 1, the highway leading to Port Fourchon, is a major beneficiary. We fully expect this state and nation will increasingly realize the significant role of Port Fourchon to this country's energy supply, and they will continue to "feather the nest" that is accommodating the goose with the eggs of "black gold."
Although I remember what an achievement it was to pass a $200,000 port budget 30 years ago, I am somewhat numb when I look at a $65 million budget this year. In addition, receiving over $300 million in highway improvements from the state and federal government, hundreds of millions of private investments in our port and airport, and billions on the drawing board for coastal restoration and protection, this is shaping up to be both an exciting and challenging time.
We stand ready to take on these challenges and are excited the new state leadership appears to be heading in the right direction. Governor Jindal and his team seem willing to exert the political will necessary to tackle the tough issues and truly achieve meaningful results. My hope is to report next year with even greater progress and continued optimism.
South Lafourche Airport gets FAA airport of the year award
At the recent Federal Aviation Administration (FAA) conference, the South Lafourche Airport received the Louisiana airport of the year award in recognition of the outstanding contribution to the enhancement of aviation in Louisiana.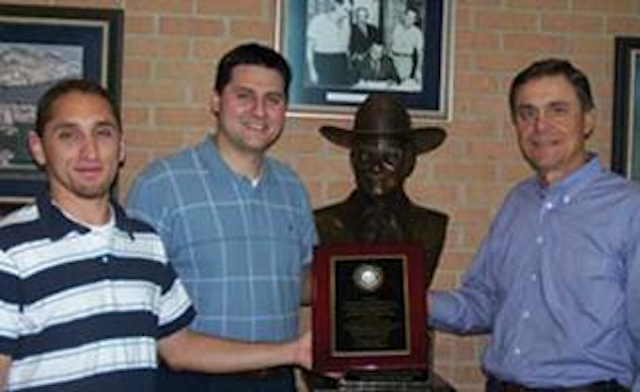 Pictured from left: Jason Duet, new airport manager, Chett Chiasson, economic development and grants administrator, and Ted Falgout, executive director.
Click here to enlarge image
"This award is a testament to the hard work and commitment of this commission to expanding and developing the airport," says Ted Falgout. "It is because of this commission's willingness to commit local funding at a greater percentage than required, that we can account for the rapid expansion we are experiencing."
"Its close proximity to Fourchon makes it the airport of choice for both business and recreational travel to South Louisiana," says Larry Griffin, commission president.