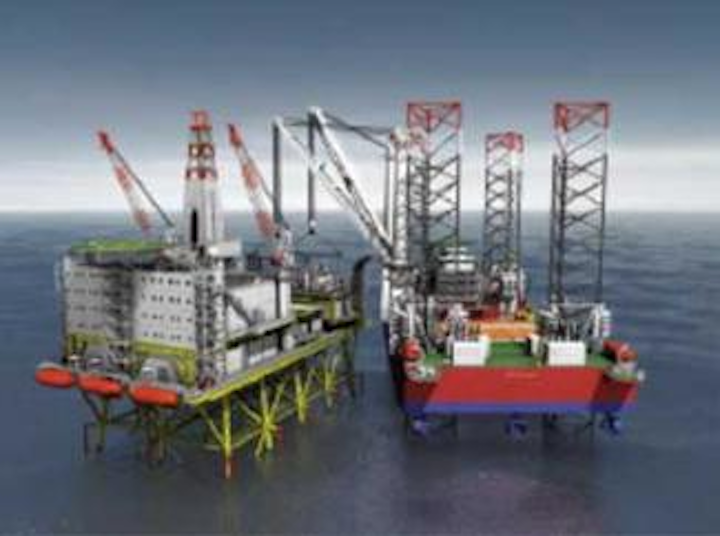 Master Marine is due to bring a new-concept multipurpose offshore vessel into service in 2010.Sea Jack 1, the first unit based on the Service Jack design, was contracted recently by ConocoPhillips for duty on the Ekofisk field in the Norwegian North Sea. The contract involves a fixed three-year term and is valued at over €260 million ($356 million), with options for two 12-month extensions.
On its first assignment – mobilization is scheduled for July 2010 –Sea Jack 1 will serve as an offshore accommodation center, providing 447 beds. It will be outfitted with recreation area, offices, and workshops to support construction activities.
Master Marine's Service Jack can perform installation of modules and wind turbines.
Click here to enlarge image
The Service Jack design is a monohull vessel with four jackup legs – somewhat like a giant liftboat, according to Master Marine's CEO Per Johansson. It has a length of 111.8 m (366.8 ft) and a broad beam of 50 m (164 ft). The main deck area is 2,500 sq m (26,910 sq ft). The legs are 130 m (426.5 ft) long.
The company's original focus was on floating concepts for decommissioning work, but when it switched its attention to jackup concepts, it found plenty of benefits. Once the legs are in place on the seabed, the vessel is independent of waves and wind. This opens the way to installation by skidding, there being no relative motions between the installation vessel and the platform.
"In the end we realized that the best way of achieving safe load transfer is by jackup," says Johansson.
The stability that comes from sitting on the seabed enablesSea Jack 1 to operate in much rougher conditions than a floating crane barge or lift vessel. Moreover it can survive the 34-m (111-ft) high, 10,000-year wave. Few other units have this capability, an influential factor in the Ekofisk award, according to Johansson.
The Service Jack design can carry modules and topsides of up to 7,200 metric tons (7,936 tons) and install them by skidding. It also has two 750-metric ton (827-ton) revolving cranes which, in tandem, can lift loads of up to 1,500 tons at a 36 m (118 ft) radius. When fitted out in construction mode, it has accommodation for 260 and a series of workshops, enabling it to provide support during the hook-up phase.
Similarly, it can remove modules or even small topsides either by lifting or skidding, and remove jackets weighing up to 1,500 metric tons (1,653 tons). Jackets can be lifted and placed horizontally on the vessel's deck, which was one reason for specifying two cranes rather than one. In the same way it can be used to up-end and install barge-launched jackets, then pile them.
Service Jack also can perform subsea installations in water depths to 360 m (1,181 ft), with the legs lowered to provide stability by dampening the sea motions. Subsea loads of up to 1,500 metric tons can be placed in waters up to 180 m (590 ft), and up to 780 metric tons (860 tons) in 360 m (1,181 ft) of water.
The vessel holds station by means of a DP-2 system. It is also highly independent. With its craneage, it can perform its own loading at the quay, or skid heavier loads on board. It transports the loads via its two main engines, which provide 15.2 MW of power, enabling it to transit at 7-8 knots. Alongside the platform it performs its own station-keeping by means of the DP-2 system while lowering the legs.
In Master Marine's estimation, the vessel's autonomy allows it to replace up to 15 vessels – tugs, barges, anchors-handlers, lift-vessel, accommodation unit and so on – which might be required for a conventional heavy-lift operation at sea, as well as back-up for the onshore skid-out. For the same reason it can perform offshore construction with much lower fuel consumption, and less emissions, than a conventional heavy-lift operation, the company says.
A second unit,Sea Jack 2, is now under construction alongside the first vessel at the Drydocks World Graha yard (formerly Labroy Shipyard) in Indonesia, under a lump-sum contract. Delivery of the first is scheduled for 1Q 2010 and the second in 3Q of that year. Master Marine also has options to build two further units.