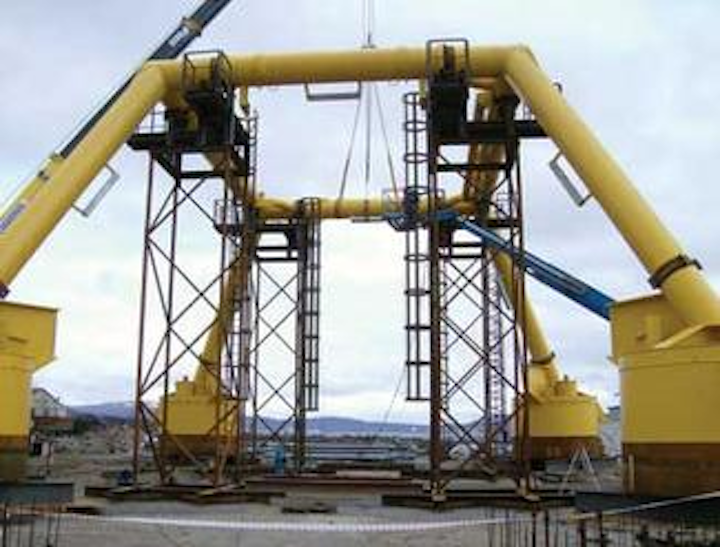 Reinertsen's offshore division in Trondheim, on Norway's midwestern coast, has capitalized on growing offshore activity in the Norwegian Sea over the last 15-20 years. It has built a strong track record in the design and manufacture of topside modules and subsea structures, pipeline engineering, and platform modifications.
However, the "High North" is the new frontier for the supplier industry in Norway, and Gazprom's Shtokman project is the key reference. According to director of fabrication Thomas Reinertsen, the company has invested more than NOK 50 million ($9.74 million) in its Murmansk-based venture, Reinertsen NWR (an acronym for Northwest Russia).
The 220-metric ton (243-ton) Sigrid subsea protection structure, the first offshore product completely built and assembled by Reinertsen NWR.
Click here to enlarge image
The first step was taken in 2005, when the company rented a fabrication shop in the Murmansk shipyard. Although no Russian offshore work was on offer at the time, it was able to bring in work from Norway, thereby starting the process of training the Russian workforce up to the standards required for offshore deliveries. This also was acknowledged by Statoil and Norsk Hydro, both keen to support the development of local offshore expertise to establish their credentials as attractive partners for projects off Russia.
Reinertsen NWR has worked on numerous projects for these two companies (now StatoilHydro), initially prefabricating steel parts and piping for the sixth compressor train at the Kollsnes gas terminal and the Oseberg Delta offshore development. More recently, it delivered structural work, deck sections, stair towers, and access platforms in aluminum, as well as process piping, for the 350-metric ton (386-ton) Tyrihans module and the 550-metric ton (606-ton) Heimdal generator module. Both underwent final assembly and delivery from Reinertsen's Orkanger yard outside Trondheim.
Last year the shop performed most of the fabrication for the Alve subsea protection structure, an FMC/StatoilHydro development in the Norwegian Sea, again assembled in Orkanger. Now it has built and assembled its first complete offshore product, the 220-metric ton (243-ton) subsea protection structure for FMC/StatoilHydro's Sigrid project, which was due to sail from Murmansk in August.
Currently, the workforce has 30 engineers and 100 shop and administration staff. Most of the shop team has spent time at Orkanger to train in modern fabrication techniques and HSE issues, and familiarizing themselves with Norwegian standards.
Local content
In light of the original shop's limited capacity, Reinertsen decided to purchase the Abram Mis works across the fjord from Murmansk harbor, which it is outfitting as a modern fabrication facility. The first shop is up and running, and the company recently started building an assembly hall 30 m (98 ft) high and covering an area of several thousand square meters. The hall, which will include equipment such as a traveling crane and welding robots, will be able to accommodate four or five projects at a time. "We can see that this will be attractive to our clients," says Reinertsen. "They like to do as much testing as they can indoors."
In the early days, considerable support was required from managers brought in from Norway. Now, however, all of the management is Russian, apart from the general and fabrication managers who are Russian-speaking Norwegians.
The company is focusing on building its local supply network, which will enable it to concentrate on its core fabrication business — at the moment it has to provide its own equipment and employees for crane operations, machining, and scaffolding services, which in Norway it would contract in.
Reinertsen NWR also has worked for the group's onshore construction division in Norway, manufacturing steel structures for building projects. The division recently started buying Russian steel, and Reinertsen NWR also intends to use Russian steel for offshore projects when possible.
For the deliveries made so far, the company has employed Norway's Norsok standards. Whatever standards are adopted for Shtokman, the company will be ready to implement them, Reinertsen says.
With FEED work commissioned earlier this year, the Shtokman project is finally moving towards execution. When the Shtokman Development Co. partners take the final investment decision in the later months of 2009, everything will be ready at Reinertsen NWR's new works. The company aims to bid for topsides work and subsea structures, as well as process piping and structural work for the onshore terminal.