OBC acquisition technique tests in deepwater off Angola
Seabed Geophysical is conducting a large 3D, 4C seismic data acquisition survey for Total in Angola, using its Cable-less SEismic (CASE) ocean- bottom technology.
Aug 1st, 2008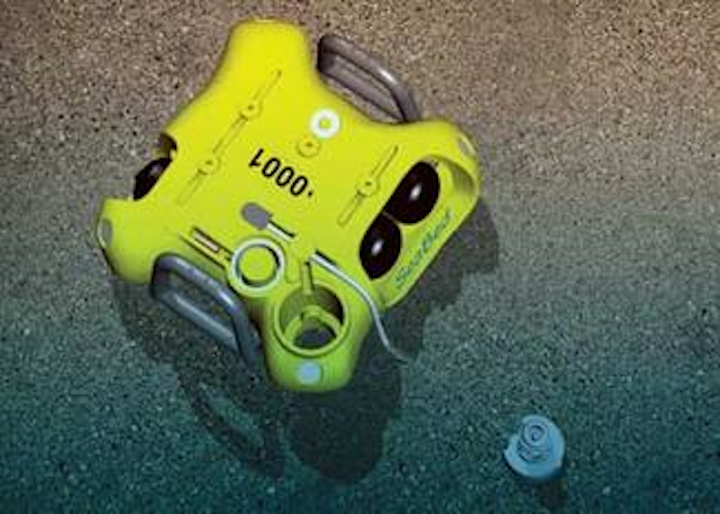 Seabed Geophysical is conducting a large 3D, 4C seismic data acquisition survey for Total in Angola, using its Cable-less SEismic (CASE) ocean- bottom technology. The $25-million assignment in waters up to 1,300 m (4,265 ft) deep should showcase the suitability of the technique for reservoir characterization, says Thor Higraff, Seabed president.
The company is using its newly acquired survey vesselHugin Explorer, a newbuild DP-2 vessel which it has on a long-term bareboat charter. "We need a dedicated boat to perform a survey really well," Higraff says. Seabed is investing around $90 million in the boat and the equipment. In mid-year the vessel was undergoing sea trials after being rigged up for survey work, and was expected to mobilize to Angola in August.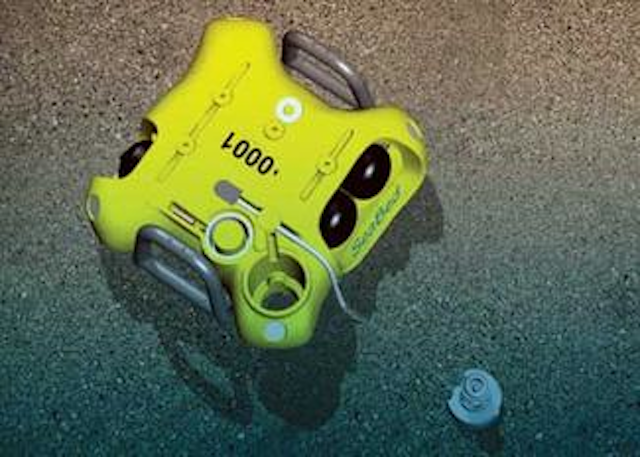 Seabed Geophysical's CASE Abyss deepwater node implanted in the seabed. The node, which contains a sensor package, passes data to the control unit via a cable.
Click here to enlarge image
The CASE technology involves data capture through an array of nodes installed on the seabed. The nodes, placed typically 300-400 m (984-1,312 ft) apart, house a sensor package comprising various receivers. For a four-component survey these will be three geophones, a hydrophone, and a tilt meter.
The main advantage is that it captures shear waves as well as pressure waves, unlike acquisition by conventional towed streamers which only captures P-waves. A combination of P-wave and S-wave data gives richer information about the subsurface, says Higraff. Direct implant of the node into the seabed also ensures high data quality with a minimum of noise and vibration.
Each node connects to a control unit by a 1.5 m (5 ft) cable. The control unit is fixed to a metal frame to which the node is also coupled – together they make up the CASE unit. Installation and retrieval is by ROV. Once the CASE unit has been placed on the seabed, the ROV uncouples the node from the frame and plants it into the seabed. It has a replaceable skirt to facilitate this process.
Data collected by the receivers is transmitted via the cable to a memory card in the control unit. Each unit operates autonomously, powered by an onboard battery. While on the seabed, the mother ship can communicate with the units hydro-acoustically to check that they are functioning properly and to carry out quality control on the data. When the unit has been retrieved to the surface, the stored data is downloaded for processing.
The Total assignment will be the first large survey in which the company uses CASE Abyss units. These are second-generation systems designed for operations in water depths to 3,000 m (9,842 ft). The first-generation units are rated for 600 m (1,968 ft).
The contract also illustrates two benefits offered by CASE technology, says Higraff. It is suitable for surveys in deep waters, and the nodes are less affected by the water depth. In other systems, increasing water depth can reduce system performance and the accuracy of receiver positions.
Secondly, CASE surveys can be carried out where obstructions such as offshore platforms or floaters are installed. The Total survey is being performed in block 17, where the operator has two FPSOs in service.
Another advantage is that surveys can be replicated by placing the nodes in the same position, so the technology is well suited to time-lapse or 4D seismic operations to create a map of how the fluids are moving in the reservoir over time.
One landmark for the CASE technology came in 2002/03 when Seabed performed a 4C survey for reservoir characterization over Pemex's Cantarell field in the Bay of Campeche, where the large number of fixed platforms made a streamer survey difficult.
The company is bidding to conduct a survey over a field being produced by a floating installation in 1,400 m (4,593 ft) – again a combination of circumstances which it says favor ocean bottom technology.
However, an ocean bottom survey costs more than a towed streamer survey, as placing a large number of nodes on the seabed (typically 500-1,000) and later retrieving them, and the shooting itself, all take time. But as operators become more concerned about maximizing production from their fields, Higraff expects growing acceptance of the CASE technology for reservoir management.
Streamer and ocean bottom technology are often seen as competitors, but the company's owner, Seabird Exploration, whose main activity is streamer-based seismic acquisition, purchased Seabed Geophysical in 2006 precisely because it saw the two methods as complementary.
For the foreseeable future, it says, there will continue to be a need for towed streamer surveys providing fast, cost-effective solutions for surveying large expanses of subsurface. But the coming years will also see a growth in demand for the data quality provided by the CASE technology.