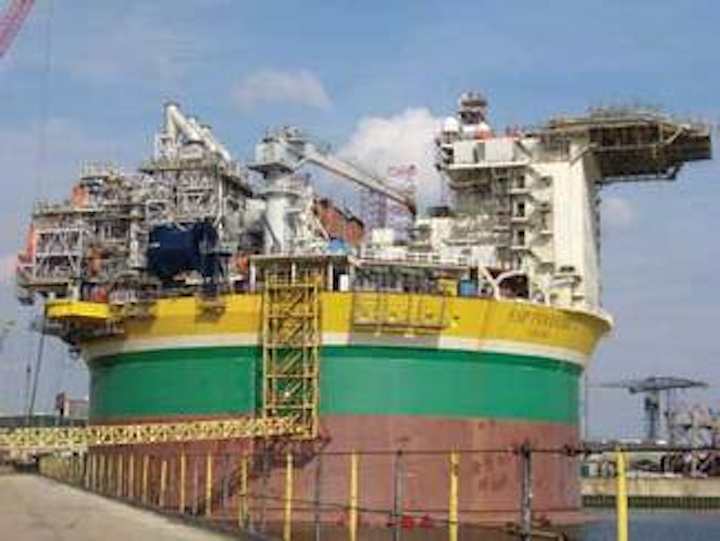 Topsides testing/cleaning specialist Excelsum - a member of the Multinal Group - has been assisting the hook-up campaign on the FPSOSevan Piranema platform.
Most of the work was completed between May 2006 and Jan. 2007, when the cylinder-shaped facility was at Keppel Verolme's yard in Rotterdam. At peak, Almere-based Excelsum had a team of 26 people working on the platform, which is due to enter service later this year on Petrobras' Sergipe field off Brazil.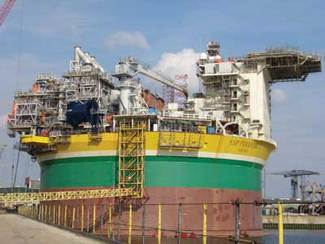 View of the circularSevan Piranema FPSO deck
Click here to enlarge image
The slot at Keppel Verolme has, since April 2007, been taken by a second Sevan platform, the FPSOSevan Hummingbird, which is being prepared for service on Venture Production's Chestnut development in the UK North Sea. Excelsum is also in discussion with Keppel Verolme concerning pre-commissioning services for this project, although the available time prior to first oil will be much shorter.
For theSevan Piranema, the company provided a range of services under subcontract to Keppel Verolme for the topside area, including chemical cleaning, hot oil flushing, and strength testing of welds. Until recently, one of its engineers was also on location in Brazil under contract to Sevan Production AS performing final leak tests as part of the Petrobras acceptance program.
Excelsum has provided similar services to more than 60 platforms over the past 15 years. It applies its chemical cleaning techniques to pipe work, boilers, heat exchangers, cooling towers, and other production items. The company's hot-oil flushing method involves generating a rapidly circulating flow of oil through hydraulic oil lube systems and pipes to dislodge any contaminating materials, followed by flushing.
Although theSevan Piranema has a novel cylindrical shape, it has a designated port/starboard, etc. that follows the basics of a ship-shaped FPSO. The process plant occupies half the available deck space on the process deck level. It also extends onto part of the main deck, where it is located alongside heating and cooling equipment, well service pumps, and storage tanks.
"The deck layout did not require specific modifications to our standard equipment," says Nico Witkam, Excelsum's project manager. "However, based on field experiences, we did design a new set of analogue pressure recorders with an integrated temperature recorder, pressure gauge, and safety valve to improve reliability, durability, and test integrity."
Another major factor was the need to prevent downtime caused by test equipment damage, he says. "Onshore, it is relatively easy to get satisfactory replacements, but offshore, this can be a time-consuming logistical challenge."
Following the arrival in Rotterdam of the platform from the construction yard in China, and subsequent installation of the topsides fabricated in Norway, Excelsum performed comprehensive testing and partial cleaning, from the sea chests in the hull to the process plant lines and pressure vessels. The campaign started with four hydro tests to ensure the network of valves was watertight.
"All pre-fabricated pipe spools had been constructed, shop tested, and delivered by Danish company DST," says Witkam. "Where there were field welds, erection welds, and modifications, we mounted strength tests in situ."
On arrival in Brazil in the first months of 2007, the platform's flare system involved an extensive program of leak tests. "Almost every process unit with a pressure safety valve and blow-off line is connected to the flare system," Witkam points out, "so this procedure applied throughout the entire process plant."
Petrobras stipulated that around 40 of the pressure vessels had to be re-tested according to local Brazilian NR-13 regulations, even though these already had DNV approval. Under the acceptance program, Excelsum also was delegated to coordinate the pig launching/receiving system test.
Once the platform is in service, Witkam does not anticipate further involvement. Petrobras will have a 60-strong crew onboard, which should be able to handle all maintenance requirements themselves, supported by Sevan's maintenance software.