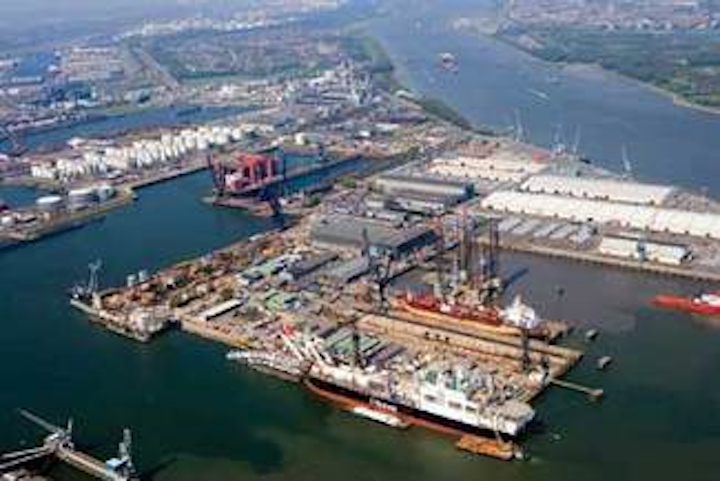 After more than 30 years in service, most recently off West Africa, the semisubmersible drilling rigBlackford Dolphin is undergoing major refurbishment in Rotterdam for a 20-year lifetime extension. When this is completed, the upgraded rig will have drilling capability for waters to 7,000 ft (2,134 m), allowing it to operate in deepwater environments worldwide.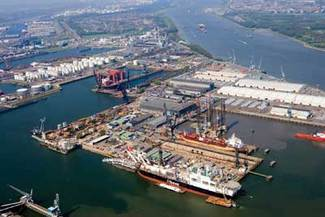 TheBlackford Dolphin (upper left) alongside the Sevan Hummingbird at the Keppel Verolme yard.
Click here to enlarge image
Owner Blackford Dolphin Pte., a subsidiary of Fred Olsen Energy, contracted Keppel Offshore & Marine to undertake this work, which is being done in multiple locations. Blackford Dolphin has fabrication responsibility for the accommodation and power modules, which were constructed at the Harland & Wolff yard in Belfast, Ireland. Keppel Verolme in Rotterdam is responsible for fabricating the remaining upper hull modules, repair and maintenance of the rig, and overall integration of the structure and modules.
Keppel FELS in Singapore is project leader charged with detailed engineering. The Keppel Shipyard in Singapore is fabricating the mud module, shale shaker, and cantilever platform, while Arab Heavy Industries in Dubai supplied the 16 sponson blister blocks, four main risers, and auxiliary columns totaling over 3,000 metric tons (3,307 tons).
Upon rig arrival in Rotterdam, Keppel Verolme started removing the remaining equipment, including the drill floor. It then began pre-fabrication of some 1,000 tons (907 metric tons) of steel. Within a couple of months, the 16 bracings were delivered with 100% full penetration welds without deviation over a total welding length of more than 1,000 m (3,281 ft). The bracings were then painted and installed on the rig.
Next to the bracings Keppel Verolme fitted pontoon extensions, the auxiliary columns, and the mud module, with deck extensions. The yard also installed the new power module and accommodation block, and the 850-ton (771-metric-ton) derrick, including the drill floor, which Keppel Verolme had assembled.
Fred Olsen has secured a three-year contract for the refurbished rig from an Indian oil company for deepwater operations.
Pipelay conversion
This year, Keppel Verolme is celebrating its 50th anniversary. Since 1975, it has repaired, modified, converted, and constructed a large number of drilling rigs and other offshore vessels. This year, the team in Rotterdam has been working on three more showcase construction projects.
Late in 2005, an integrated Allseas and Keppel Verolme project team was created to convert the 225-m (738-ft) long bulk carrierGeeview into the dynamic positioning pipelay vessel Audacia. After removal of the deckhouse, an entirely new accommodation block was installed, complete with bridge. In addition, the main deck was closed and a fully covered pipe firing line was constructed.
Keppel Verolme installed operating equipment below deck for the newly fitted series of fixed and retractable thrusters, and three new engine rooms were built and equipped to supply power for all pipelay and DP systems. A giant stinger handling frame also was installed on the vessel's bow early this year, followed by the 112-m (367-ft) long stinger. The vessel was due to start commissioning trials this summer.
After the successful outfitting of the FPSOSevan Piranema in 2006, Sevan Marine assigned Keppel Verolme similar work on the Sevan Hummingbird, destined for duty on Venture Production's Chestnut oil field in the UK central North Sea. The unit arrived at the yard this spring as an empty steel hull which had been built in China.
Subsequent outfitting has included the installation of a central shaft with pump modules, process modules and mechanical equipment, installation of piping, electrical, hydraulic, and instrumentation systems, and complete outfitting of the accommodation block with heating, ventilation, and air conditioning equipment, and related architectural works.
Last month, the yard was due to start building the semisubmersible heavy lift decommissioning vesselMPU Heavy Lifter, developed by MPU Offshore Lift ASA. This project follows a four-year partnership between MPU and Keppel Verolme to develop an innovative, cost-efficient single-lift solution for oil and gas platform removals throughout the world, but particularly in the North Sea.
Keppel Verolme will perform the marine outfitting works and will build the accommodation block, as well as fabricating and installing steelwork and equipment for the topsides/jacket lifting systems. MPU has contracted Van Hattum en Blankevoort & Bam to build the concrete substructure in Keppel Verolme's dry dock, which will be modified for this purpose with a second position for the intermediate dock-gate. This should give the yard added flexibility for docking two or three units simultaneously.