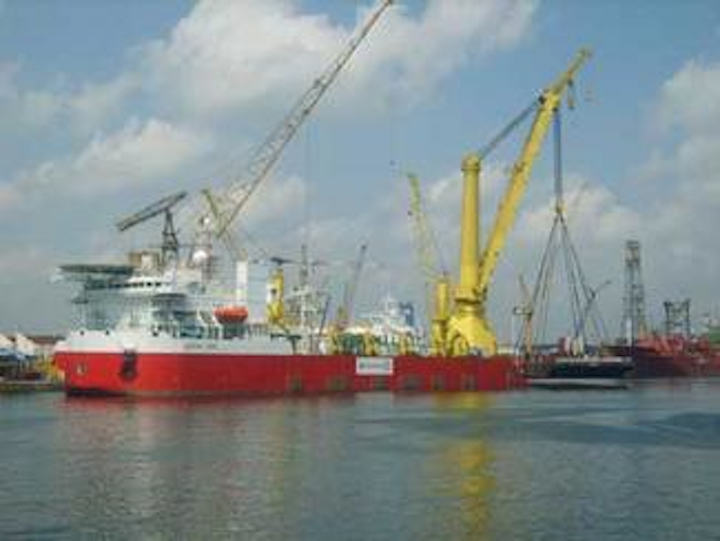 Norway's Ulstein Group has acquired a majority interest in offshore vessel designer Sea of Solutions (SOS). The Vlaardingen-based company has been re-named Ulstein Sea of Solutions, but its main focus will remain on drillships and heavy offshore construction vessels.
According to marketing and sales engineer, Nick Wessels, there was no previous cooperation, as the two companies serve different segments of the market. However, Ulstein viewed SOS as an opportunity to expand its product portfolio into heavy offshore exploration and construction.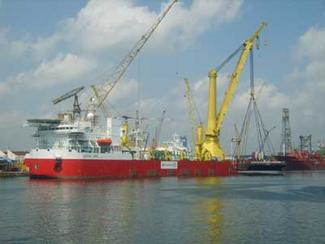 The newbuildSapura 3000 was working recently in deepwater offshore Malaysia.
Click here to enlarge image
"For SOS, it gives us the possibility to grow faster and to share innovative ideas and technologies," he explains. "In general, we will still proceed on an independent basis, but our potential scope of services increases as part of the Ulstein Group."
For instance, SOS will gain access to a larger pool of naval architects and marine engineers to supplement the 12 it currently employs in Vlaardingen.
It also will be able to offer a full vessel newbuilding management service, from concept design and basic engineering through construction supervision and support – including electrical system integration – to final delivery.
"Our customers will retain complete freedom of choice as to where they want their vessels built and what brand of equipment they prefer," he adds. "Building at the Ulstein Verft in central Norway is a possibility, but it is only applicable for a limited number of our vessel designs, as most are too big for the yard."
SOS also will maintain its cooperation in basic design studies with Deltamarin in Turku, Finland. However, it has exited the Offshore Ship Designers Alliance (also comprising Worldwise Marine and IMT Marine Consultants), which now focuses on mid-size offshore support and work vessels.
Seabarge variations
So far this year, SOS has clinched design contracts for two new multi-purpose vessels. In February, Constanta-based GSP Drilling, a subsidiary of Romania's Upetrom group, ordered a DP-3 vessel based on the Seabarge 3000 concept which will be capable of pipelay, subsea installations, and deepwater tender-assist drilling. This is a unique combination, according to SOS, which is working with Deltamarin on the basic design.
The 161.5-m (530-ft) long, 37.8-m (124-ft) wide vessel will be able to operate in most areas of the world either in DP mode, controlled by eight thrusters, or with conventional moorings.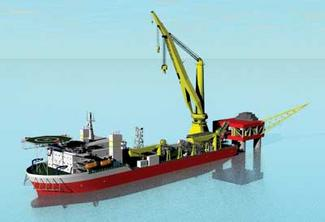 Computer image of the multi-role vessel commissioned by Romania's GSP Drilling.
Click here to enlarge image
"When alternating between the various modes of operation, the vessel will not have to be re-fitted," says Wessels. "Primarily, switching from S-lay to tender-assist drilling operations will involve removal of the stinger, pipe racks, and pipe repair davits, all of which are modular equipment items.
"On the structural side, the issues we had to address were the arrangement of tanks and storage capabilities for tender-assist drilling, and positioning the main 1,800-metric ton (1,984-ton) heavy-lift crane on the vessel's starboard side, subsequently adding local structural reinforcements for the crane integration. The same applies to the stinger-handling A-frame. The tender-assist platform is not part of our design remit. However, the design and connection to the vessel will not differ significantly from existing tender-assist drilling connections."
In April, Global Industries contracted a second dynamically positioned, pipelay/heavy-lift vessel from SOS, theGlobal 1201. Like the Global 1200, under construction at the Keppel Singmarine yard, this will be a customized version of SOS' SOC 600 concept.
The new 162-m (532-ft) long vessel, due to enter service in spring 2011, is targeted at operations worldwide, with a transit speed of 15 knots. It will incorporate a 1,200-metric ton (1,323-ton) capacity heavy-lift single-post AmClyde crane on the aft, and a center firing line on the freeboard deck – a common feature of SOS pipelay designs. The vessel will be able to lay pipe in up to 3,000 m (9,842 ft) of water, and concrete-coated pipes in diameters of up to 60 in. (152 cm).
Among SOS' other combination vessels, theSapura 3000 was delivered early this year from the Sembawang shipyard to the Sapura/Acergy joint venture, and recently was laying pipe in 1,200 m (3,937 ft) of water offshore Malaysia. The S2500 (also a customized Seabarge 3000 design) is under construction at ASL Marine in Singapore, and should be delivered to the Larsen & Toubro/Sapura Crest joint venture next year.
"We are also investigating potential joint projects with Ulstein Group, including the possibility to use their X-Bow on some of our designs. We expect to announce some interesting developments later in 2008," Wessels says.