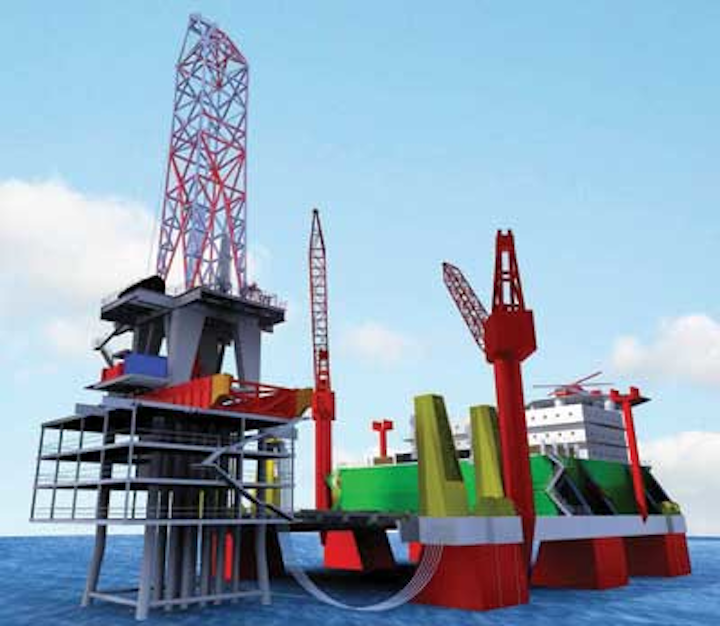 Global drilling needs have led to growing numbers of rigs entering yards in the Middle East for overhaul programs and of newbuild rigs under construction at yards in the Far East. This has led to a surge in demand for inspection services.
One company that has benefited is Factorig, a division of Paris-based well engineering services provider Dietswell. Factorig was formed in Abu Dhabi in 2006 to provide rig inspection and QHSE auditing services using proprietary software developed for a wide range of drilling equipment. It has since audited hundreds of offshore and onshore drilling units operating worldwide, mainly for independent oil companies, IOCs, and NOCs, but also for some of the second-tier drilling contractors.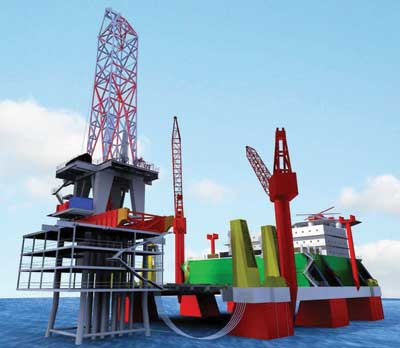 The Horseshoe rig tender-assist drilling concept that Dietswell submitted for Total's Moho Nord.
Since 2011 the company has been auditing ADMA-OPCO and ZADCO's jackup and barge fleet in Abu Dhabi. Other current or recent programs include supervising a construction program on a semisubmersible tender rig hired for the Foxtrot development offshore Côte d'Ivoire; providing corrosion analysis and inspection services for a platform rig in the Caspian Sea, owned by a platform drilling contractor in Baku; and providing advice on rectification measures for two jackups that suffered punch through working off West Africa and in the Persian Gulf.
Factorig's inspectors include experienced specialists that formerly worked for Schlumberger, Pride, and Sedco Forex. They can provide analysis of mechanical, top drive, and electrical failures, or other issues followed by recommendations on repairs/modifications, or assistance for equipment recertification.
"Around 50% of Factorig's business is offshore," says Dietswell CEO Jean-Claude Bourdon. "In the Middle East we are inspecting and supervising various ongoing rig upgrade/revamp operations at yards such as Lamprell's Sharjah complex, while farther east we are becoming more active assisting newbuild jackup programs at Keppel FELS in Singapore and in Chinese construction yards, making sure that the rigs are fit for purpose. On modern rigs in particular there is a lot to do because of the increased level of equipment and automation. It's a long and complex job, and post-Macondo, the rules are getting stricter."
Another growing service following Macondo involves analysis of a rig's subsea equipment. "Based on OEM and other published information," Bourdon says, "we have developed a database which we use to assess the status of a customer's equipment and to highlight any deficiencies. We test every item on a rig. We go into the customer's preventive systems to ensure that the OEM's rules are being followed. If the contractor can't provide information in certain cases, and depending on how serious the deficiency is, we will issue a yellow or red card, with the customer then taking appropriate action."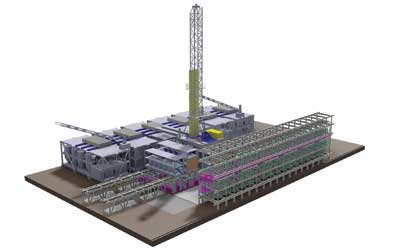 Dietswell-designed drilling pad for the Caspian Sea.
Drilling pad/wellbay
Dietswell also develops concepts to support offshore drilling programs. One recent commission was a drilling pad study for an application in the Caspian Sea. According to vice president Dominique Michel, "Our system is designed to optimize the interface between drilling and operations at the test and production manifolds, along with well spacing, wellhead orientation, cellar dimensions and depth, piping in the cellar, access to valves inside the cellar, rig displacement in two perpendicular directions, installation procedures, and safety issues.
"The requirements were very restrictive in terms of installation and operations procedure, safety, and financial costs. To meet these criteria, the design had to allow drilling of any well at any location in the slot and at any time during the drilling campaign. Flowlines must also be accessible and connectable to the production manifold at all times, including during drilling operations (SIMOPS), regardless of the well drilled and without piping pre-installation.
"Other factors that added constraints to the design were the requests for a large amount of insulation and methods for safe evacuation of personnel.
"The cluster has been divided into several cellars to meet local regulation. Convenient gaps have been arranged between cellars to accommodate flowlines and mitigate risks in case of drop objects."
The company is currently performing a similar study for offshore application in the North Sea on a jacket supporting drilling, production, and living quarter facilities. "On a jacket, the drilling pad is an independent structural deck called a wellbay," Michel explains. "The wellbay encompasses on several floors the wellheads, piping for test and production, space for workover and coiled tubing units, and safety equipment.
"This wellbay can be installed once the jacket has been piled and set up, before installation of the production and living quarter deck, allowing the production schedule to be shortened. Once the wellbay is connected to the platform, a jackup comes alongside and a derrick located on a cantilever is positioned over the wellbay deck to drill. Dietswell's specialty is to study the interfaces, design wellbays, and solve all problems related to interferences between the jackup and platform."
Mulit-purpose semisubmersible
In 2011 Dietswell participated in a design competition for Total E&P Congo's Moho Nord project for a system to drill 24 wells in 800 m (2,624 ft) of water from a TLP. The company proposed a semisubmersible tender assist drilling unit (STAD), capable of installing the derrick set on the TLP while all other drilling equipment remains on the STAD. Although the concept was not selected, the company decided the following year to design a hybrid semi that can operate both in STAD mode and as a conventional semi. Now it is looking to further adapt the concept for operations in water depths of up to 2,300 m (7,564 ft).
"We are seeing increased demand for semisubmersible tender rigs," Bourdon explains, "such as the units Seadrill has been building. But we can also see that sometimes these units will not be on contract. So we are aiming to develop a hybrid system serving both as an open-sea semi for exploration and development drilling, and in tender-assist mode for drilling and workover operations.
"Ours is a classical moored semi with a large crane that has the capacity to install a derrick set, with enough space in front to transport the derrick set."
Another ongoing study concerns a dynamic drilling riser that would be capable of operating for long periods in heavy seas, and also to disconnect safely.