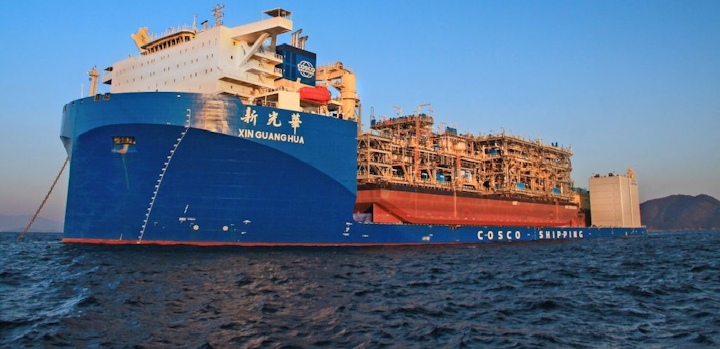 Offshore staff
SHANGHAI, China – Global Maritime Consultancy & Engineering has completed a suitability survey for the Xin Guang Hua, claimed to be the world's second largest semisubmersible, ahead of its maiden voyage.
The consultancy performed an independent assessment of all aspects of the vessel's condition.
TheXin Guang Hua, built by Guangzhou Shipyard International Co. and owned by Cosco Shipping, is 255 m (821 ft) long, 68 m (223 ft) wide and has a lift/transportation capacity of 98,000 tons.
It will serve theUpper Zakum 750 project offshore Abu Dhabi where Global Maritime is also the field's marine warranty surveyor.
In addition to the suitability survey, Global Maritime oversaw the vessel's first float-on operation in Tianjin, China.
TheXin Guang Hua has a length between perpendiculars of 250.2 m (821 ft), a loaded draft of 10 m (33 ft), and a hull depth of 14.5 m (47.6 ft). Its large open deck is 208.4 m (684 ft) long and 68 m (223 ft) broad. 
The vessel, said to be designed with enhanced internal strength, can handle both stern and side loading and will have a deck submerging capacity of 16 m (52 ft), allowing it to carry large floating structures. Its diesel-electric propulsion system provides a power output of 10.5 MW.
Upper Zakum is the second largest offshore oil field and fourth largest oil field in the world. Owner Zakum Development Co. (ZADCO) is a joint venture between ADNOC, ExxonMobil, and Japan Oil Development Co.
Later this year the vessel will transport Shell's Appomattox hull from South Korea to Ingleside, Texas.
David Sutton, CEO of Global Maritime Consultancy & Engineering, called the vessel "a significant engineering accomplishment," citing both its size and technology such as its diesel-electric propulsion system.
02/10/2017