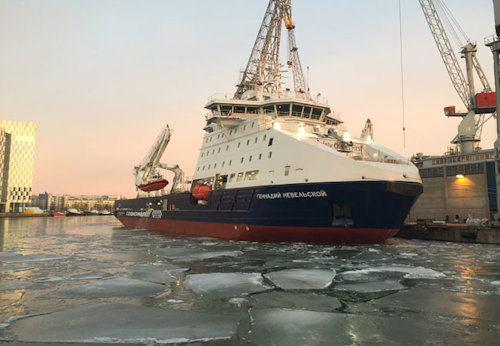 Offshore staff
HELSINKI, Finland – PAO Sovcomflot (SCF Group) has held a naming ceremony for a new icebreaking platform supply vessel (IBSV) at Arctech Helsinki Shipyard.
TheGennadiy Nevelskoywas named after a famous explorer of the Russian Far East.
The new 3,000-dwt IBSV will have Saint Petersburg as her home port and will be registered under the Russian flag.
She is the first of four vessels commissioned by SCF Group. The other three areicebreaking standby vessels (IBSBVs) that have a smaller deadweight (2,000 metric tons), but offer enhanced functionality and a higher accommodation capacity.
All four vessels are being built at Arctech Helsinki Shipyard. Arctech has overall responsibility of the design, hull assembly, outfitting, testing, and commissioning of the ships. Building of the vessels brings about 3,500 man-years of work to Helsinki Shipyard.
The agreement between Sovcomflot and Sakhalin Energy, signed in 2014, involves the operation of these vessels for 20 years under theSakhalin-2 project. These will be used for the year-round delivery of supplies and consumables to Sakhalin Energy's three offshore platforms in the Sea of Okhotsk, and for performing standby duty near the platforms. The vessels will also be used for integrated environmental protection and rescue operations.
The Russian Maritime Register of Shipping, which is providing technical supervision during the construction of all the four vessels, has assigned the ice class of Icebreaker 6 to the new IBSV.
02/01/2017