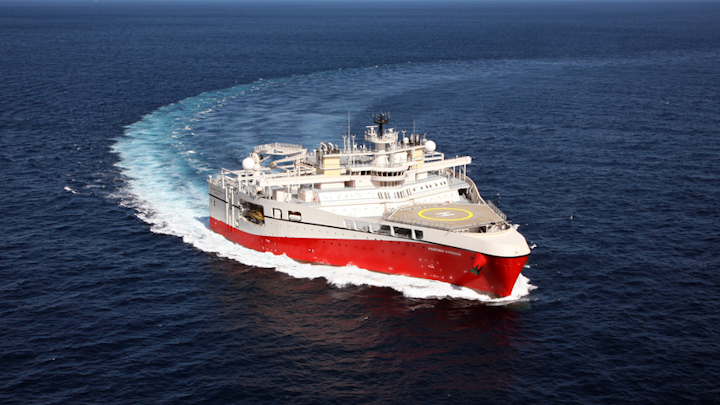 Offshore staff
NAGASAKI, Japan – PGS' latest seismic acquisition vessel Ramform Hyperion has undergone a naming ceremony at the Mitsubishi Heavy Industries Shipbuilding yard in Japan.
The Ramform design was first introduced in the early 1990s, the latest version being the Titan-class vessels.
Others in this category are theRamform Titan, Ramform Atlas, and Ramform Tethys, delivered during 2013-16. The Ramform Hyperion will be the last, according to PGS.
Per Arild Reksnes, executive vice president Operations, said: "The four Ramform Titan-class vessels and the two Ramform S-class vessels constitute our core fleet of ultra-high-end Ramforms.
"These vessels can tow more streamers than any other vessel as well as towing extremely wide streamer spreads. Hence, surveys can be tailor made to meet our customers' needs, be it the highest possible data quality or the most efficient coverage of a large exploration area."
PGS claims theRamform Hyperion and sister vessel Ramform Tethys are the two most powerful and efficient marine seismic acquisition vessels in the world.
The Ramform Titan-class design combines what is described as advanced maritime technology with the imaging capabilities of the GeoStreamer seismic acquisition technology.
The 70-m (229-ft) broad stern allows accommodation of 24 streamer reels: 16 aligned abreast and eight further forward, with capacity for 12-km (7.5-mi) streamers on each reel.
In turn, increased work space and improved lead to safer operations, PGS adds, and the swift deployment and retrieval of equipment, and greater operational capacity, allows it complete surveys faster with higher uptime in marginal weather.
The period between major yard stays is also said to be extended by around 50%, compared to earlier-generation vessels.
03/22/2017