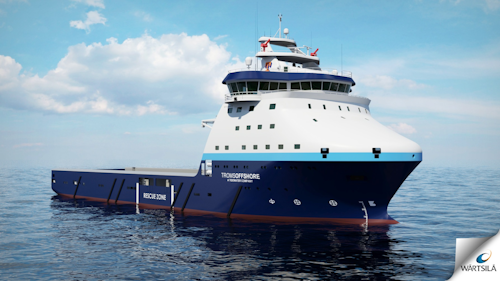 Offshore staff
HELSINKI, Finland – Wärtsilä has signed a second design contract for a new series of arctic platform supply vessels. This latest order is for a multi-purpose platform supply vessel (MPSV) being built by Tersan Shipyard, Turkey, on behalf of US-based Tidewater Inc. There is an option for three more similar vessels.
The vessel will be operated by the NorwegianTroms Offshore Supply Group, a 100%-owned subsidiary of Tidewater.
The vessel is designed to fit three Wärtsilä 8-cylinder in-line Wärtsilä 26 main engines, propulsion systems, a ballast water management system, and inert gas generators.
The Wärtsilä design means that the ship will be strengthened and equipped for arctic conditions, with the hull and propulsion in compliance with DNV ice class ICE 1A. This verifies that the vessel has sufficient strength, power, and equipment to operate in arctic areas. Furthermore, the vessel will be readied for cold climate conditions according to the DNV DEICE class. This notation includes requirements for maintaining safety and vessel operability in ice, under icing conditions, and at low temperatures.
The vessel is scheduled for delivery in 2016.
08/07/2014