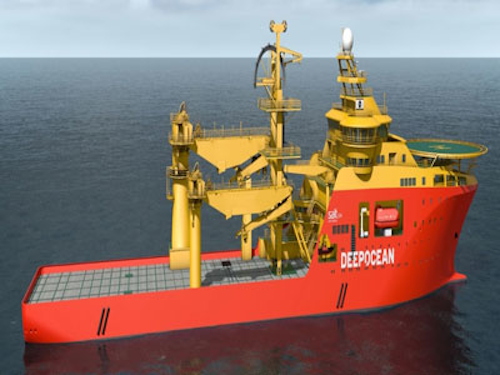 Tom Nightingale
DeepOcean

Last October,DeepOcean agreed upon a five-and-a-half-year charter for a newbuild subsea umbilical, riser, and flowline (SURF) installation vessel owned by Østensjø Rederi and of the SALT 304 design. The charter starts in March 2016. DeepOcean is targeting the vessel at projects in the greater North Sea area. 
The company has co-operated previously with Østensjø Rederi onvessels such as Edda Fonn and Edda Fauna, both of which are currently on long-term contracts with Statoil performing inspection, repair, and maintenance (IRM) works offshore Norway.
DeepOcean recognized a growing trend towardsubsea tiebacks and replacement and rejuvenation projects in the North Sea area, and a need to invest in more capable offshore construction assets as subsea infrastructure becomes more complex, larger, and heavier. The company is already performing survey works, pipeline trenching, and light construction for companies such as Statoil and BP. 
The new vessel, which includes a 150-ton dual tensioner vertical lay system and a 3,000-ton carousel situated below deck, is designed for installation of flexible flowlines, risers, and umbilicals. One feature differentiating it from competing ships in this market is its 400-ton active heave compensated knuckle boom main crane, which has extended reach and can lift 600 tons in double fall mode. It also deploys fuel-saving Siemens BlueDrive PlusC propulsion control technology and a DP-3 positioning system.
This will be the largest vessel in the company's fleet, with a length of 149.8 m (491 ft) and a width of 27 m (88.6 ft), with about 2,300 sq m (24,757 sq ft) of deck space to store hardware and equipment for offshore works.
A 150-metric ton (165-ton) twin tensioner vertical lay system (VLS) laying through the work moonpool will allow efficient installation of flexible products up to 610 mm in diameter. Also included is an A&R winch with 185-metric ton (204-ton) capacity. Flexible products will be stored either in the below deck carousel, which has 3,000-metric ton (3,307-ton) capacity for long lengths if required, or on reels or a deck carousel temporary installed on the back deck.
Both VLS tensioners in the VLS are fully retractable to provide a clear routing of termination heads in front of the VLS tower. Two gantry trolley hoists, along with several deck winches in the moonpool area, will take care of product and buoyancy handling. The moonpool hatches retract into the main deck. The entire lay-system will be connected to the vessel's BlueDrive +C system to ensure reduced total fuel consumption and the capability to regenerate power back to the vessel during laying operations.
Facilities include a 70-metric ton (77-ton) knuckle boom crane in addition to the 400-metric ton (441-ton) knuckle boom crane, the world's largest to date, with the biggest reach providing a 400-metric ton offshore lift at 20 m (65.6 ft). The crane is capable of 600-metric ton (1,968-ton) lifts in double- fall mode.
Two work class ROVs deployed through moonpools can ensure operations in significant wave height exceeding 6 m (19.7 ft), and will be active heave compensated at depth. These vehicles will support all subsea operations, from light touchdown monitoring- and survey-activities to heavy construction tasks.
The six-engine diesel-electric system gives a total power output of 17.68 MW. The dual pitch propeller system gives the ship a minimum transit speed of 14 knots fully loaded and a maximum speed of more than 16 knots, allowing fast transits between mobilizations and offshore locations. The main propellers in combination with the five tunnel thrusters and two retractable azimuths will provide a DP-3 capability dimensioned for year-round operations in the North Sea.
Siemens' BlueDrive system, developed in co-operation with Østensjø Rederi, uses variable speed for optimal operation of diesel generators combined with batteries. It is designed to reduce fuel consumption and emissions of nitrogen oxides (NOx) and greenhouse gases (CO2).