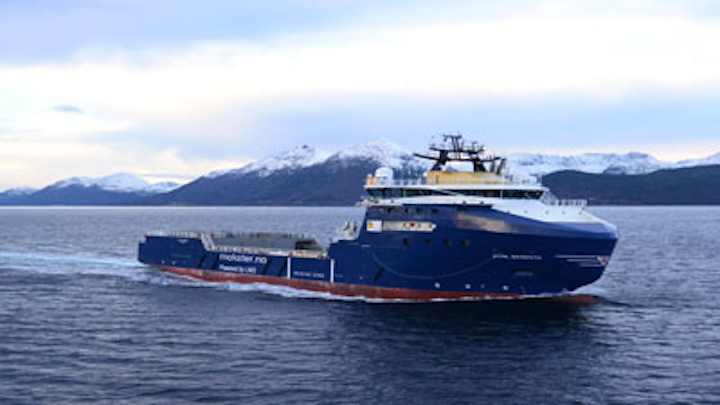 Offshore staff
SANDNES, Norway – Stril Barents, a new Arctic-adapted supply and standby vessel, is ready to start operations for Eni Norge at the Goliat field in the Norwegian sector of the Barents Sea.
This summerGoliat will become the first oil field to come onstream in the Barents Sea. Eni and the Norwegian authorities have stipulated strict oil spill contingency requirements.
Stril Barents will serve mainly as a supply vessel, but it will also be able to replace Goliat's current standby vessel, Esvagt Aurora, providing the first response in emergency life-saving intervention and oil spill situations.
This double function makes the vessel unique on the Norwegian shelf, Eni claims.
The vessel, built at the Vard Aukra yard near Molde and operated by Simon Møkster Shipping, is equipped with heating cables to prevent icing. Most of its auxiliary equipment, including lifeboats and life rafts, is built into the vessel to protect it from theArctic elements.
Separate hangars for oil spill contingency equipment, as used for chemical dispersal of oils at the sea surface, have also been installed. This equipment is deployed from openings in the bow, and can be controlled remotely from the bridge.
Mechanical oil spill contingency equipment can be deployed rapidly from a storage location in a hanger in the vessel's stern.
Additionally, the vessel has remote measurement equipment that allows the crew to identify and track oil on the sea surface, even in poor daylight.
02/06/2015