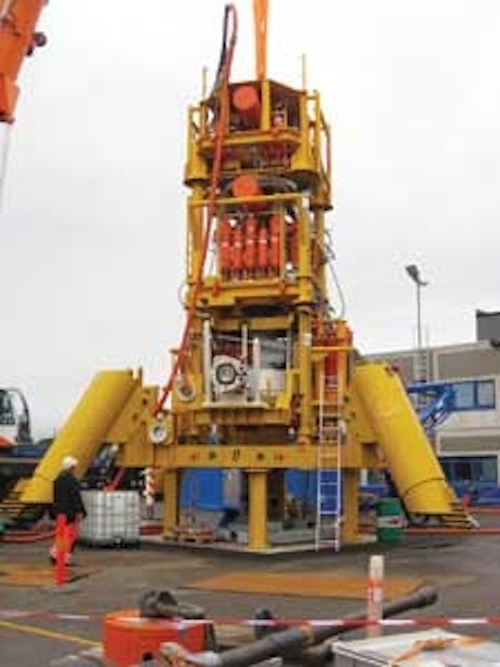 Bully I, the first of two new deepwater drillships under construction in the Far East, is set to be delivered to Noble Energy this fall.
The Bully concept is based on GustoMSC's PRD 12000 drillship design. The compact size makes these vessels more economic to construct and operate, the company claims, with relatively low power consumption. Main dimensions include an overall length of 187.5 m (615 ft), a width of 32 m (105 ft), a depth of 15.06 m (49 ft), and a displacement of around 45,000 metric tons (49,604 tons).
Both vessels will be able to drill in water depths of up to 8,250 ft (2,514 m) with a conventional marine riser, and with a pressurized riser in up to 12,000 ft (3,657 m) of water. Other stand-out features include Arctic-class notation, a multi-purpose drilling tower, and a thruster retrieval system.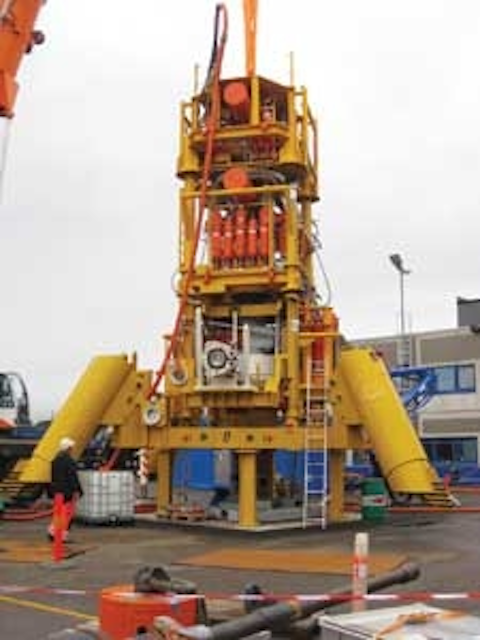 Bully 1 should be delivered to Noble Energy later this year.
The hulls in both cases were built at the Shanghai shipyard in China, and later towed to the Keppel shipyard in Singapore for outfitting and completion, including accommodation blocks and marine systems.
Last December, the first drilling tower arrived in Singapore for installation earlier this year onBully I. Recently, the GustoMSC-designed thruster retrieval system was installed – the design involves integrating a conventional bottom-mounted azimuthing thruster and its supporting system in a container, which can be retrieved inside the vessel's hull.
This permits on-board maintenance or, if needed, in-situ removal, eliminating the need for dry-docking or towing the vessel into port. The thruster container movement is derived from rack and pinion technology well-proven in GustoMSC's jacking systems.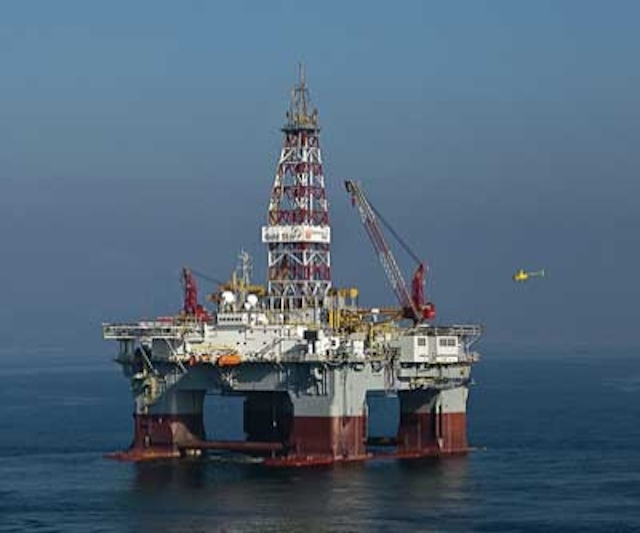 The first of the DS338 semis ordered by Brazilian contractor QGOG.
Another advantage of this component is that it facilitates installation of thrusters at a late stage in the vessel construction program. This is because the container housing the thruster is outfitted separately from the vessel, and can therefore be guided into the hull when the vessel is at the quayside, with final hook-up limited to connection of the power supply, control system, and utilities.
Currently all systems onboardBully I are undergoing commissioning. Bully II is due to be delivered early in 2011. Both vessels were originally ordered by Frontier Drilling for use in a joint venture program with Shell E&P, although Frontier was recently acquired by Noble Energy. Unfortunately, first projects for the vessels remain unassigned, due to the fall-out from the deepwater drilling incident earlier this year in the Gulf of Mexico.
GustoMSC also co-developed with Keppel DTG the design for the DSS38 deepwater drilling semi, two of which were ordered by contractor Queiroz Galvao Oleo e Gas Company (QGOG) in August 2006 for operations off Brazil. Keppel FELS in Singapore delivered the first rig,Gold Star last October. The second unit, Alpha Star, should follow in mid-2011.
According to GustoMSC, the compact DSS38 can drill in water depths up to 9,000 ft (2,743 m), with a 2,000 kips-rated derrick and four 2,200 hp mud pumps. The rig's vertical riser storage simplifies riser handling, and also occupies 40% less deck storage area than conventional riser storage. This frees up space for items such as well-testing equipment. Eight 3 MW azimuth thrusters are employed for station keeping.
The DSS38 has a deck size of 69.5 x 69.5 m (228 x 228 ft), a displacement of 39,000 metric tons (42,990 tons), an operating draft of 20.5 m (67 ft), and a variable deck load of 5,622 metric tons (6,197 tons).
More Offshore Issue Articles
Offshore Articles Archives
View Oil and Gas Articles on PennEnergy.com