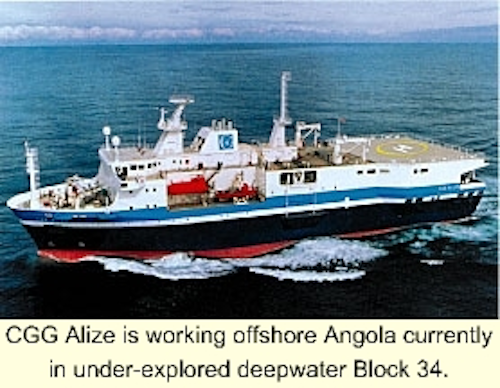 In the year since its official launch, CGG Marine's state-of-the-art seismic vessel, the CGG Alize, has worked in the North Sea, the Campos Basin, and now offshore Angola, for Exxon. Here it is attempting the world's third application of a 10-streamer survey.
CGG Alize, with a displacement of 12,500 tons, is the world's largest seismic vessel. The hull and propellers are designed to suppress acoustic noise levels - the 25,000 HP diesel electric propulsion system is fully redundant, allowing maintenance to be performed at sea without interrupting productivity. The high power output also allows the vessel to tow in theory up to 16 streamers.
Two diverters of a new design tested by CGG Marine's R&D team are used to spread the streamer array from a midship location. The vessel's load-dampening system can sustain a force of up to 50 tons at the diverter tow points. Streamer guide-heads on a series of columns near the stern move vertically to facilitate bird attachment. Streamers are stored on reels situated forward of the guide columns and are deployed through the guide-heads - the full array can be recovered simultaneously by a single operator working from a cabin mounted on the stern, from where there is a full view of both the deck and the equipment under deployment.
Other onboard items include CGG's integrated navigation system, GIN 2000, and its marine source synchronizer, Topshooter. The vessel also features a Syntrak recording system, Sonardyne acous tics, a G-gun source and full 3D processing capability, using Geovecteur Plus software.
The CGG Alize's first jobs were in eight-streamer mode for Statoil and Agip in the North Sea. It then sailed to Brazil to work on Elf and Petrobras' behalf. The current assignment for Exxon in Angola Block 33 is a 3D survey, which was due to start in mid-March, finishing in June. This is a virgin area in terms of 3D seismic coverage - water depths vary 1,500-2,500 meters.
As stated previously, this is only the third survey involving use of 10 streamers - and one of the two earlier attempts, also off West Africa, was not successful, leading to the vessel having to revert to eight streamers. "Running 10 streamers requires smooth seas," says CGG Marine President Jean Charot. "When the sea is not right, the more streamers you add, the greater the number of problems arising, in terms of potential damage to equipment and signal interference. Having said that, the weather off West Africa is normally better than offshore Brazil, so we are confident in the survey's success."
A streamer operation of this magnitude would normally require tugboat assistance, but coordinating tugboat movements with those of the master vessel can also be difficult, Charot says. No tugboats are scheduled to assist on this occasion. Much of the data processing will be performed onboard the Alize, with the remainder handled by CGG's processing center in Luanda. The Luanda operation has been in service for nearly nine months.
Despite the fact that the CGG Alize's launch, like several others in the industry, coincided with a worldwide exploration slump, Charot says CGG Marine has no regrets. "We are now clearly in the first league, with a fleet of four modern vessels, representing 10% of the industry's capacity." The company did, however, shelve plans for a second lookalike, 10-streamer newbuild, and will only revive that project if the market recovers substantially.
The current worldwide fleet of 35 vessels is chasing a still-diminishing market. "There are still too many vessels," Charot insists. "Oil company mergers have not helped. Other big players such as Shell have also become more reticent regarding their seismic acquisition budgets - "if anything, the independents have become more aggressive." Charot points out.
"No one made money in this industry last year (1999). The average price per sq km was $2,500 - that compares with $5,500 two years ago. Also, the market has shifted from exclusive surveys to 70% spec."
In theory, the South Atlantic should provide salvation for the contractors, but Charot points out that half the seismic vessels active off Brazil this March will likely be somewhere else by June. The upturn may have to wait until spring 2001, when the impact of the 2nd licensing round awards filters through.
Recently, the Mistral performed a spec survey in cooperation with another contractor vessel over Mississippi Canyon blocks in the Gulf of Mexico. "We will process the data - the other contractor shot two thirds of the survey. This is an area that has been covered by 2D and 3D seismic before, but the 3D imaging was inadequate - the streamers were not long enough. For our current survey, we have used 7.2-km streamers."
Thereafter, the Mistral will shoot in Green Canyon waters for a wholly CGG-managed spec survey. The CGG Fohn has been acquiring around 1,600 sq km of 3D seismic for Apache and Ranger off Cote d'Ivoire.
CGG Marine is taking a pause in major new investments. However, it stays active in research and development on solid state streamers. As for processing, CGG maintains 20 centers around the world, including eight dedicated branches in clients' offices. "No one else can match that," Charot claims.
---
VSP breakthroughs off Germany, Romania
CGG has run its first dual receiver VSP (vertical seismic profile) using the PipeSeis technique in a horizontal development well in the German North Sea. The company says that high quality three-component data was recorded with a useful frequency content of over 100 Hz along 1,000 m of the well's horizontal section, much of this deviated to more than 90°.
PipeSeis involves pumping wireline-conveyed, three-component receivers inside drillpipe to the bottom of the well, then acquiring VSP data upon retrieval. This is said to substantially cut the cost and uncertainties of running VSP or checkshot acquisiton in wells with deviations that would normally require pipe or tubing-conveyed logging.
Recently, the Borehole Services Division of CGG also acquired what is claimed to be the work's largest 3D VSP survey ever acquired, for Petrom in the Romanian sector of the Black Sea. Data was acquired using an SST-500 12 by 3-component VSP receiver array with an acquisition rate that reached one hour per walkway line. The configuration consisted of a grid of 161 parallel lines with 50-meter spacing and two diagonal lines of 11.3 km each intersecting the grid, corner to corner. Data was acquired at 50-meter intervals, providing a total of 26,695 source positions with 320,340 shot point receiver pairs.