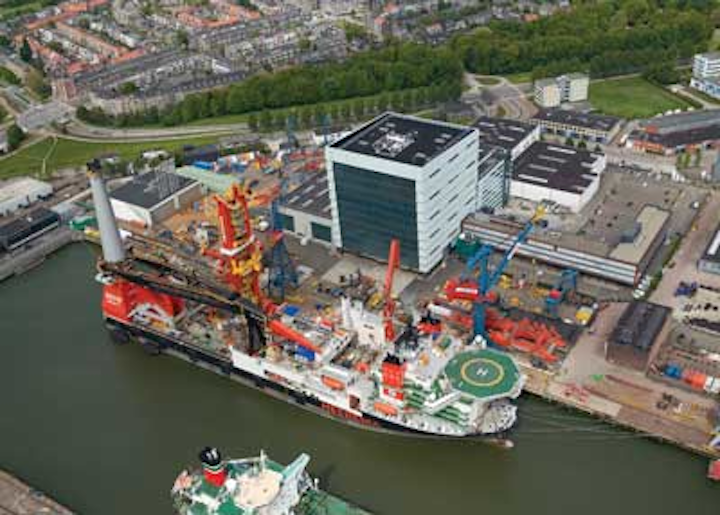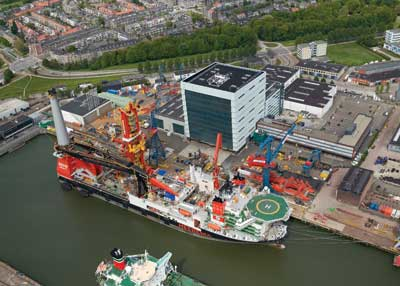 Heerema'sAegir pipelay and construction vessel docked at Huisman's Schiedam facility earlier this year, where the newbuild was outfitted with pipelay equipment, including a 4,000-metric ton offshore mast crane, and a 2,000-metric ton A&R system. (All photos courtesy Huisman)
Russell McCulley
Senior Technical Editor
Mention Huisman, and the first thing likely to come to mind is cranes: although its roots go back to 1929, when it began as a steel construction company, Huisman found its niche in lifting equipment, and cranes remain the company's most recognizable product. But over the years, the privately held Dutch firm has expanded its product line to include pipelay systems, drilling and well intervention systems, rig design, and more. "We've built every type of crane you can think of," said Huisman CEO Joop Roodenburg, during a recent Houston visit. "Cranes are still our core business. And we are always looking at ways to improve and innovate."
The company is currently involved in several projects that back up Roodenburg's claim, including a 1,500-metric ton capacity leg encircling crane for the Seajacks wind farm installation jackupScylla. Roodenburg says the crane, to be built at the company's yard in Xiamen, China, will be the largest of its kind. The crane, along with two 50-metric ton auxiliary cranes, is scheduled to be delivered in 2Q 2015.
That order was soon followed by a contract with Helix Energy Solutions Group for the delivery of a well intervention system on Helix'sQ7000 semisub. The 800-metric ton system will be based on Huisman's Multi Purpose Tower design, similar to one installed on Helix's Q4000 intervention vessel.
In late October, Subsea 7'sSeven Waves arrived at Huisman's facility in Schiedam, the Netherlands, where it was to be outfitted with a 550-metric ton flex-lay system and a 400-metric ton offshore mast crane. The flex-lay system, for installation of flexible pipe in depths up to 3,000 m (9,850 ft), will be the highest capacity system of its type onboard a pipelay vessel, Huisman says. The company recently introduced a series of offshore cranes with capacity up to 900 metric tons, backed by orders from Norway's VARD shipyard and Hyundai Heavy Industries. The VARD order is for a 900-metric ton crane to be installed on a subsea construction vessel owned by DOF Subsea. HHI requested a 900-metric ton AHC knuckle boom crane, which will be mounted on a heavy construction and pipelay vessel the shipyard is building for Subsea 7. "We are working on a design for 1,000-metric ton knuckle boom crane," Roodenburg said. "That would be a record."
This year also marked one of Huisman's most notable projects to date. In March, Heerema Marine Contractors' newbuildAegir vessel arrived in Schiedam, where Huisman installed the 211-m (692-ft) vessel's pipelay equipment, including a 4,000-metric ton offshore mast crane. Aegir's first job will be the installation of risers in 2,000-m (6,562-ft) water depths at Anadarko's deepwater Gulf of Mexico Lucius field. At 2,000-metric ton capacity, the vessel's J-lay system is "the biggest we've ever built," Roodenburg noted.
In all, the company has more than a dozen pipelay systems in the works, he adds, with a customer list that includes the DOF/Technip joint venture, Subsea 7, Ceona, and EMAS, which has ordered a 3,000-metric ton crane and pipelay system for its newbuildLewek Champion vessel.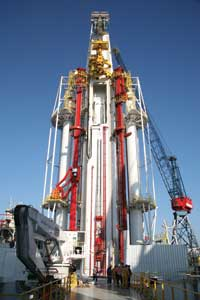 Huisman's Dual Multi Purpose Tower drilling derrick features a main hoist side and a construction hoist side, allowing more activities to be performed simultaneously. The enclosed box structure reduces the risk of falling objects and provides greater access to the drill floor.
Several of the recent pipelay equipment orders were made possible by offshore construction contracts extended by Petrobras for deepwater installation offshore Brazil. In 2012, Huisman broke ground on a new production facility in Navegantes, in the state of Santa Catarina. Roodenburg says the Brazil yard is scheduled to open before the end of 2014 with an initial workforce of about 200.
The company announced its first order for the new facility this past September: three sets of five cranes, scheduled for delivery between 3Q 2015 and 1Q 2017, for the drillshipsCassino, Curumim, and Salinas, which are being built by Sete Brasil.
"We are going to build a quayside there, so we can install equipment on the vessels," Roodenburg oberved. "We will build cranes there, and parts for pipelay systems, anchor handler winches, and in the future, drilling systems. But we will have to build up the organization first."
Establishing a manufacturing base in Brazil has been "quite a huge job," he says, but one the company sees as key to future growth. In addition to the yards in the Netherlands and in China, where the bulk of its cranes are built, Huisman has a production facility in the Czech Republic and a smaller manufacturing unit in Houston.
New concepts
Huisman developed the Multi Purpose Tower (MPT) drilling unit in the late 1990s. The tower uses a vertical box structure instead of a traditional lattice structure, and features two hoist sides, one for drilling operations and another for offline construction activities. Huisman installed its first MPT on theQ4000.
Roodenburg says the enclosed design improves safety. "If you take away the lattice structure, what's left is the functional components - the top drive, the crown block, the compensators, the draw works. If you just take all these components and put them in a different box, nothing has changed on the functionality, but it looks totally different."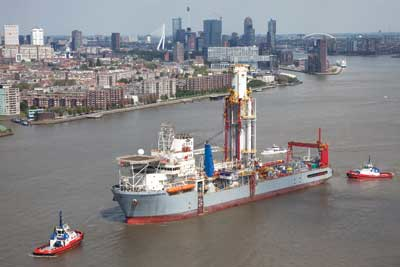 Noble Corp.'sNoble Globetrotter II, based on Huisman's HuisDrill drillship design, entered service for Shell in West Africa late this year.
The tower's relatively small footprint and low center of gravity make it "much easier to integrate into the hull," he added. "And you have a completely open structure, so you can skid things in and out. This enables you to do things differently. Lower weight, lower maintenance, no dropped objects - there's a huge number of benefits."
The industry has been slow to adopt the design. That could change, however, as the drillshipsNoble Bully I and II, operated by Noble Corp. and under contract to Shell, rack up a few years of service. Originally built for Frontier Drilling, the ultra-deepwater drillships were under construction when Noble Corp. acquired the Norwegian driller, and the Shell contracts, in 2010. The Bully hulls were designed to accommodate a traditional tower, Roodenburg says. "Then we saw the possibility, because Shell liked the design, to put the dual tower on them. We had to compromise some, because it was an existing design."
The experience led Huisman to develop a drillship design of its own, the HuisDrill, integrating the dual MPT, a hoistable floor, and engine rooms under the accommodation block. The changes created a vessel with a flush deck and an overall size up to 50% smaller than a conventional drillship, but with the same capacity. "We designed the vessel around the tower," Roodenburg said. "If you design the vessel around the equipment, you get a more efficient result." The first HuisDrill units to be ordered were once again by Noble, backed by long-term contracts with Shell, for theGlobetrotter I and II. The first was delivered in 2012 and put to work in the US Gulf of Mexico; Globetrotter II entered service in West Africa in late 2013. Huisman has also developed a design for an extended HuisDrill vessel, 206 m (676 ft) long, compared to the 189-m (620-ft) long Globetrotter, that can accommodate double-length risers.
"In order to be successful and to be innovative in the drilling industry, the operator and the drilling contractor and the key suppliers must work very closely together," Roodenburg noted. "On theGlobetrotter, we worked very closely with Noble, and Shell was supporting it."
Huisman has also produced designs for a self-propelled semisubmersible, the Orion, incorporating the dual MPT, and a pair of semis - the Arctic S and JBF Arctic - for use in icy climates. The company recently introduced a design for an innovative jackup, the Rotating Cantilever. The ability to rotate the cantilever, rather than skidding, provides a wide drilling envelope while preserving more deck space, Roodenburg says.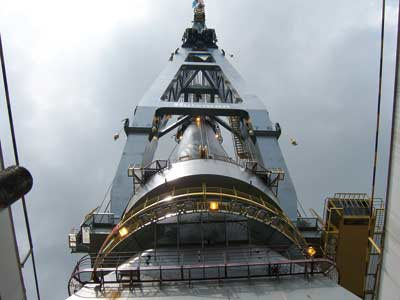 Huisman provided a 5,000-metric ton offshore mast crane, pictured here, for Subsea 7'sSeven Borealis.
Designing for the future
Huisman plans to expand its testing and commissioning facilities in the Netherlands "so we can demonstrate to the industry that these things work," Roodenburg commented. But introducing new technology to the drilling market can be a tough sell. "It's a very conservative market," he explains. "It is a day rate-driven industry. The driver is 'no breakdowns,' so every change for them is considered a risk. Even if they are using equipment that consistently breaks down, at least it's predictable.
"All of the things we have built so far have worked," he adds.
Although they may default to proven technology more often than not, operators are always on the lookout for tools that will help them do their jobs more efficiently, and more safely. Roodenburg, returning to Huisman's unusual Multi Purpose Tower, says the company's products are designed to do both. "Oil companies are interested in the design," he said. "It includes more automation, so you have a safer (drilling) floor and increased efficiency. Safety is a very big issue in our industry." On traditional lattice derricks, he noted, "you have 18,000 bolts on a dual derrick, and you have to inspect 20% of them every year. That's an average of 10 bolts per day. That's a lot of work. With the MPT, that work is all gone, and also the risk of a bolt falling."
Roodenburg is counting on theBully and Globetrotter newbuilds to demonstrate to the industry that Huisman's innovations do not stop at cranes.
"The industry is watching, and wondering how it's working," he says of the drilling package. "We'll get there. There are a lot of new units coming into service in 2015. But this is different technology that will deliver more efficiency and safety. And people see it."