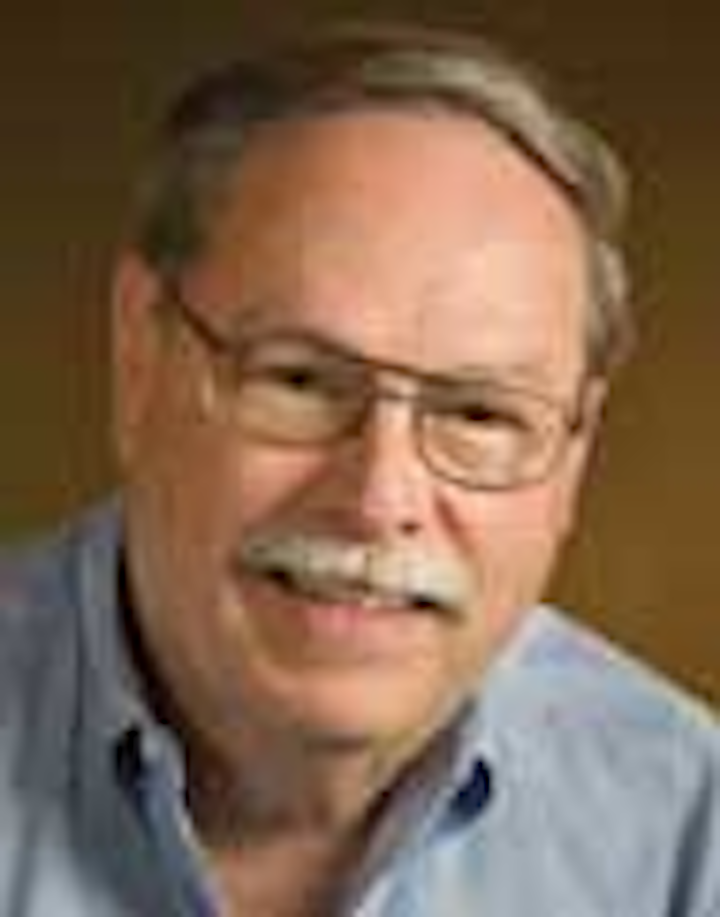 | | | |
| --- | --- | --- |
| | | Dick Ghiselin • Houston |
A modern dayKon Tiki expedition called Papa Mau has successfully navigated the 9,000 nautical miles (16,668 km) of ocean between San Francisco, and Bundaberg, Queensland, Australia. Papa Mau is a Wave Glider that gets its motive power by harnessing the forces of wave action, and solar power to operate its navigation and telecommunications circuits. Actually, the feat transcends the famous Kon Tiki crossing because the 1947 Kon Tiki wind-powered raft had live crewmen on board. Papa Mau completed the journey on its own, guided only by transmitted commands from its owners, Liquid Robotics Inc. of Sunnyvale, California.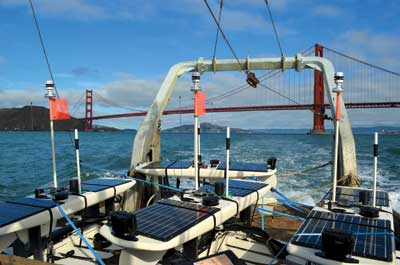 Four Wave Gliders pass through the Golden Gate en route to the launch site offshore San Francisco, Nov. 17, 2011.
The year-long journey provides enabling technology that breaks the economic and risk barriers that have limited oceanic data gathering on a broad scale. Ushering in the age of autonomous long-range marine robot craft, the project introduces a realm of possibilities that benefit ocean industries.
The Schlumberger booth at the 2012 Offshore Technology Conference featured a Wave Glider. It was explained that wave action causes wing-like flaps mounted beneath the hull to oscillate which in turn causes the craft to move forward in the water. The vessel is very compact, being only about 5 ft long, 1 ft wide and 5 in. thick, but it is large enough to carry a sophisticated solar-powered electronics package that includes measurement sensors and telecommunications transponders. On the trans-Pacific voyage, the sensors gathered valuable high-resolution ocean data never before collected. The electronics package also allows the craft to be navigated over a prescribed route, tracked precisely by satellite.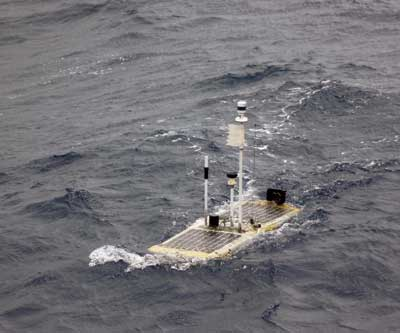 9,000 nautical miles and 384 days later,Papa Mau Wave Glider sails into Hervey Bay, near Bundaberg in Queensland state, Australia; a world record for the longest voyage by an autonomous vessel.
The long sea voyage was not without drama. During the journey,Papa Mau weathered gale force storms, shark attacks, and tricky navigation challenges as it dodged Australia's Great Barrier Reef. It provided a missing link in the understanding of the extent and effect of massive equatorial chlorophyll blooms that affect ocean life and climate regulation. Previously, these natural ocean phenomena have only been imaged by satellite imagery and modeling. The direct measurements made by Papa Mau in more than 1,200 mi of its journey will provide a valuable scientific link in future ocean studies.
An interesting distinction of autonomous vessels from traditional ships is the use of male-gender descriptors in discussing the craft. Accordingly, it is proper to say potential applications forPapa Mau and his brother ships that will benefit the offshore oil and gas industry include pipeline surveying and monitoring, seismic surveying, and mapping of ocean conditions.
Broad ocean study has received impetus by the PacX Challenge, a program to recognize the most outstanding ideas to make use of PacX ocean data in interesting, productive, and innovative ways. A grand prize of a research grant consisting of $50,000 from BP plus six months use of Wave Glider data services from Liquid Robotics will recognize the winning entry. Five finalists have been identified and the winner will be announced momentarily.
Liquid Robotics Inc. has announced a joint venture with Schlumberger whose aim is the development of services beneficial to the offshore oil and gas industry. Liquid Robotics will supply the Wave Glider vessels and Schlumberger will configure the vessels' measurement and sensor packages to perform data gathering services to support offshore exploration and production activities. According to Ashok Belani, chief technology officer of Schlumberger, early focus for the joint venture will be on measurements and services that complement seismic, subsea, and environmental monitoring.