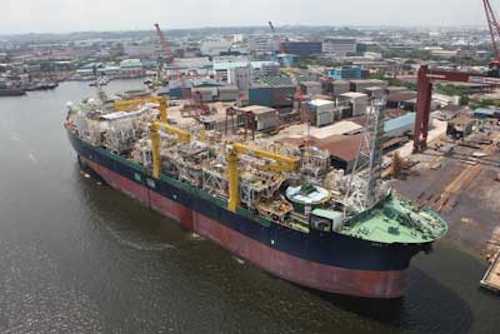 New Açu Shipbuilding Unit strategically located near the Campos basin
Gurdip Singh
Contributing Editor
Brazil's oil and gas service company, OSX Brasil S.A., began construction on the largest shipyard in the Americas, the Açu Shipbuilding Unit (UCN Açu), in July 2011. Located in the Açu Superport Industrial Complex in São João da Barra, Rio de Janeiro state, UCN Açu will cover more than 3 million sq m (32 million sq ft) and will include a 2,400-m (7,784-ft) pier, expandable to 3,525 m (11,565 ft), and an internal navigation channel.
Under a high-level technical agreement with Hyundai Heavy Industries, the South Korean shipbuilder provides OSX with state-of-the-art technology and experience. At least eight Hyundai engineers are involved in building the $1.93-billion Açu Shipbuilding Unit. The number of Korean engineers and supervisors is expected to increase as the shipyard opens for business in 2013.
The Açu Shipbuilding Unit is expected to start off with a $4.8-billion order book backed by Brazil's national plan to invest $140 billion to build reserves to 100 Bboe by 2020. OSX's bullish order book includes 48 units of offshore exploration and production equipment, an estimated $30-billion investment by sister company, OGX Petróleo e Gás Participações S.A.
Carlos Eduardo Bellot, director of engineering, leasing, and operation at OSX, expects strong demand for a fabrication, conversion, and integration service yard since Brazil will need 182 facilities to fulfill its offshore exploration and production plan over the next 10 years.
At the sail away ceremony of FPSOOSX-1 on Aug. 13, 2011, in Singapore, Bellot said the shipyard would specifically handle mega projects such as the conversion of tankers into FPSOs, as well as exploration and production units, drillships, tension leg platforms, wellhead platforms, and tankers.
The acquired tanker that became the FPSOOSX-1 was converted by Singapore's Keppel Shipyard.
The UCN Açu is designed to have six slots for FPSO conversion, and is scheduled to deliver its first vessel in 2Q 2014. Its first project is the FPSOOSX-4 in 2013; the FPSOs OSX-1, 2, and 3 are being built at shipyards in Singapore while the yard is under construction. FPSOs OSX-5, 6, 7, 8,and 9 are scheduled to be delivered on a quarterly basis through 3Q 2015.
The shipyard has two areas for wellhead platforms. It will deliver the first wellhead platforms,WHP-3, in 3Q 2013 to OGX. WHP-4, 5, 6, 7, 8, and 9, are scheduled to be delivered on a quarterly basis through 3Q 2014.
Bellot said the shipyard will have one dry dock with the size and capacity to handle two drillships at one time. "We will use the dry dock for conversion work," he said, "and will carry out the integration work in the sea away from dockside." The first dry dock cost $133 million.
Cash flow from early projects supports the OSX venture into the E&P service sector. OSX raised R$2.4 billion ($1.4 billion) through an initial public offer in 1Q 2011 to finance the shipyard construction and pay for a tanker acquisition. The acquired tanker was converted into the FPSOOSX-1 by Singapore's Keppel Shipyard.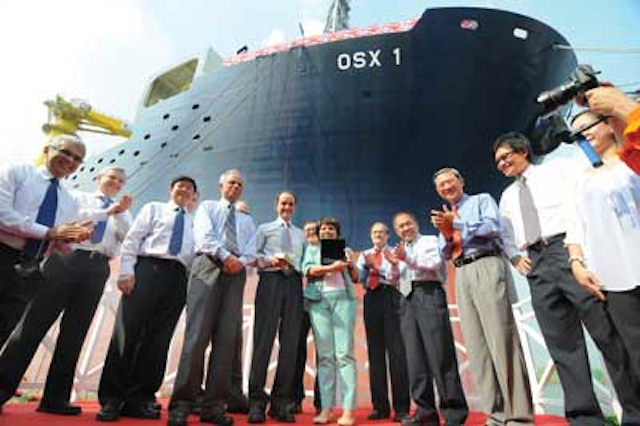 The sail away ceremony of FPSOOSX-1 was held last August in Singapore.
OSX also has a merchant marine fund of about R$2.7 billion ($1.6 billion). Backing OSX are the huge prospects in OGX's 22 blocks offshore Brazil. Seven blocks are in the Campos basin, five in the Santos basin, five in the Espirito Santo basin, and five in the Para Maranhao basin. OSX also cites OGX's 43 oil and gas discoveries to date with 6.7 Bboe of risked prospective reserves, assuming a probability of success of 35%.
The National Agency of Petroleum, Natural Gas, and Biofuels (ANP), Brazil's oil and gas authority, requires that 70% of equipment and services used in the exploration, development and production of oil and gas concessions be of Brazilian (local) content. The Açu Shipbuilding Unit is expected to create 4,000 jobs during implementation and construction, and 10,000 jobs when the shipyard becomes operational.
Anchor client
OGX Oil & Gas production director Reinaldo Belotti endorsed OSX's plans and business development strategy. OSX was created in 3Q 2009 by EBX Group to support OGX projects through a strategic cooperation agreement.
OSX started with OGX as an anchor client in the Waimea prospect in the Campos basin, which has between 500 and 900 MMboe in reserves.
OGX has set a goal to produce 1.38 MMb/d of oil by 2019. OSX estimates a demand for 48 production units for developing OGX resources between 2011 and 2019. FPSOOSX-1 is the first venture into production, chartered for 20 years at an average day rate of $263,000. Another 18 FPSOs, five tension leg wellhead platforms and 24 wellhead platforms would be required, with five to be delivered in 2013, six in 2014, 12 in 2015, 13 in 2016, six in 2017, four in 2018, and one in 2019.
Shipyards are not enough to cater to the massive demand for offshore and marine facilities, stressed Bellot. The Açu shipyard, along with the Mac Laren, Maua and Brasfels yards, are not enough for the long-term orders planned by Petrobras, the Brazilian national petroleum group. In total, 182 facilities would be required over the next 10 years. Petrobras has developed a budget of $111 billion to increase its oil production from 2.1 MMboe in 2010 to 2.98 MMboe in 2014 and 3.95 MMboe in 2020.
The Açu Shipbuilding Unit is strategically located along the Açu Superport about 150 km (93 mi) from the Campos basin, which accounts for about 75% of Brazil´s production.
OGX program
The FPSOOSX-1 started production on Jan. 31, 2012, following the injection of chemical fluids in well OGX-26HP on Jan. 28. OGX will test different flow rate levels, gradually reaching a stable production level of about 15,000 b/d. OGX expects to declare the Waimea field commercially viable after gathering reservoir data in the first half of 2012. The company anticipates connecting two additional horizontal wells, which could take production levels to 40,000 – 50,000 b/d during the second half of the year.
Though Campos is an oil-bearing basin, some gas produced would be used for operating power generation facilities on the FPSOs with the balance re-injected into the field. Going forward, Campos would have five FPSOs to handle the crude oil, graded to be of API 15° to API 35°.
OGX has confirmed presalt microbiolite reservoirs with hydrocarbons in the shallow waters of the Santos basin. The wildcat well 1-OGX-63-SPS, in BM-S-57, identified hydrocarbons in the Aptian and Albian sections. OGX holds a 100% working interest in this block.
The OGX-63 well known as "Fortaleza" is in the BM-S-57 block, 102 km (63 mi) off the coast of Rio de Janeiro state, at a water depth of approximately 155 m (509 ft). The well identified a hydrocarbon column of approximately 1,000 m (3,281 ft) with a net pay of approximately 110 m (361 ft) in the Albian section.
The drilling reached the Aptian section, where it identified hydrocarbons through a high gas presence that resulted in a "kick," which OGX takes as indicating favorable permo-porosity characteristics and high pressure. The "kick" was controlled and the analysis of rock fragments confirmed a microbiolite reservoir of Aptian age – the same type of reservoir rock found in the deep and ultra-deepwater presalt of the Santos and Campos basins.
Due to the high pressures, drilling was suspended to replace theOcean Quest rig with the Ocean Star, also part of OGX's fleet. The Ocean Star is equipped to continue the operation, which is expected to include logging and possibly conducting at least one drillstem test.
More Offshore Issue Articles
Offshore Articles Archives
View Oil and Gas Articles on PennEnergy.com