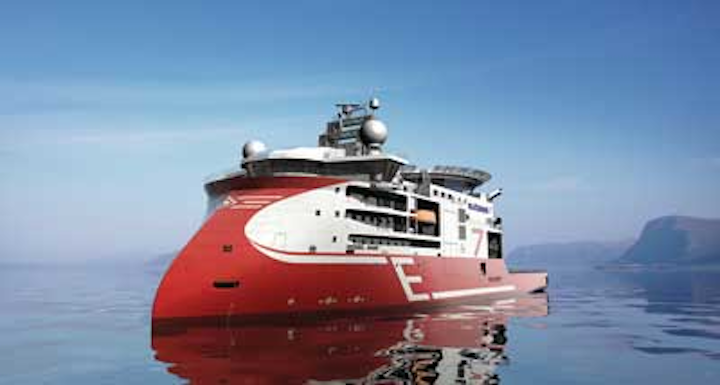 Bruce Beaubouef • Houston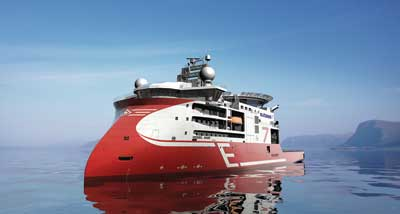 Ulstein Group, Eidesvik Offshore, and Subsea 7 are developing theSeven Viking, a next generation inspection, maintenance and repair (IMR) vessel to tackle demanding environments.
Ulstein Group, Eidesvik Offshore, and Subsea 7 have joined forces to develop a next generation inspection, maintenance, and repair (IMR) vessel to tackle the most demanding environments, built to the most demanding market specifications. Long-term charterer Subsea 7, working under contract with Statoil, is now looking forward to the delivery of theSeven Viking for use in the North Sea.
The ship, an ICE-C class vessel with a crew capacity of 90, is co-owned by Eidesvik and Subsea 7 under the newly created joint concern Eidesvik Seven AS. It will operate in the harsh climate of the North Sea, carrying out a multitude of diverse tasks for Statoil, including inspection, maintenance, and repair of subsea oil installations, alongside scale treatment and RFO operations.
"The specifications for this vessel were as unique as the environment it will operate in," states Stuart Fitzgerald, Vice President Norway, Subsea 7. "Statoil asked us to adhere to a set of rigorous contract requirements and we, alongside our project partners at ULSTEIN and Eidesvik, used all our collective experience to deliver 100% on those specifications."
The prototype vessel incorporates the ULSTEIN X-BOW design to reduce motion in transit and give increased stability in the potential five-meter swells that can characterize the North Sea.
Despite this stability, something usually associated with size, this variant on ULSTEIN's SX148 design has been crafted to be compact in stature – measuring just 106.5 m long by 24.5 m (349.4 ft by 80.3 ft) wide. This nimbleness, enhanced by a top speed of 16 knots, will allow theSeven Viking to maneuver in confined spaces, such as between platforms, accessing difficult-to-reach areas. The vessel is scheduled to launch in December 2012.
McDermott to build another reeled pipelay vessel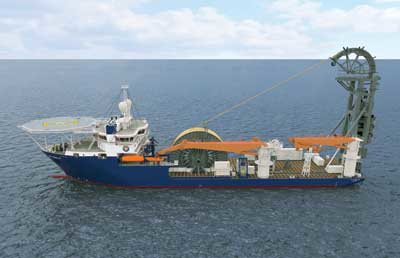 McDermott International, Inc. says it will build another high capacity reeled pipelay vessel with top-tier payload capacity, tentatively namedLay Vessel 108 (LV108).
McDermott International, Inc. reports that it will build another high capacity reeled pipelay vessel with top-tier payload capacity, tentatively namedLay Vessel 108 (LV108). The vessel will be a sister ship to the recently completed subsea construction vessel the Lay Vessel North Ocean 105 (LV105), and is to be built to similar specifications at Metalships and Docks S.A.U. shipyard in Vigo, Spain.
"LV108 is another milestone in our vessel renewal program focusing on the subsea construction market for flexible and rigid product installation," said Stephen M. Johnson, Chairman, President and CEO of McDermott. "Market analysis indicates that the subsea and deepwater construction market is expected to continue to grow and there is demand for more tonnage in both the rigid reel lay and flexible lay markets. The LV108 is expected to meet this need."
LV108 is designed for advanced deepwater operations with a high-capacity tower for rigid and flexible pipelay and state-of-the-art marine construction equipment, including rigid-reeled pipelines, subsea components and hardware, and deepwater moorings for floating facilities as well as flexible products – cables and umbilicals.
The principal characteristics of the vessel will mirror those of the LV105, but McDermott anticipates enhanced functionality of the LV108 equipment design compared to the LV105. Delivery of LV108 is anticipated to be around 3Q 2014 for outfitting of the custom-designed lay system, built by a specialist fabricator in Europe.
The vertical reel will have a nominal payload of 2,500 tons plus, subject to vessel loading conditions, and a lay tower operational between 90 and 40 degrees. The nominal tension capacity is expected to be 400 tons, and the range of pipe the vessel can install is between 4 to 16-in. diameter. This 427-ft, dynamically positioned vessel will be equipped with a 400-ton heave compensated crane, will have a transit speed of 15 knots and will operate across a range of water depths up to more than 10,000 ft.
ExxonMobil books rig for deepwater Ireland
ExxonMobil Exploration and Production Ireland (Offshore) has signed a letter of intent with Ocean Rig UDW for the semisubmersibleEirik Raude. Subject to approvals from various parties, the rig will start drilling the frontier deepwater Dunquin prospect offshore southwest Ireland during 1Q 2013. The location is in frontier exploration license (FEL) 3/04, with an estimated drilling duration of up to six months.
ExxonMobil operates the license in partnership with Eni Ireland, Repsol Exploracion Irlanda, Providence Resources, and Sosina Exploration.
QGOG receives Amaralina Star ultra-deepwater drillship
QGOG Constellation says the ultra-deepwater drillshipAmaralina Star has arrived in Brazil and will go into operation for Queiroz Galvão Óleo e Gás. The vessel was built by the Samsung Heavy Industries shipyard in South Korea and can drill to 40,000 ft (12,192 m) in 10,000 ft (3,048 m) of water. This capacity means the presalt targets offshore Brazil are reachable. The vessel and a second similar rig under construction by Samsung, are both on charter to Petrobras for six years with a six-year extension option.
Damen announces new heavy-lift vessel design
Damen Shipyards Group, with cooperation from Ha-Ce Engineering Pte Ltd., has developed a new, smaller heavy-transport vessel designed to carry modules and cargo on an open deck over medium-to-long distances. The Damen Offshore Carrier design has a flat, unobstructed 2,300-sq m (24,757-sq ft) deck with a capacity of 20 metric ton/sq m (≈4,100 lb/sq ft) and is 27.5 m (90 ft) wide. It will be equipped with DP-2 capability and DP-3 can be implemented. Damen says the first such vessel can be delivered in 2014.