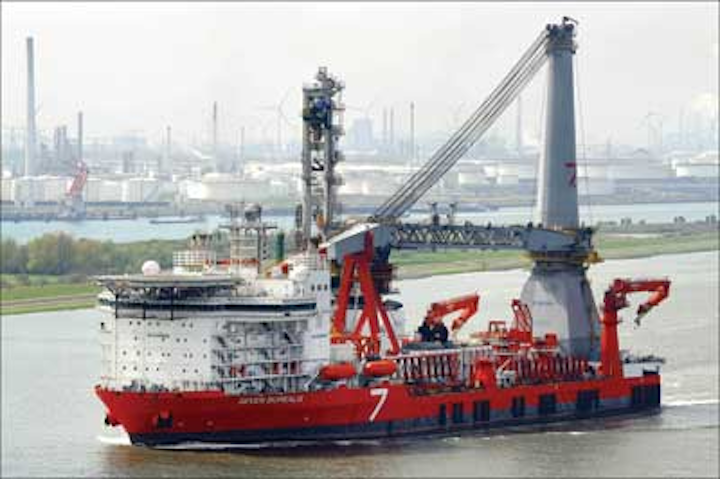 Jeremy Beckman
Editor, Europe
First assignment for Total offshore Angola
Installation contractors continue to respond to the increasingly complex and difficult offshore projects by broadening their construction capabilities.Seven Borealis, the latest addition to Subsea 7's fleet, is equipped for both S-lay and J-lay in all current water depths and installation of the heaviest subsea production structures.
Seven Borealis, completed by Sembawang Shipyard in Singapore in January, was commissioned originally by Dutch company Nordic Heavy Lift in May 2007. Nordic had envisaged "a classical, heavy-lift vessel," according to Gael Calleaux, VP Offshore Resources at Subsea 7, incorporating a 5,000-ton offshore mast crane, to be engineered and built by Huisman. Ulstein Sea of Solutions performed the original monohull vessel design, and the keel was laid at Nantong Yahua Shipbuilding in China in November 2008. Almost a year later, the hull was launched and subsequently towed to Sembawang's yard for further completion.
At that point, Nordic hit financial difficulties and Subsea 7 stepped in to acquire the vessel, and decided to re-design and convert it to a pipelay and heavy-lift vessel with Ulstein Sea of Solutions' assistance. The mast crane would be retained, but would be complemented by an existing J-lay system transferred from Subsea 7'sAcergy Polaris vessel; a new S-lay system (both designed and installed by Huisman); and at a future point, a 500-ton flex-lay tower for vertical laying. The new vessel would also feature a range of support and construction equipment configured for global deepwater and harsh environment operations.
The project and the scope of the conversion proved to be very complicated, Calleaux said, and involved adding 1,000 km (621 mi) of cables to the vessel. Construction took a few more months to complete than expected, he added, "but the ship tested successfully."
Following final commissioning and sea trials in Rotterdam, the vessel was due to sail to Angola to start work this fall on its first project, linking Total's deepwater CLOV fields in Angola block 17. Here the program includes J-lay of 40 km (25 mi) of pipe-in-pipe production flowlines, S-lay and J-lay of 32 km (20 mi) of gas export lines and 60 km (37 mi) of water injection lines, and installation of a gas export single hybrid riser and associated manifolds.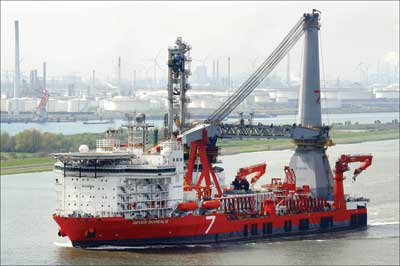 (Above) Seven Borealis sailing off Rotterdam. Photo: Ulstein Sea of Solutions/Aerolin photo. (Below) The Huisman-designed 5,000-ton mast crane.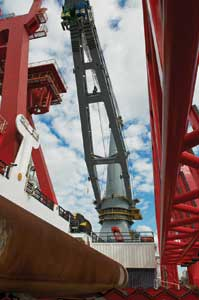 Seven Borealis is 182.2 m (598 ft) long, with a breadth of 46.2 m (151 ft), and an operating draft of 8.5-11.35 m (28-37 ft). The vessel's CLEAN-DESIGN notation, conferred by DNV, covers requirements including ballast water and fuel oil handling as well as low NOx and SOx exhaust emissions. The classification also recognizes environmental measures in place such as double-hull protection for the fuel oil tanks, bilge, and ballast water management.
Onboard power is provided by six 5.76-MW Rolls-Royce Bergen B32:40 Vi2A diesel generating sets, backed by a 1.6-MW MTU V12 4000 emergency generator. The switchboard and engine rooms are configured to ensure station-keeping thruster capacity at all times for the K-POS IMO DP Class III triple redundant dynamic positioning system. This is served by four 3.2-MW retractable Rolls-Royce UL 305 FP azimuthing thrusters, three at the bow and one at the stern, supported by a Rolls-Royce TT 3000 CP 2.5-MW tunnel thruster. They can deliver thrust in a full 360º arc as required by the DP system. Main propulsion is by two Rolls-Royce UUC 455 FP 5.5-MW azimuthing thrusters at the stern. The vessel's service speed is 12 knots, and it is expected to travel globally, Cailleaux said, from the deepwater Atlantic Triangle to the Far East.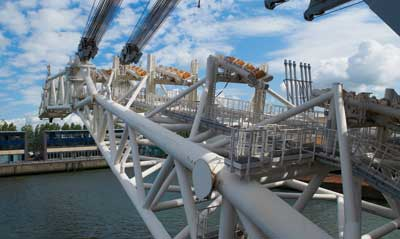 SevenBorealis' three-section, S-lay stinger.
Stability during installation operations is another feature. To compensate for heeling motions caused by offset crane loads, five pairs of ballast (sea) water tanks and 15 pumps are available, each capable of transferring water at up to 1,300 cu m/hr (343,423 gal/hr). Total ballast water capacity is 41,021 cu m (1.45 million cu ft). Filling and emptying of the tanks is controlled by a Kongsberg vessel management system. Four flume tanks generate additional roll damping to lessen roll motion induced by heavy sea states by around 40%.
Seven Borealis' 5,000-ton offshore mast crane, said to be the world's largest, was manufactured at Huisman's Zhangzhou facility in China, and installed on the vessel during a four-day operation in March 2011. The mast is just over 85 m (279 ft) above the main deck, and with the 120-m (393-ft) boom extended to its highest elevation, the boom tip will be more than 151 m (495 ft) above main deck. The crane incorporates two 2,500-ton main blocks, a 1,200-ton auxiliary hoist and a 110-ton whip block, and revolves on an 11-m (36-ft) diameter, Huisman-designed slew bearing. Uniquely, a Subsea 7 spokesman explained, the base hinge moves, but the boom itself does not. The main blocks can also be reconfigured as one 5,000-ton swiveling block. Additionally, there are four load tuggers and five block tugger winches.
Huisman's crane is designed for a variety of lifting tasks. Both main blocks allow for a 40º side lead with a combined spread angle of 80º, rendering unnecessary the slings and spreader beams normally needed for dual lifts. An auxiliary hoist, combined with the dual-lift functional, allows for three-point lifts and upending operations without concerns over the position of the load's center of gravity, as this can be controlled by adjusting the tackle length.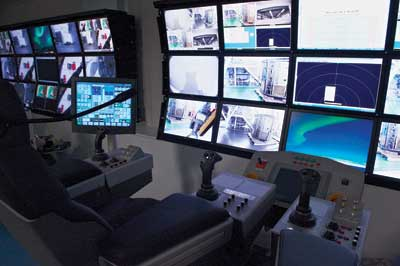 ROV control room VDUs.
The auxiliary hoist also serves as the vessel's heave-compensated deepwater lifting mechanism, with the heave compensator positioned below main deck. This cancels the effect of wave-induced roll motion and heave on the ship that could generate vertical motions of the crane's load. The auxiliary hoist's traction/storage winch combination allows storage of up to 6,000 m (19,685 ft) of 109-mm (4.2-in.) low-rotation wire. In a four-fall,1,200-ton configuration, the hoist provides up to 1,500 m/4,921 ft (water depth) of hook travel, and up to 3,000 m (9,842 ft) in a two-fall, 600-ton configuration. Deepwater installation of subsea structures is possible without having to transfer the load from the crane to a dedicated deepwater deck winch.
Seven Borealis' J-lay system, previously on the Acergy Polaris, has a 750-ton static and 937-ton dynamic tension capacity, and is mainly for use in deeper water projects (up to 3,000 m). Its tower is supported by a gimbal suspension which, in active mode, compensates for the vessel's motion up to a maximum tower tilt angle of 12±3º over an azimuthing range of 180º. This minimizes the forces on the pipe and lessens bending.
"We can also J-lay in a direction completely different from the heading of the vessel," the spokesman said.
Friction clamps can accommodate coated steel pipe double joints pre-assembled onshore in diameters of 4-24-in. (10-61 cm), typically 19-26 m (62-85 ft) long, and weighing up to 30 tons each. Additionally, the J-lay system can be deployed for constructing risers and installing pipeline end termination structures of up to 100 tons and tees.
After the vessel had docked at the Huisman quayside in Schiedam this April, installation started of the 600-ton tension S-lay system, designed and assembled by the same contractor. According to Huisman project director Anne de Groot, a special harbor was dug to accommodate the vessel, the largest ever handled by the yard.
The S-lay system is designed for pipelay in water depths ranging from 25-3,000 m (82-9,842 ft), and is suited to single and double joints in the range 4.5-46-in (11-117 cm) diameter.
"It can lay 200 km [124 mi] in one go operating at full speed," Cailleaux said.
The S-lay equipment spread includes three 200-ton tensioners and a 200-ton and 600-ton A&R winch system. The latter also can be deployed to the vessel's starboard side to lift manifolds up and onto the seafloor.
To install the firing line, two of the vessel's existing accommodation levels had to be pulled out (these were replaced by a new accommodation block for 399 personnel at the other end of the vessel). The firing line incorporates work stations for different processes, including welding, non-destructive testing, and field joint coating. It can be adapted for 11 single-joint stations or six double-joint stations, depending on the type of pipes to be handled. The three-section stinger is 92.5 m (303 ft) long – depending on the project requirements, only one or two sections may be needed – with a stinger radii configuration varying from 70-300 m (229-984 ft). The S-lay system allows a very steep (close to 90º) departure angle during deepwater pipelay.
According to Subsea 7,Seven Borealis' numerous field joint coating stations can sustain all known coating techniques, i.e. heat shrink sleeves, fusion bonded epoxy, multiple layer PE and PP application, and injection molded PP. Welding of joints onboard the vessel is by an orbital welding machine with gas for Gas Metal Arc Welding (GMAW) generated on the vessel.
Also onboard are two work class, 3,000-m water depth-rated Schilling ROVS that can be deployed using 1,500-m (4,921-ft) tethers, facilitating touch-down monitoring of the pipeline during laying. The ROV control room was designed by Subsea 7 in-house to meet the operators' ergonomic needs – a world first, the company says.